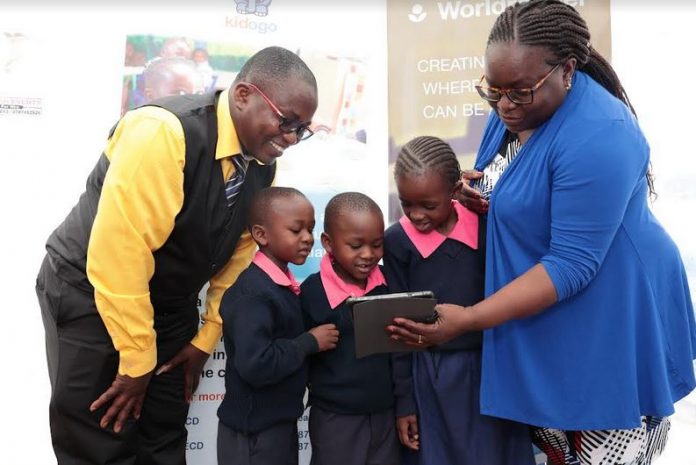 Fathers are less likely to release their mobile phones for children's home learning, while mothers are more directly involved with learning and homework, according to a new study by Worldreader.
The project findings on the challenges and successes of digital reading in schools and communities also indicates a poor culture among parents to read to their children which impacts on the children's reading habits and calls for behavioral change to promote a stronger reading culture.
The findings are based on The Keep Children Reading project, a partnership between Worldreader, a global nonprofit organization that promotes free digital learning and Kidogo Centre of Excellence. It delves into the effectiveness of technology supported-educational initiatives in provision of quality éducation.
The project highlights the current state of digital learning among children aged 3-8 years in informal settlements of Kibera, Kawangware and Mukuru Kwa Njenga. The nine-month project includes data from 12,750 direct beneficiaries – 12,500 children and 250 teachers –  enrolled in 83 ECCs.
The study notes that parental engagement in school activities was wanting, with most parents unable or unwilling to attend school meetings and calls for better parents-teachers interaction to help promote early childhood development.
It also notes that in instances where children require mobile gadgets for digital learning, fathers would generally be less enthusiastic in releasing their phones when compared to mothers which was impacting on their digital learning. It acknowledges however that many families cannot afford mobile data consistently, while a good number rely on feature phones as opposed to smartphones. Mothers are also more directly involved with their children's learning and homework compared to fathers.
Overall however, the survey notes that there is a marked improvement in reading among the target age group.
Speaking during the official release of project findings at Bethany Joy School in Kawangware, Worldreader Regional Director for East Africa Joan Mwachi-Amolo said "This report provides us with information about access to digital resources and valuable insights into building a habit of digital reading and learning in Kenya. The project aimed to provide much needed solutions and support to the current learning crįsis faced by children, especially in informal settlements."
The Regional Director further added that Worldreader's mission was to support vulnerable and underserved communities with digital reading solutions that help improve learning outcomes, workforce readiness, and gender equity and that the organization was committed to working with partners in realising this.
Around 66.7 percent of the centres in the target areas have a library while less than 20 percent of children read at home
40 percent of parents in the target areas own phones, while 50 percent of parents have basic literacy skills. 70 percent of teachers in the target areas own smartphones.
Dr Rosemary Olumbe, a child safety expert at the Daystar University, said assessments done by the University under the partnership indicate gaps in the implementation of child protection policies and that there was need to widen the burden of responsibility for child protection to include more organizations and individuals in society, whether or not they are in direct contact with children in the course of their work.
"We start from ensuring that all our organizations make an express commitment to protecting children, this is expressed through our child protection policy, and each and every single organization must have a child protection policy that guides all its workers and partners on their relationships and commitments to children," Dr Olumbe said.
Thomas Ochieng of the Ruben Centre said it was important for parents to keep their children from intrusive online content by physically monitoring their phone usage and by deleting all intrusive apps on their phones before allowing use by their children.
Read: Worldreader Celebrates Young Readers Day To Promote Reading Culture In Kenya
>>> New E-Learning Platform Pushes Up Longhorn Publishers Share Price