When TV47 hit the airwaves on 15th June 2019, many did not give it high chances of surviving in a broadcast industry teeming with digital TV stations and celebrity presenters. In fact, it came at a time a number of mainstream TV station were struggling to attract audience and advertising, leaving the market dominated by three players.
But two years later TV47, owned by Mount Kenya University founder Prof Simon Gicharu, is beginning to turn heads in the industry. Its programming and presentation continues to rattle the industry, hoisting it into the top league of TV in Kenya, as it redefines story telling on the screen.
There are close to 70 free-to-air television stations Kenya but most of them are eiher duplicating content or limited in terms of investment in quality shows. By its news and general programmes, TV47 has curved a viewership niche between the 18-45 years age group by living up to its slogan of 'Untold Stories'.
The station covers down-market but riveting stories that have often been ignored by so-called mainstream media that is too serious and official. According to Geopoll research, TV47 has rise to position 5 in terms of audience reach, behind market leader Citizen TV, NTV, KTN Home and KTN News.
TV47 has overtaken older players such as K24, SwitchTV and KBC among others, a huge fete for a television station that's only two years old in the market and run by not-so-prominent personalities.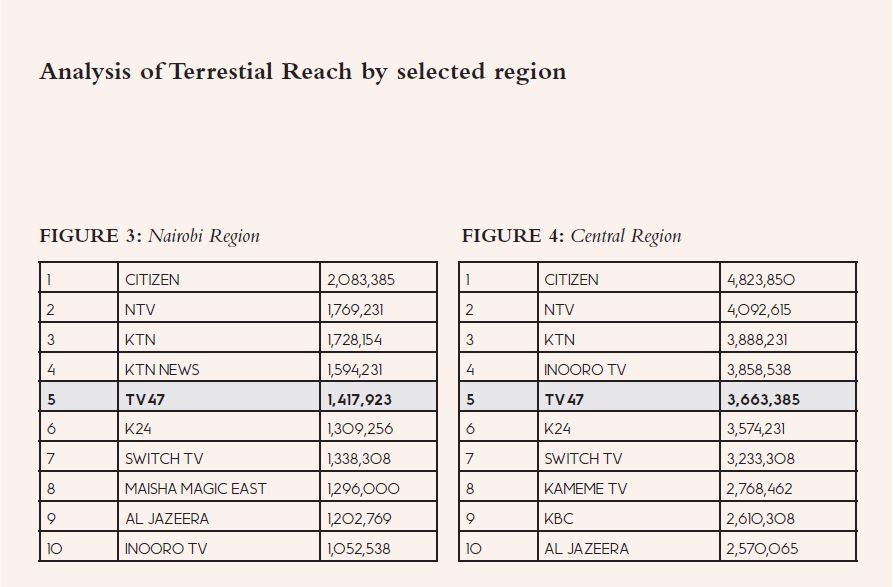 Apart from its 'untold stories' and rich menu of talk shows and entertainment, its reach is being boosted by its presence on DStv, Signet, Bamba and StarTimes platforms.
Recognition awards
TV47 and its team of professional, well-trained journalists have scooped several awards an endorsement of the television station's growing influence. The awards include KUZA Broadcast Awards, 2021 by the Communication Authority of Kenya, Fresh Entries Music Awards (FEMA) 2020, Media Council of Kenya (MCK), and International Centre for Journalists (ICFJ).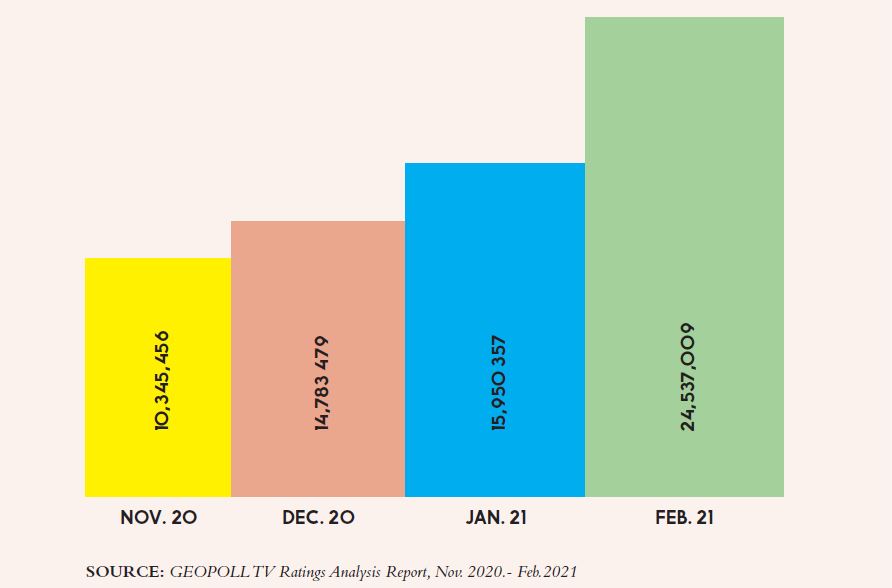 Business support broadcast
In pursuit of its duo-goals, that is to serve as a platform for advancing higher educa­tion and at the same time be commercially self-sustaining, TV47 places the interests of students and business partners at the forefront.
Among the television station's achieve­ments to this end include introduction of the country's first televised lectures when institutions were shut down due to the CoVid-19 pandemic. The televised lecturers are broadcast every week­day from 10am- 12pm. They are accessible and free to all university and college students, includ­ing Mount Kenya University's pool of 50,000 students who undertake both online and offline courses.
TV47's main studios and corporate offices are on Ojijo Close in Parklands, Nairobi, the television station's nerve centre, where the main production and broadcast activities are coordinated from. It is backed by a second studio based in Mombasa.