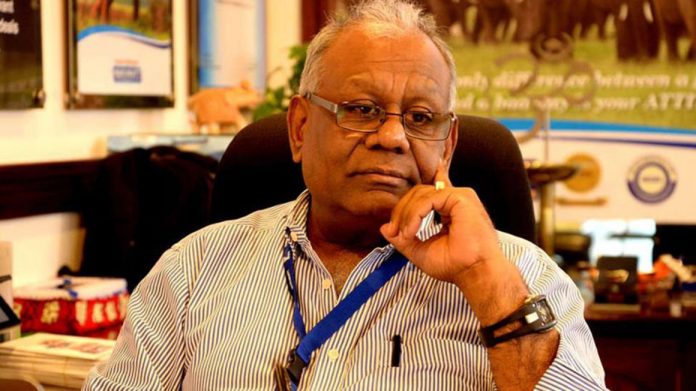 Former Nakumatt boss Atul Shah's home in Nairobi's upmarket Lavington area is set to go under the auctioneer's hammer in August 2021 after he guaranteed a defaulted Ksh2 billion loan to Nakumatt from Kenya Commercial Bank (KCB).
Once Kenya's biggest retail operator, the supermarket chain collapsed under the weight of debts amounting to over Ksh30 billion – including Sh18 billion to suppliers, Sh4 billion to commercial paper holders and the rest to banks.
Shah had in April lost a bid to overturn the sale of his Lavington property after Nakumatt's court-appointed administrator argued KCB did not follow various legal stipulations in auctioning the property.
Phillips International Auctioneers, who are set to sell the property on KCB's behalf, have since confirmed that an auction will take place on August 24, 2021. They further disclosed that they were targeting Ksh30 million from the sale.
The home includes four bedrooms, a spacious compound and a servants' quarter.
Shah had attached a number of his personal properties to secure credit lines for Nakumatt. Offered as security in 2011, the Lavington home accounted for Ksh25 million of the loans worth billions of shillings.
His prime property in Industrial Area was sold by KCB to Furniture Palace for Ksh1.04 billion.
Records show that at the time of Nakumatt's collapse, DTB Bank was owed Sh3.6 billion, Standard Chartered Sh900 million, KCB Sh1.9 billion, Bank of Africa Sh328 million, UBA Sh126 million and GT Bank Sh104 million.
The banks have been looking into several other properties and bank accounts linked to Shah as they aim to recover monies owed to them.
Shah has long maintained that the banks gave Nakumatt loans with one eye on his personal properties and had no interest in backing the supermarket chain's turnaround strategy.
The Directorate of Criminal Investigation (DCI) Anti-Banking Fraud unit also announced a probe into Nakumatt over claims of theft and money laundering.