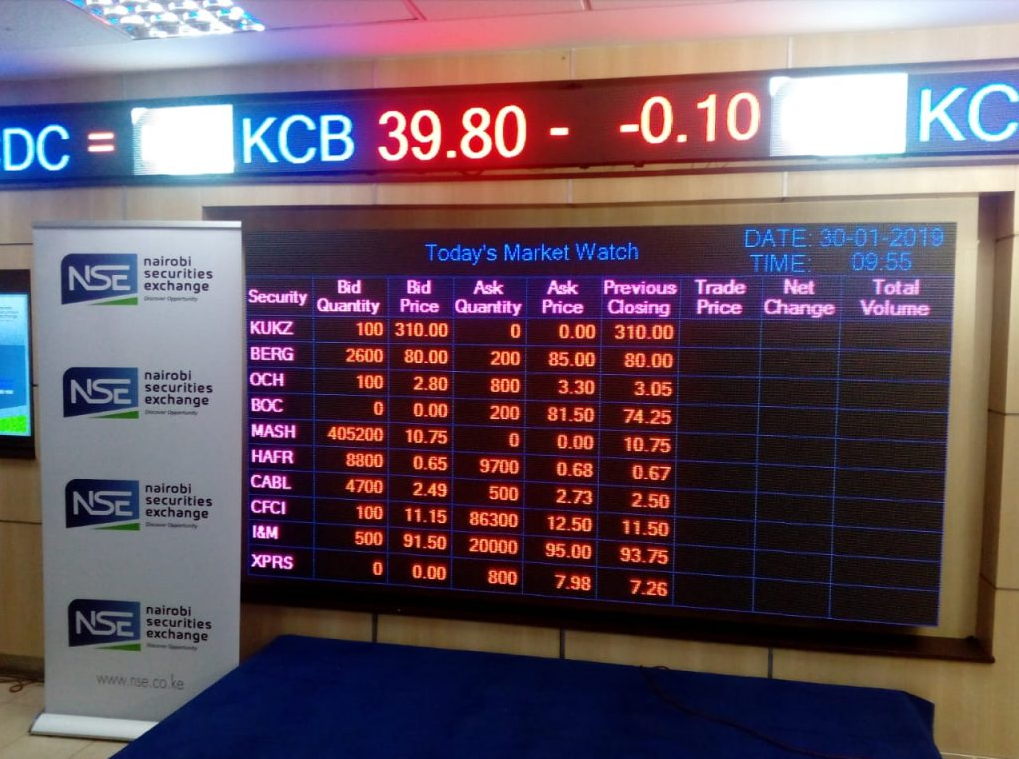 Foreign investors were most active on the KCB Group counter on Thursday 5th November, holding a net selling position that saw the counter move 18.15 million shares.
With a market capitalization of Ksh113.75 billion, the KCB Group Plc counter had 124 deals resulting in a turnover of Ksh641.93 million. KCB share price remained unchanged at Ksh35.40 per share, the same figure the KCB share price recorded Wednesday.
Foreign investors were also net sellers in Safaricom with this counter having a volume of 5.52 million shares changing hands, resulting in a turnover of Ksh 172.30 million in 100 deals. Safaricom share price was up 0.32% to Ksh31.25 from the previous Ksh31.15.
The Nairobi Securities Exchange (NSE) counter also attracted heavy participation from foreign investors, at 99.7%, pushing up the share price to Ksh8 from the previous Ksh7.40. The NSE attracted 13 deals that resulted in a turnover of Ksh26.98 Million on a volume of 3.37 Million shares.
Apart from KCB, other heavy hitters at the bourse on Thursday included Safaricom which moved 5.52 Million shares, Kenya Power with 2 million shares transacted while Equity Group was the 5th top mover with 1.81 Million shares.
All the indices were up with the benchmark NSE All Share Index edging up 0.71 points to 140.90 from the previous 140.19. The NSE 20 Share rose 13.31 points from 1,756.90 to 1,770.21 while the NSE 25 gained 21.18 points to 3184.94 from the previous 3161.76.
On a global scale, the continued uncertainty of the US elections has seen investors exit equities in search of safer havens such as Government bonds and other debt instruments. Joe Biden is closer to clinching the razor-sharp US presidential race from incumbent Donald Trump.