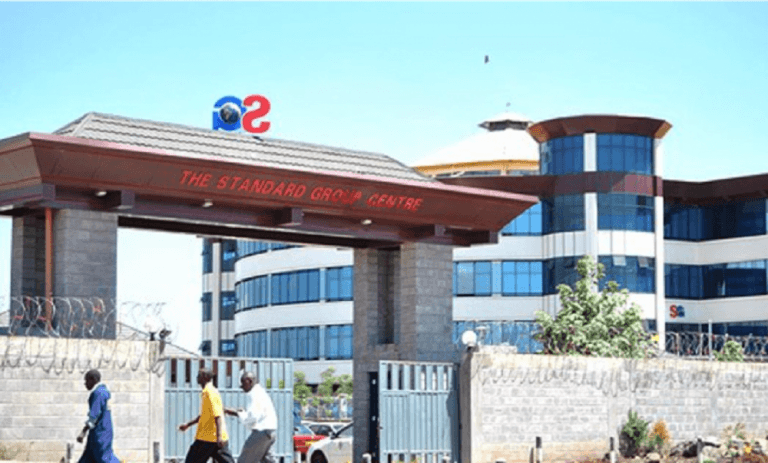 Tension has gripped Standard Group after the media house in a notice to staff on Thursday announced that it is planning to sack 170 journalists in the next one month as the media group continues to struggle to shake off its poor business performance.
In a notice to staff, Chief Executive Orlando Lyomu blames the imminent job losses on the need to realign organisational structure, automation, as well as a shift in consumption trends of media material that has had a negative impact on the company's ability to attract revenue.
Lyomu says that the company is set to embark on outsourcing of non-core services as a means to cut on costs at the listed company.
The layoffs are expected to be carried out in phases possibly to avoid the scenario of letting the employees off at once.
As it stands the company has roped in counsellors who will be at the disposal of the affected employees, the aim being to make sure they don't take the blow too hard considering that finding another job in the industry at the moment is a herculean task.
In addition, the company will also provide affected employees with free financial management lessons.
According to the notice, all employees staring at job losses will be paid for work done until the day they will be let go while employees yet to take their leave days will be paid for their troubles.
In addition, a severance pay of 15 days or days indicated in the Collective Bargaining Agreement for unionised workers will also be paid out for every year of service while those eligible for pension as dictated by scheme rules are also being lined up for what they are worth.
Standard Group just like all other media houses in the country has taken a beating due to reduced government advertising and a slow down in the economy.
Media observers also opine that the company's poorly calculated expansion has so far proved counterproductive. Last year, the company launched Vybez and Spice radio as a means to boost revenues after acquiring Swahili newspaper Pambazuko in September 2018.
Business Today could not immediately find out which employees are on the chopping block.
Sources have told this publication that the media group is fast-tracking its convergence plans that will bring its journalists from its different affiliates under the same command.
This means that all political reporters working for the organisation either at KTN News or Standard will now work in sync.
As such, the layout at Standard's offices on Mombasa Road has been altered and some blocks dismantled to fit this new purpose.
Business Today has further established that Standard's main broadcasting studios are currently undergoing a facelift by BBC which is expected to bring it to a more professional standard once complete- enough to take on any local competitor.
The sources also intimate that the Moi family-owned media house is mooting delving deeper into investigative stories and features as a means to boost its audience numbers after failing to fashion a way to come anywhere near the ratings posted by dominant player Royal Media Services (RMS) in the last decade.
Further, Business Today has learnt that the loss of the widely respected Joe Ageyo to Citizen TV has left Standard's broadcasting editorial wing short of leadership that would have otherwise been instrumental in navigating murky waters.