Simon Mwaura, a biochemist scientist based in Murang'a, is a controversial figure. In January 2014, he unveiled a marijuana (bhang) based drug and even claimed he had the support of the National Authority for Campaign against Alcohol and Drug Abuse. NACADA disowned the bhang project.
Mr Mwaura conducts his research under Hyaquip Kenya Ltd, the company he owns. The project of turning bhang, which is illegal in Kenya, to a vital food supplement came to a standstill when the Murang'a county government confiscated the supplements and turned him over to the police.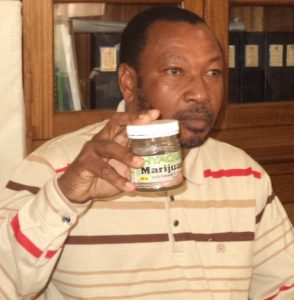 NACADA dismissed claims it had approved the project after the media carried reports that they had given the green light to commercial bhang farming. "Nacada wishes to clarify and inform all Kenyans that it has not given any permission to Hyaquip Kenya Ltd or any other firm or individual to deal in whichever form with bhang or any other illicit drug," it said in a statement.
The biochemist scientist had held a workshop with Murang'a journalists on 30th December 2013, where he is alleged to have told them that, he has been authorised by the relevant government authorities to roll out a pilot the bhang project in Murang'a and Nairobi counties.
See Also >> Kenyan scientist turns hyacinth into gold
However, Murang'a County commissioner Ms Kula Hache summoned the biochemist to shed light on his activities. In the project, the biochemist had planned to roll out with 4,500 farmers in Murang'a and Nairobi counties. H said it was healthy for adults take two spoons of the food supplements extracted from bhang every morning.
Mr Mwaura argued he had decaffeinated bhang and made it a useful product that can bring high economic benefits to farmers.
Should he be allowed to sell the drug? Scroll down and drop your comment