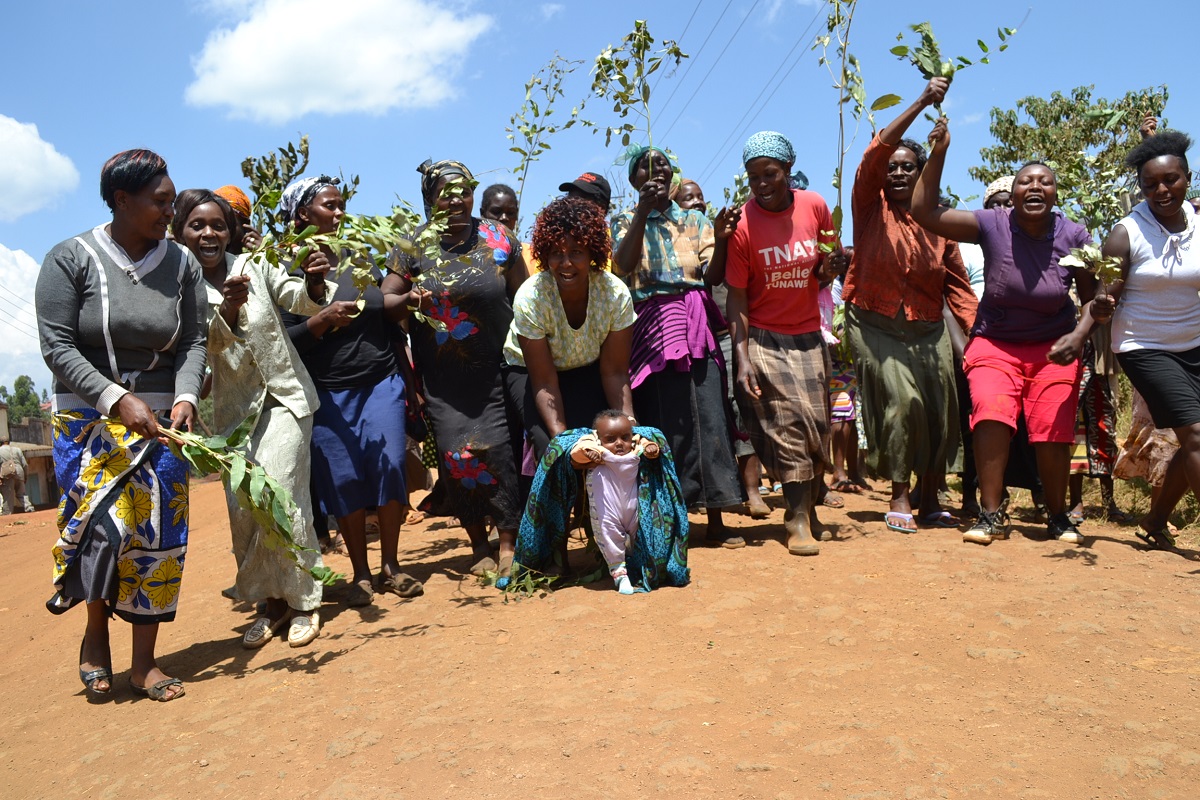 [dropcap]F[/dropcap]urious residents of Mutunguru village in Gatundu South, the home of President Uhuru Kenyatta, are concerned by the rising trade in new born babies. Women held a peaceful demonstration at the village shopping centre and accused a woman in the area of conspiring with a nurse at Karatu sub-county health facility to sell newborn babies.
Lydiah Wanjiku Chege in her late 60's is said to have conspired with the nurse to sell a one-day-old baby belonging to her daughter identified as Hannah Gathoni Macharia.
Although mother of the 'sold-child' has two more children, she is reported to be mentally challenged raising concern on whether her mother took advantage of her condition to engineer the deal.  The old woman, believed to be a member of a 'bad faith' religion has also been rebuked for kicking out her elderly daughter with three children.
The daughter recognized as Hannah Wangui Macharia has been renting a house at Mutunguru shopping centre despite their mother having a big home. The grandchildren of the woman in question are said to have been born outside wedlock, causing support challenges in the family.
SEE ALSO
Daisy Muthoni, a Nyumba Kumi official, said that a social worker vanished with the child right after she was delivered at home. Women who had information about the deal stormed the house and busted the move. "We are devastated by the vice of mothers selling their newborns and we have left our tea-plucking businesses to ensure that the nation knows Mutunguru village has rejected the depravity," said Everlyne Munai, a resident.
The protestors demanded to have the child given back to the mother vowing to help her raise the child. "This is not the first time to have the same woman sell children to unknown people. If parents don't feel the pain of giving birth, then we wonder whether it's a rat who gave birth or a woman," charged Caroline Wanja, a resident.
Gatundu South children's officer Gabriel Kitili said a child adoption agreement between the mother and the government through a social worker had been reached after it was revealed that the mother's health condition was not fit for her to bring up the baby.
Kitili who confirmed that the child had indeed been hospitalized at Gatundu Level 5 hospital right after birth revealed that the infant had been put under special care and alternative milking system. "The life of the mother has been tough; her health condition is also not conducive to bring up the baby. There was an agreement that upon birth, the child would be adopted by the government," he said.