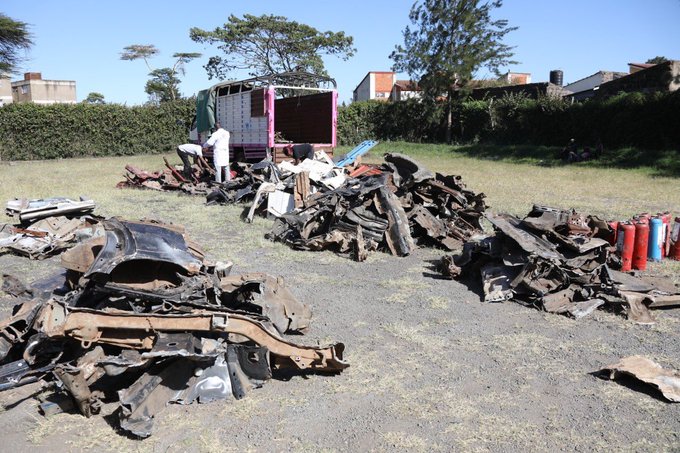 The moratorium on export and sales of scrap materials within Kenya is likely to be lifted in coming weeks, with State-backed draft regulations expected to arrive at the National Assembly for debate and approval.
Should the proposed changes sail through, scrap metal dealers will be responsible for guaranteeing traceability of their goods. The regulatory framework is required for the implementation of the Scrap Metal Act, 2015.
The draft regulations are intended to rein in rogue scrap metal dealers. President Uhuru Kenyatta declared the ban in response to rising cases of vandalism of key public installations  including power transmission infrastructure.
He asserted at the time that they would be in place until guidelines had been developed for the sector.
"As of today, we will no longer allow, and we have put a moratorium on the export or the buying or selling of any scrap material until we have put in place proper guidelines that will ensure that material is not coming from the hard-won investments that the Kenyan people have made," the President stated at an NPC passing out parade at the police training centre in Kiganjo in January 2021.
"The ministry is in the process of making rules that will among others ensure traceability of the scrap metals acquired by the small players. The guidelines to help operationalize the act are ready and will be shared with the sector today, so there is an interface then they are tabled in parliament in two weeks' time," Ruth Mwaniki, Vice-chair of the National Assembly's Trade committee, told Parliament on Tuesday, February 8.
The committee noted that the line ministry had invited scrap metal dealers to contribute their views on the regulations being formulated on Wednesday, February 9. They stated that the Ministry had been undertaking the process of collecting views from different stakeholders as they finalize on development of the draft regulations.
The moratorium had sparked mixed reactions among traders and Kenyans in general. Many dealers have spoken of the devastating impact of the ban on their businesses and livelihoods.
They, however, also highlighted their readiness to work under a regulatory framework, calling for consultative and fast-tracked development of the new rules to enable them get back to business.
Enacted in 2015, the Scrap Metal Act is yet to take effect due to the lack of regulations to govern the sector.
Companies which rely on recycling scrap materials also warned of looming business closures and job cuts unless the ban was lifted.
Many Kenyans particularly online, however, welcomed the ban citing thefts of cars among other items destined for scrap yards. They also noted the impact of vandalism of public amenities.