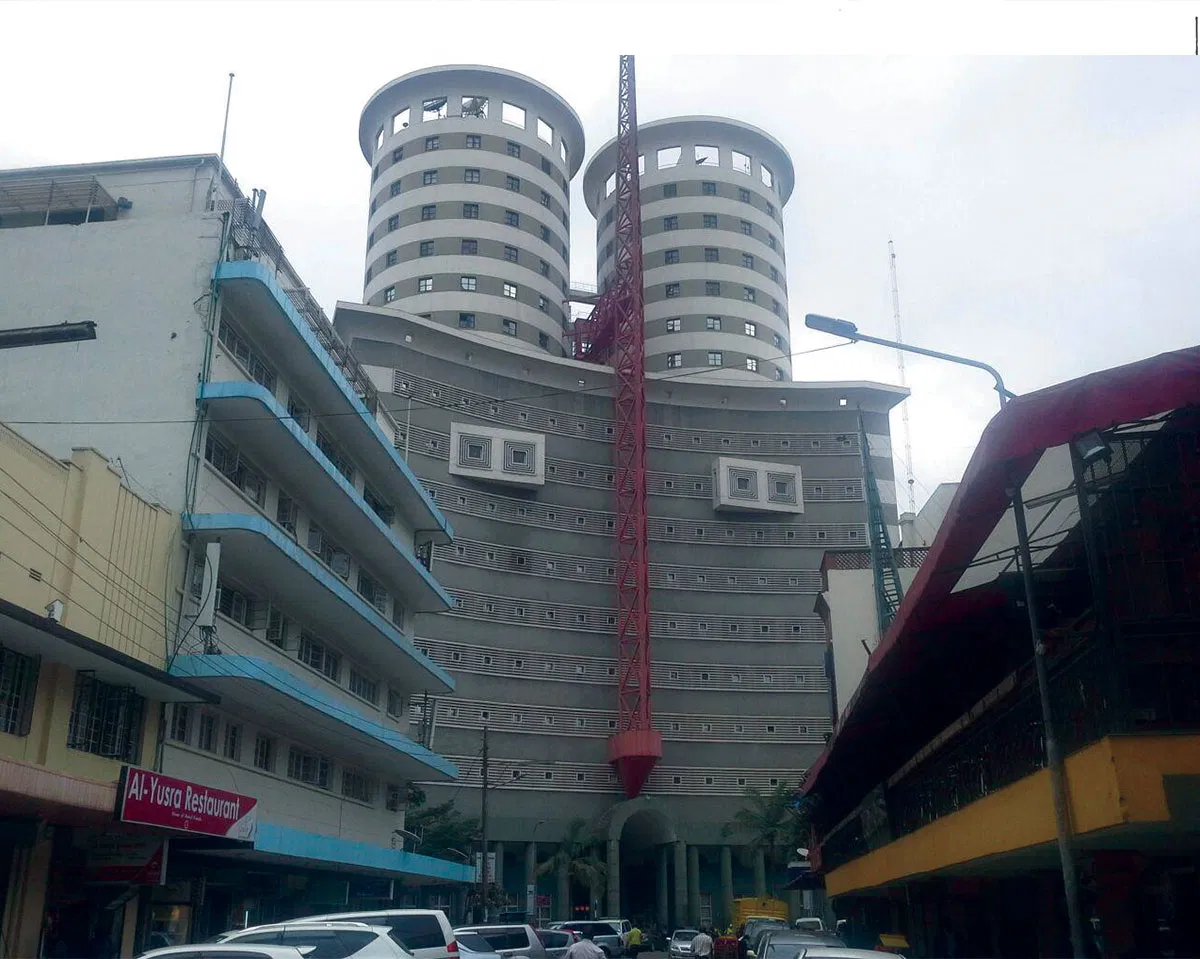 The Nairobi Securities Exchange (NSE) closed last week with 115M shares valued at Ksh3.3 billion against 138M shares valued at Ksh3.4Bn transacted the previous week. Turnover at the close of trading on Friday stood at Ksh221 million from the previous session's Ksh446 million, while the number of shares traded stood at 9.6M against 17M posted the previous session. Banking
Nation Media Group, which is restructuring its business amid a major drop in revenues, was among the biggest losers this past week, hitting an all-time low of Ksh11.05. First among the losers was TRANSCENTURY whose share price dropped from Ksh2.35 to Ksh2.03, or a 13.62% decrease by the end of trading on Friday.
It was followed by NATION MEDIA dropping from Ksh12.65 to Ksh11.05, or a decrease of 12.65%, while OLYMPIA capital was down 10.4% from Ksh2.50 to Ksh2.24 and SAMEER dropping from Ksh4.26 to Ksh3.87, representing a contraction of -9.15%. Nairobi Business Ventures (NBV) was down from 0.60 to 0.55, a 8.33% drop.
Nation Media Group opened the year 2020 at Ksh39.75 signifying a share price depreciation of nearly 70% to date. On 13th March when the first COVID-19 case was reported in Kenya, NMG shares were trading at an average of Ksh28.15.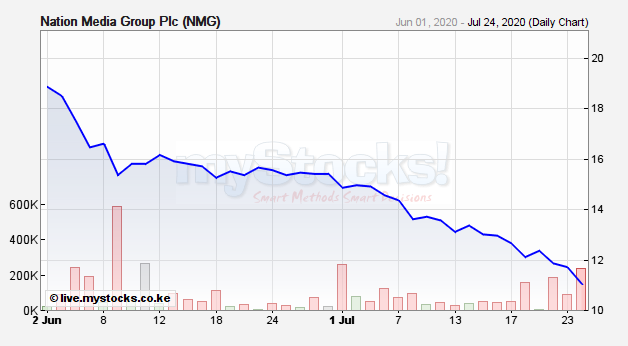 The leading media house on May 25th issued a profit warning citing dwindling advertising revenues due to the COVID19 pandemic as the reason behind the expected drop in profit. A cautionary statement from the company revealed that measures to contain the virus have adversely affected its revenues.
Meanwhile, at the top end of the gainers were KAKUZI Ltd, which rose from Ksh328 to Ksh395.75, a growth of 20.66%. UNGA increase its share value by 6.95% from ksh28.05 to Ksh30 as WILLIAMSON TEA leaped 5.85% from Ksh137 to Ksh 145 as SASINI added 5.2% value from Ksh16.30 to Ksh 17.15 and East Africa Breweries closed 4.84% higher at Ksh167.75 from Ksh 160.
The Banking Sector had shares worth Ksh896M transacted which accounted for 27.13% of the week's traded value. Equity Group Holdings declined by 4.41% to Ksh32.50, with shares worth Ksh459M transacted. KCB Group was down 2.55% to Ksh34.35 moved 9.3M shares valued at Ksh320M. BK Group remained unchanged at Ksh16.70 with shares worth Ksh49M transacted.
The Commercial & Services Sector had shares worth Ksh48M transacted which accounted for 1.46% of the week's traded value. Scangroup declined by 0.76% to Ksh19.55, down from Ksh19.70 registered the previous week with shares worth Ksh39.M transacted.
The Energy & Petroleum Sector had shares worth Ksh20M transacted which accounted for 0.67% of the week's traded value. KenGen recorded a 0.34% gain to close the week at Ksh5.96 with shares worth Ksh14M transacted.
The Manufacturing & Allied Sector had shares worth Ksh450M transacted which represented 13.63% of the week's traded value. BAT recorded 2.34% gain to conclude the week at Ksh317.25, moving 1.1M shares worth Ksh359M. E.A Breweries, as it were, closed the week 4.84% higher to Ksh167.75 moving 558,900 shares valued at Ksh89M.
In telecommunication Safaricom rose by 4.07% to Ksh28.10, up from Ksh27.00 registered the previous week with shares worth Ksh1.8bn transacted; this represented 56.70% of the week's traded value.