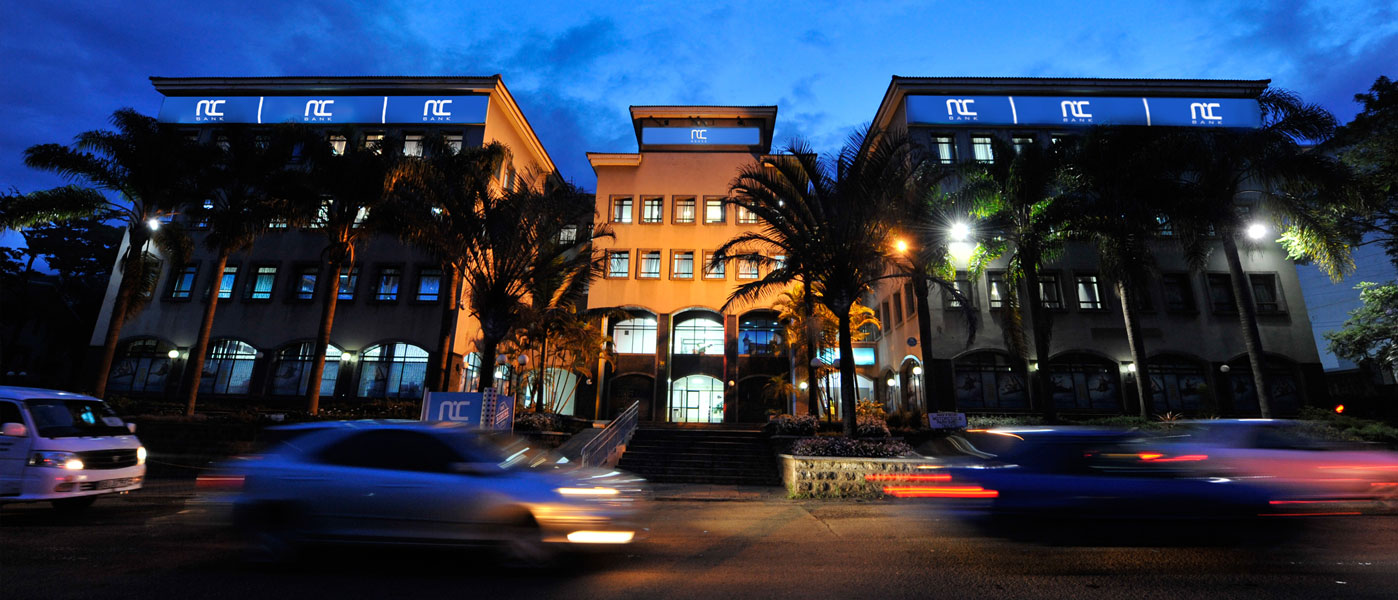 NIC Bank Group reported a pre-tax profit of Ksh 2.92 billion, for the first half of 2017, compared to Ksh 3.22 billion the prior year. This marked a 9.3% year on year decline, driven by a reduction in lending margins as a result of the rate-capping Banking Amendment (2016) Act, which came into effect in September 2016.
Total assets increased to Ksh 189.5 billion, a 12.1% year on year increase from Ksh 169.1 billion the previous year.
The Bank's total liabilities closed at Ksh 156.9 billion driven by a strong growth in customer deposits.  Customer deposits increased by 18.9% during the period.
The increase in customer deposits saw the Bank's loan to deposit ratio reduce to 88%, down from 100% a year earlier.  The Bank's liquidity levels as at the end of June 2017 stood at 45.6%.
The Bank continued lending to support its growing customer base, increasing loans and advances by 4.1% year on year to Ksh 116.8 billion. This growth was primarily led by lending to SMEs and Asset Finance customers.  This came at a time when the broader banking sector retreated from lending to private sector, leading to a sharp decline in credit growth in the private sector.
"SMEs constitute a critical part of our broader business strategy, and we will continue supporting small businesses achieve their dreams," said the Group Managing Director for NIC Bank, John Gachora.
Mr Gachora added the Bank's focus on asset finance during the period was aimed at cementing its position as the market leader in asset finance, in line with its heritage as the Home of Asset Finance.
ALSO SEE:
Non-performing loans remained relatively stable growing from Ksh 13.8 billion as at December 2016 to Ksh 14.3 billion as at June 2017, reflecting the challenging operating environment.
The Bank's cost to income ratio increased to 41% from 35% reported a year ago. This has been impacted mainly by lower total operating income as a result of the interest rate cap introduced in September 2016. Total operating income declined by 10% year on year to Ksh 7.4 billion from Ksh 8.2 billion while total operating expenses (excluding loan loss provisions) increased year on year in line with the Bank's strategic move to invest in technology and support branch expansion.
The Bank rolled out a revamped version of its mobile platform, NIC NOW, which offers customers a better user experience.
NIC Bank also rolled out an app for its dealers, NIC Dealer Konnect. "We plan to further invest in digital platforms over the course of the year in line with our strategy to migrate more of our customers onto digital channels.  We have recorded an impressive 27% year on year growth in active mobile banking users," said Mr Gachora.
During the period under review, the Bank saw its customer account numbers increase by 11%. The Bank attributes this growth to its continued investments in new branches and superior customer service.  The Bank was rated the best in customer service across East Africa by Banker Africa East Africa Awards.
In February, the Bank reaffirmed its commitment to reach more SME and retail customers by opening up its 34th branch in Rosslyn Riviera Mall, Limuru Road. At the end of July 2017, the Bank opened its 35th branch in Kiambu, at Ciata City Mall.
The Bank continued with its various Citizenship initiatives and sponsored close to 75 financially disadvantaged children to attend various academic programs across the country. Empowering youth is a key pillar of NIC Bank's Citizenship programme.
Reorganisation
Having obtained all required approvals, the Bank says its reorganisation will become effective on 31st August 2017 after which it will be known as NIC Group. The Kenyan banking operation will be under NIC Bank Kenya PLC.  The Group adds the reorganisation is expected to have minimal impact on shareholders, customers and employees.
The Bank expects consumer driven credit growth to remain muted in view of the prevailing economic environment. Despite these headwinds, the Bank will strive to deliver continued value to customers even as it navigates the impact of the rate capping law, which has affected the broader industry.  As part of its strategy to service its growing customer base, the Bank intends to open eight new branches in key centres along the Coast, Nairobi, Nanyuki, Narok and Kitale.