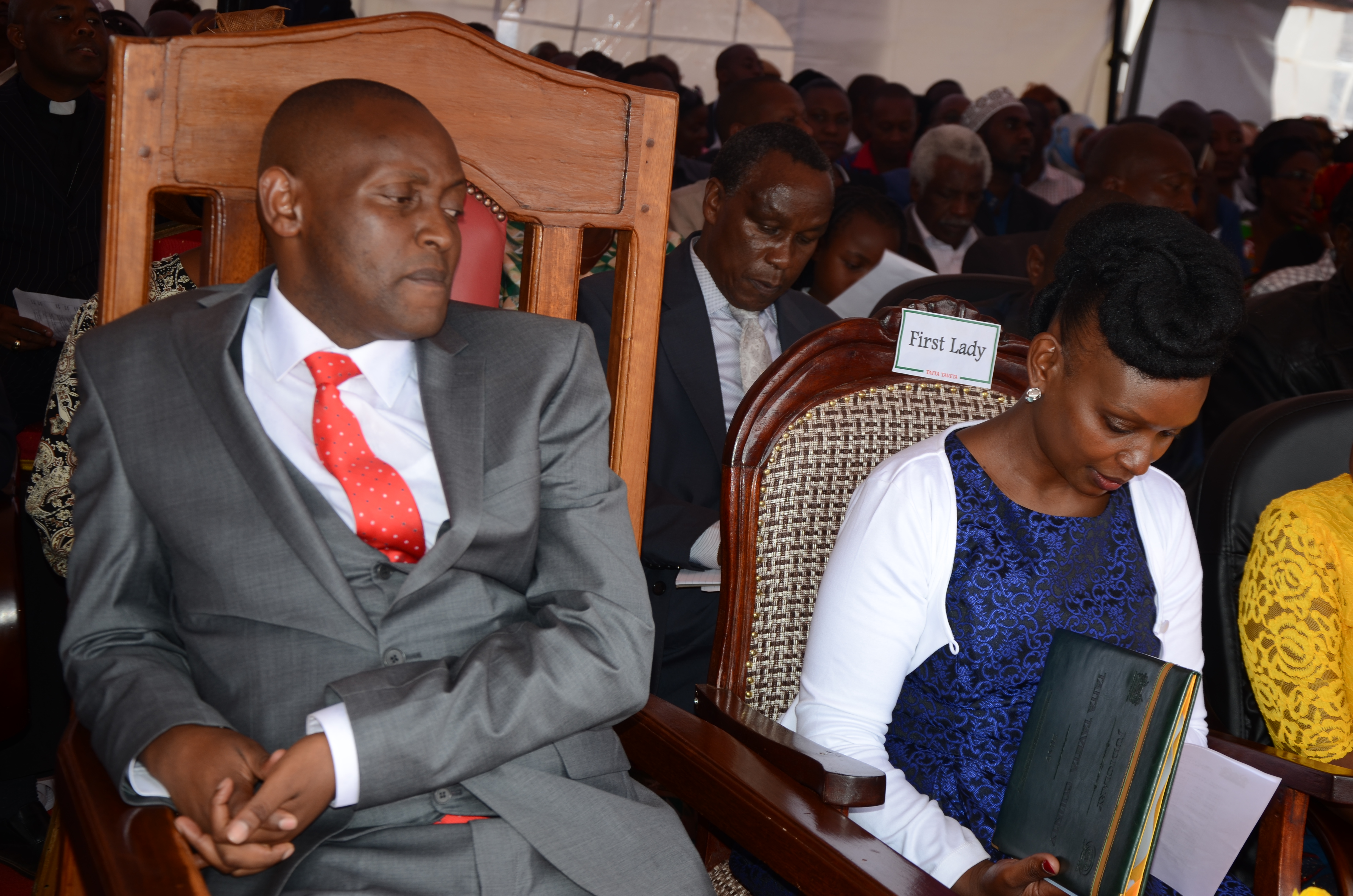 Under a sulky overcast sky on Monday on Mwatunge grounds in Mwatate, Granton Samboja took the oath as the second governor of Taita-Taveta County. Mr Samboja, a journalist-turned-politician, took over from Engineer John Mruttu who lost his seat in August polls. 
As expected, the transition generated excitement, perfectly mirrored in how the frenzied crowd sang, danced and cheered. Samboja was not immune to the infectious excitement. Under the eaves of the official podium he was seated, he would occasionally lean over to his wife and whisper something while wearing a huge grin or exchange a triumphant fist-bump with his deputy Majala Mlagui.
From a radio presenter, to media owner to chairperson of Coast Water Services Board to a governor of a county, Samboja's career has taken an upward trajectory. However, underneath this celebratory mood lies a muted sense of anticipatory anxiety. In his campaigns, the new governor had given a bagful of promises to the residents.
Acknowledging the monumental responsibility bestowed on him, Samboja in his speech reiterated his commitment to deliver on all the pre-election pledges. The promises are many as they are varied. In the run-up to elections, he had pledged to ensure all residents in the County would be registered with National Hospital Insurance Fund (NHIF) which would cater for their hospital bills.
He had also pledged to appoint six youth to his cabinet, construct water reservoirs to end the perennial water problems in the county and focus on economically empowering the youth and women amongst others promises. "I intend to fulfill all promises I made during my campaign," he stated after taking oath of office.
Such promises are easier said than fulfilled.
Soaring debt
But even as modalities of how to implement some of those pledges were being worked out, there were fears several factors might hamper their delivery. The greatest among the obstacles is the soaring debt the county has accumulated since 2013 which might be prove to an albatross around the neck of the new administration.
Aware of the monumental task of settling the debts that have soared in excess of Ksh600 million, Samboja said he would prioritize the launch of a comprehensive financial audit on the pending bills and other debts by the county.
This was largely seen as the genesis of a long probe into financial impropriety into county finances. The governor said officials found culpable of embezzlement or misuse of county funds would be dealt with ruthlessly. This, most people agree, will be the most decisive step in an expected purge to rid the rot in the county government.
This would also be a boost for accountability and transparency for handling county government finances.
Strategy paper
In the 2016 Debt Management Strategy Paper, Taita-Taveta County has accumulated debt totaling sh 689.2 million. In finance language, a Debt Management Strategy Paper is an accountable document that identifies the type of debt owned, the amount owed and outlines strategies on how such debts will be paid. It also sets out time frames for the duration the debts will be settled.
The DMSP for Taita-Taveta shows that the county debt is classified into three categories. The first and the largest is the pending bills. As at 31st December 2016, the total unpaid bills stood at Ksh 412.7 million. The second debt is a KCB overdraft that stands at Ksh 187 million. The last class of debt is unremitted statutory dues and loans inherited from the defunct local authorities which stands at sh 89.4 million.
An analysis of the bills shows that department of finance and planning has the highest pending bills at Ksh 105 million.
Public Works and Roads comes a close second with bills at Ksh 87 million. Health Services and Office of the governor have unpaid bills at Ksh 73 million each.
The least amount owed is by department of energy, industry and ICT which is at Ksh 2.6 million. The departments of Tourism and County Public Service Board are debt-free.
Debts from defunct local authorities are listed as Ksh 22.7 million as a loan from National Housing Corporation; Ksh 16 million as unpaid workers' emoluments and Ksh 8.8 million unremitted statutory deductions. There is also Ksh 41.6 million owed to banks and other creditors.
The Transition Authority had directed that all responsibilities and debts of former local authorities will be handled by respective county governments.
Questions however persist over how the bills went on pilling despite passing of a supplementary budget for fiscal year 2015/16 that was to offset 60 per cent of the bills. The remaining bills were to be cleared in budget for 2016/17 that was passed last year.
Supplementary budget
In DMSP, bills totaling Ksh 314.7 million were to be offset through a supplementary budget for 2015/16 financial year. In that budget, Ksh 202.6 million was set aside to clear development bills while Ksh 112 million would settle recurrent expenditure bills. The remaining bills would get priority in the following year's budget.
A look at the bills shows varying debt levels ranging from over Sh17.8 million owed to Kenya Medical Supplies Agency to nine hundred shillings owned to Kenya Power for power bills.
Former chair of County Assembly Committee on Budget Mr Arresmus Mwarabu says that by 2015, the bills were in excess of over Ksh 800 million.
Worried that the debt would hit Ksh 1 billion, the County Assembly passed two supplementary budget in 2015/16 fiscal year to offset the debts. Mr Mwarabu added that whether the debts were paid in full or not could only be answered by officials in the executive arm.
READ: MPs pushing to increase their salaries, again
"We passed two supplementary budgets to allow the bills to be paid. Up to date, the repayment rate has been too slow. The contractors and others creditors are still complaining. The implementing arm is best placed to answer why the amount owed is still high," he said.
The County Executive Member for Finance Dr. Vincent Masawi confirmed that by the closure of last financial year on 30th June, the County had a total debt of Sh661 million.
Irregular release of county funds by the exchequer and other unforeseen happenings like strikes were to blame for disrupting the budget making it impossible to smoothly offset the debts.
He added that plans were underway to pay off parts of the debts in 2017/18 budget. He however admitted that circumstances often forced development budget to be slashed to cover recurrent expenditure.
"Money is released to us in tranches. When it does not come in time, you are forced to re-budget and re-allocate some money from development to recurrent expenses like salaries for workers. This is what also affects our repayment of our debt," he said.
Whether the debt will be paid in time to allow the fulfillment of governor's pledges remains a matter of conjecture.
But the governor seems aware of the hopes of thousands that he carries. On his first day in office, he assured all county workers who had worked under his predecessor that he would not fire them. This is seen as a way of ensuring continuity and avoiding sudden disruptions that come with unplanned sackings.
Samboja has also picked seasoned administrators as his confidantes. Former PS Philemon Mwaisaka is his Chief of Staff and his economic advisor is former PS Home Affairs Sylvester Mwaliko. The appointments do not require the approval of County Assembly.
This blend of the young and the old is seen as a move to have an all-inclusive administration and also appease the elderly voters who might feel alienated by lacking representation.