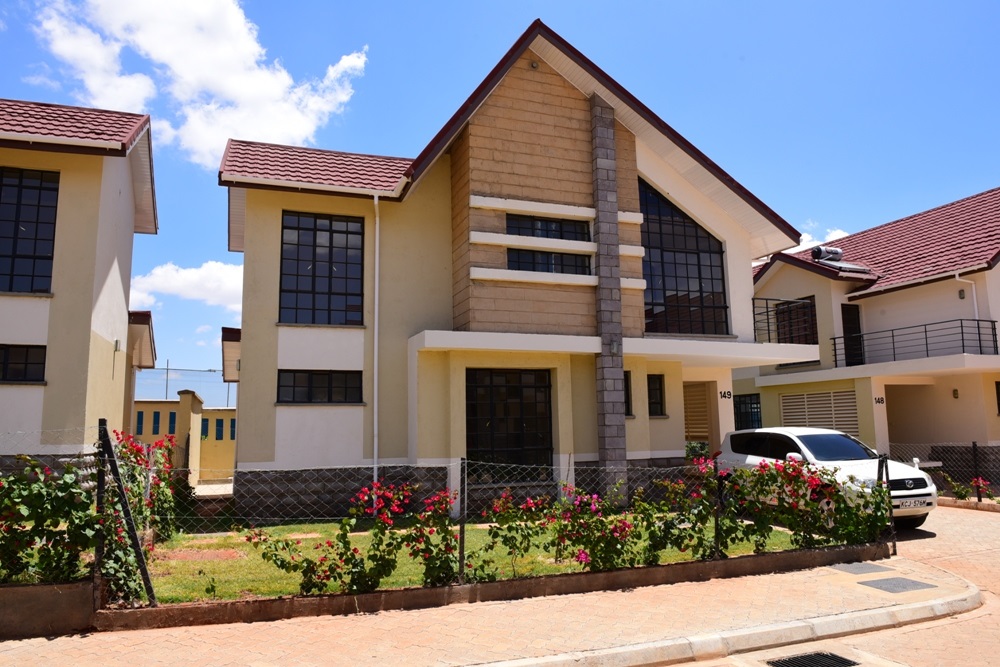 [dropcap]Z[/dropcap]amara's umbrella retirement benefits fund, Fanaka, has unveiled new housing units  that were commissioned in December 2014 and are now ready for occupation. The 211 maisonettes and apartments developed on a 30-acre gated community in Kitengela, Kajiado County, comes as part of the Ksh3 billion fund's quest to boost returns as well as provide members with quality and affordable housing.
A four-bedroomed unit will be available at Ksh15 million for cash buyers and Ksh15.5 million for mortgage, the three-bedroomed apartments will be going at Ksh7.3million for cash buyers and Ksh7.6 million for mortgage, while the two-bedroomed apartments will be selling at Ksh6.5 million for cash and Ksh6.7 for mortgage.
Speaking during the handover of the The Riverine development from the contractor, Zamara Executive Director James Olubayi said quality affordable housing remains a challenge for members in retirement.  "One of the biggest issues facing many Kenyans is the housing crisis," he said. "About 80% of people live in rental houses and many forced to live in poor slum housing with little prospect of owning their own property."
He said less than 5% of retirees over the age of 55 years have  a home of their own when they retire.
The Chairman of the Board of Trustees, Ms Lucy Kambuni, said Kenya faces acute shortage of housing and the fund has launched a Tenant Purchase Scheme to provide for members to become home owners through easier rent-to-on arrangements.
"We are witnessing numerous numbers of old age poverty among retirees after 30-40 years of hard work. It is disgraceful to see senior members of the society live like in abject poverty after long period of service and that's why we have come up with this innovative scheme that provides affordable means to own a home and be comfortable life during sunset years," she urged.
She said the tenant purchase schemes is more affordable than mortgage financing with simpler and faster qualification processes not to mention lower cost of credit (interest) pegged on a reducing balance.
The Head of Umbrella Solutions Division at Zamara Angela Okinda who heads the management of the fund said many Kenyans are finding it quite difficult to mobilize sufficient capital to purchase of a property due to daily demands that overrides long-term investments.
"The high cost of living and daily consumptive needs cannot really compete for the same disposable income with savings and investment. As a retirement Fund, we came up with innovative ways that would enable us to transform the lives of our members through home and land ownership schemes," she said.
The project is a mixed-use development with a nursery school, several playgrounds, a club house that allows for a swimming pool and meeting halls as well as a gym, state of the art commercial centre or shopping mall.
Former Zamara Executive member Wycliffe Wangamati, who is the Bungoma Governor, commissioned phase 2, which will comprise of one and two bedroomed apartments with a mall of 652 square meters of letable space.