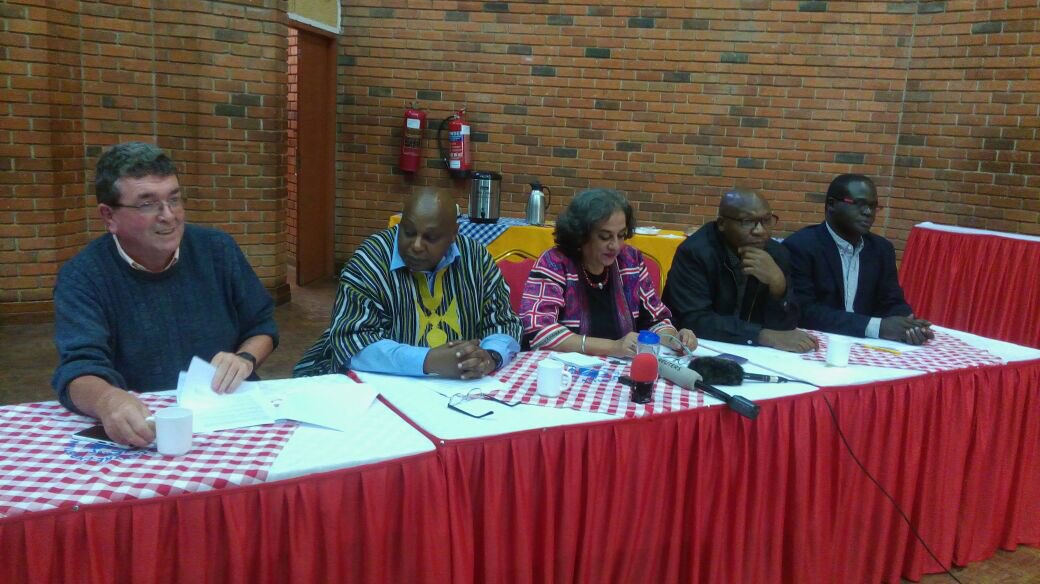 Nation Media Group has been dealt a major blow after columnists contracted by Nation newspaper resigned en mass, citing infringement of freedom of expression.
Eight independent columnists today announced their withdrawal from contributing to the various Nation newspapers at a press conference in Nairobi. In a statement titled "We refuse to be silenced," the eight say Nation Media, which owns Kenya's biggest newspaper, had lost editorial independence to the State and had resorted to censorship not just of its journalists by columnists as well.
"We refuse to continue to clothe the loss of editorial independence and freedom at the NMG with respectability," the statement reads. "Thankfully, public opinion is no longer in the sole grip of those who buy ink by the barrel. We are encouraged by the emergence of more egalitarian models for accessing and sharing information and will not be powerless witnesses to the silencing even of one voice, however disagreeable those in power find it."
The eight who resigned include George Kegoro, the executive director of the Kenya Human rights Commission who writes a column for the Sunday Nation; Muthoni Wanyeki, the director of Open Society Foundation and columnist in Saturday Nation and The East African; Father Gabriel Dolan, Catholic mission Priest and Saturday Nation columnist; Rasna Warah, author and Daily Nation columnist; Maina Kiai, co-director InformAction and columnist Sunday Nation; Gabrielle Lynch, professor of comparative politics at University of Warwick and Saturday Nation columnist; Nick Cheeseman, professor of democracy at the University of Birmingham and Sunday Nation columnist; and Kwamchetsi Makokha, programme advisor at Justice for Journalists and columnist for Daily and Saturday Nation.
The columnists, some of whom have contributed for over 15 years, said they had two years ago written to the NMG Board of Directors "in an act of good faith" to express their concern in what they saw was a systematic process to constrain independent voices within the company.
"We feared the legitimacy of Nation Media Group as a credible source of truth was being undermined by its management's failure or refusal to safeguard the professional independence of professionals in its employ," they say in the statement.
They have cited the dismissal of Nation Special Projects and Investigations Editor Dennis Galava two years ago over a strong editorial against the presidency as well as the pushing out of editorial cartoonist Godfrey Mwampembwa, alias Gado. The two later joined Standard but Galava was kicked out barely a year into the job as managing editor for weekend.
The columinists claim the subsequent exit of other senior editorial staff left them in a moral dilemma of being associated with an organisation whose respect for human rights and freedom of expression was in question. "The board's response, when it came two months later, promised unspecified action, which never materialised."
Recently, Nation Media Group was on the spot after it terminated the contract of economist David Ndii, who ran a bimonthly column in Saturday Nation, due to what many believe were his strong views against the government of President Uhuru. His column was one of the most-read in Daily Nation. Late February, NTV General Manager Linus Kaikai was forced out for defying NMG's top command's order to give a blackout to NASA leader Raila Odinga's swearing-in on January 30th.
"The Executive and NMG's actions suggest state capture of the media," they say. "Censoring individual columnists signals official intolerance for descending views and suggests the executive willingness to go to any length – even co-opting editors – to achieve its aims."