Misky Hajji, a 19-year old Somali girl, has surprised many by writing a book at such a young age in a community where literacy remains a challenge.
In the poetic book, titled Reset, the young girl voices the trials and tribulations of marginalized communities, one of which she belongs. She says the book is aimed at resetting socio-economic and political issues in the North-Eastern region of Kenya.
Misky's book addresses the main issues and challenges that the girl child undergoes for her to succeed in the Somali community and the north-eastern region as well as the feminine nature that helps in changing the mindset of the society.
Misky Hajji, who went to Matarajio Junior Academy in Mandera County, says she started composing a few lines when she was 10 and completed her first manuscript by the time she hit 14 years.
"I still hold fond memories of my mother going out of her way to get me copies of the daily newspapers to help me in the mastery of languages," said Hajji.
The young author thanked God for gifting her with writing talent, insisting that her journey to becoming an author balances between poetry and storytelling.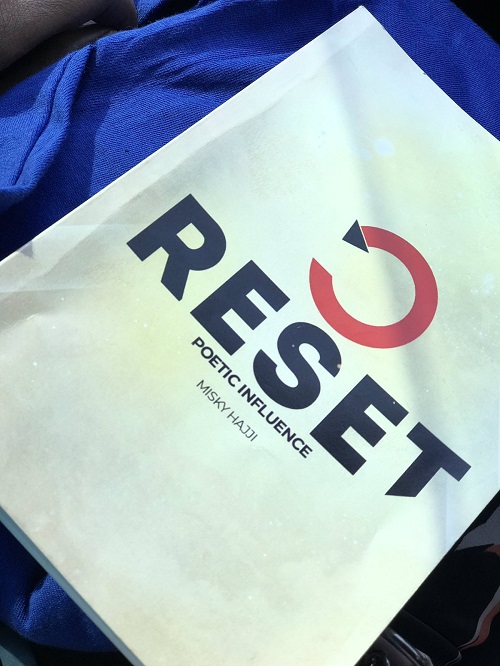 Speaking during the book launch in Nairobi recently, Garissa Governor Ali Korane said leaders should support and nature young talent in their regions. "I commit myself to buy 200 copies of this book for every school in my county," Korane said. "This will help them improve in literature skills and writing."
Wajir Governor Muhammed Abdi said education has several objectives, including preparing students for life by helping them find a pathway to employment as well as extracurricular activities such as writing.
"Through the power of the pen the author shares in a poetic manner the current situation of our state and the need to correct the inequality," said Mr Abdi, who added that they have provided Ksh.82 million to aid in the funding of 12,000 students' education. He added that writing skills can be used to document society's rich culture.
Mandera North Member of Parliament Bashir Abdullahi said that the youths have a big role in building peace and security. He said leaders should support women in all their endeavours. "We should use the theme of this book which is 'Reset' to retune our minds from violence to attain peace and security," said Abdullahi.
Let's reset our mindset my people! pic.twitter.com/f2TzYX7SBP

— misky hajji (@miskyhaji) September 12, 2019