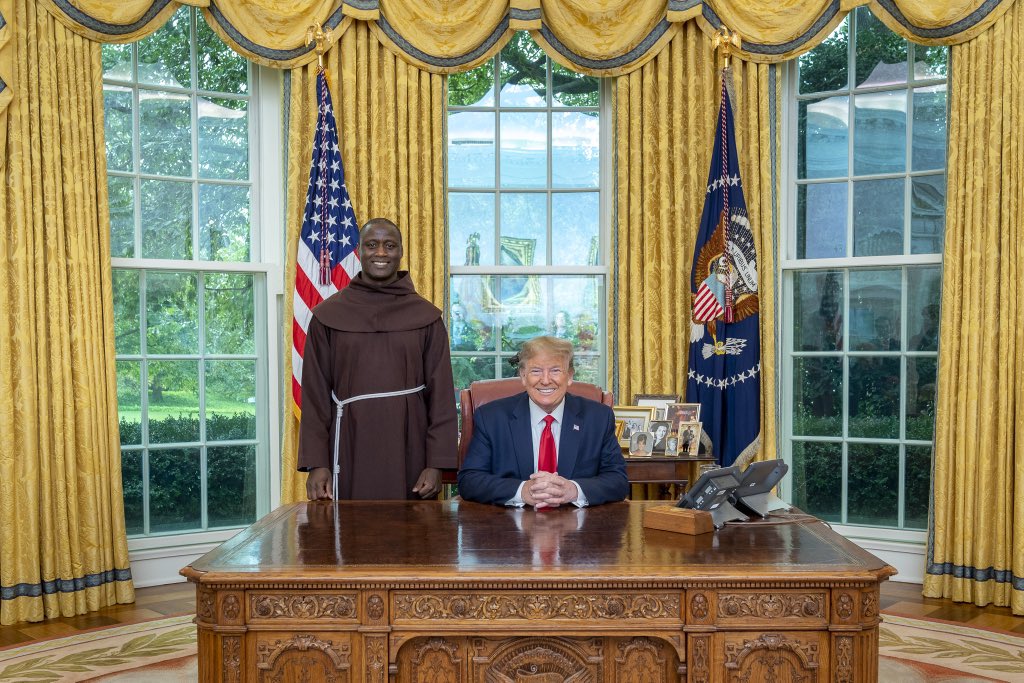 Peter Tabichi, the 2019 Global Teacher Prize Winner on Monday meet with United State President Donald Trump at the White House.
Teacher Tabichi is expected to give a special address at the United Nations General Assembly in New York.
Describing Tabichi as an inspiration to everyone, White House Press Secretary Stephanie Grisham tweeted the photo of the 37-year-old science teacher with President Trump.
"His dedication, hard work, and belief in his student's talent have led his poorly resourced school in Kenya to emerge victorious after taking on the country's best schools in national science competitions. Peter, you inspire us all! Thank you for your commitment to your students," tweeted Grisham.
However, the details of what was discussed during the meeting were not disclosed.
The maths and Physics teacher will be the first in his profession from Kenya to address the 74th UN General Assembly.
He is expected to give remarks on how he made it to the top of the teaching profession and probably explain how he manages to inspire great performance amongst children who live in a region where drought and famine are frequent.
Brother Tabichi, a member of the St Franciscan Friars, a religious order founded by St Francis of Assisi in the 13th century.
In March, the science teacher at Keriko Mixed Day Secondary School at Pwani village in Njoro, Nakuru County won the 2019 Global Teacher Prize. It came with a reward of Ksh100 million.
In April, Tabichi was appointed a champion for children in conflicts and crisis by a global body, Varky Foundation.
He now champions the cause of the 75 million children worldwide whose education is disrupted by conflicts and natural disasters.
Former UK Prime Minister Gordon Brown, the UN Special Envoy for Global Education and Chair of Education Cannot Wait's High-Level Steering Group, recently described Tabichi as an inspiration to all involved in teaching and learning, and said he is looking forward to working with him.