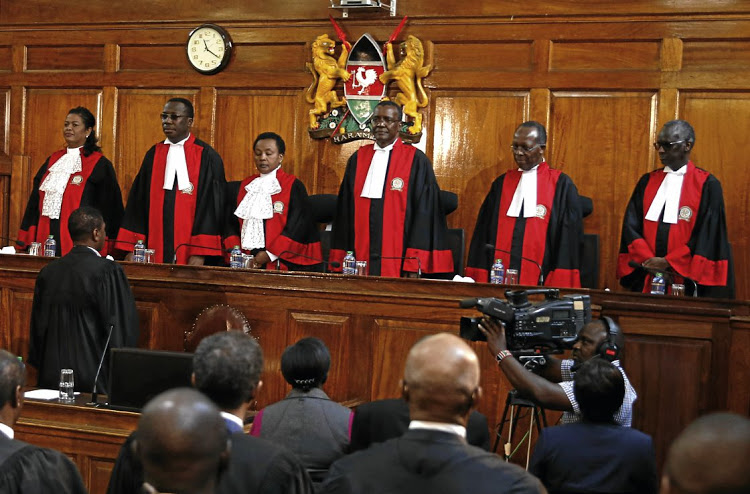 President Uhuru Kenyatta has revealed how he was left seething with anger after the Supreme Court ruled against win and called for a fresh poll on September 1.
Speaking to a delegation of about 5,000 leaders from the Gusii community at State House, Nakuru, Uhuru said he has no problem with the community but rather Chief Justice David Maraga and "his people" for overturning his victory.
"Wengine wetu tulikuwa na uchungu mwingi…hata mimi ni binadamu na nilikuwa nimekasirika sana (Some of us were in a lot of pain…I am human and I was very annoyed)."
He likened the cancellation of his victory to losing a bull after buying it.
"Hata wewe ukienda kwa soko ukanunua ngombe akaibwa, halafu polisi apate huyo ng'ombe. Kisha hiyo kesi ipelekwe kortini na kwa sababu haukuwa na p3 form unanyimwa ng'ombe. Huo ni ungwana (If you go to a mark and buy a cow and then it is stolen…police find it and there is a court case but you are not allowed to take the animal because you don't have a p3 form…Is that sensible?"
"Wewe ungesikia namna gani? Mimi sina shida na wakisii but niko na shida na uamuzi ule (How would you feel? I don't have a problem with Kisiis but I have a problem with the verdict)."
"Unaibiwa mchana na unaona. Afadhali korti ingesema wafungue masanduku wahesabu ballot papers. Kwani walidhani nitacheka nikisikia huo uamuzi? Lazima ujitetee…si ni ukweli..ama si ukweli (They steal from you during the day as you see them. It would have been better if the court had ordered a recount of ballot papers. Did they think I would laugh after the determination? You must defend yourself…isn't that the truth)?"
He acused Nasa leader Raila Odinga of seeking to exploit his reaction to incite the community against him.
"Ndio huyo amekimbia Nyamira na Kisii, huyo mganga… Nikikataa kujitetea si watasema kweli huyu mtu aliiba? (He is now running to Nyamira and Kisii, that witch… if I don't defend myself won't they say I truly stole (the election)?"
The Jubilee leader said his party wants peace in the elections period.
"We want one Kenya and we want peace. Hata kama tuliibiwa wacha tukubali. Vile Mungu alitujalia August 8 ndiyo vile atatuongoza October 17 ndiyo wakenya waendelee na maisha yao (Even if they stole from us, let us accept (reality). The same way God favoured us on August 8 is the same way he will favour us on October 17 so Kenyans can return to their lives)," he said.
He noted that when the IEBC announced him the winner, the Opposition started fighting and burning kiosks. "I will not allow this," he emphasised.
"Wenzetu walianza kuchoma kiosks vile nilishinda…wenzetu walianza kuchoma vitu…Sasa jameni basi imekufanyia nini? Mwenye kiosk amekufanyia nini (Our opponents started burning kiosks when I won…they started burning things…surely, what has a bus done to you? What has the kiosk owner done to you)?"he posed.
"Kama kuna kitu sitakubali ni mwenye ataleta fujo..hatutaruhusu kamwe (If there is anything I will not allow it is chaos and its perpetrators)." – Additional reporting by BT reporter