Former President Daniel Toroitich Arap Moi, who is being laid to rest today at his home in Kabarak, Nakuru, will be remembered for many virtues, but the most iconic of them all is Discipline. 
This can strongly be attributed to his career background as he was a trained teacher and practised this profession for 10 years before going into politics.
His passion for e*******n led to him being the founder and patron of major schools in Kenya and the popular 'Maziwa ya Nyayo' that was distributed to primary schools.
The Discipline master
During his era, President Moi never shied away from calling out his cabinet secretaries for indiscipline and neither did he hesitate to f**e those he didn't ideologically agree with. This was the most politically stable time in Kenyan history as no one dared cross his path.
Some deemed him as a dictator while others might have just thought of him as a stern no-nonsense leader.
The Fashion Master
President Moi will also be remembered for his sharp dressing during his 24-year reign. He always wore British tailor-made suits and he had a whole team of aids who would lay out his clothes for him.
A senior officer was then placed in charge of making a final decision and a presentation to the former president before state functions. During his early years in power, he was particular about his three-piece suits.
However, over time, he retained his well-pressed suits, matching shirts, neckties, socks and shoes. Not forgetting a fresh rose on the left side of his lapel, which was plucked every day. And for the 24 years, he was in power, this was considered his signature look.
Mysterious Fimbo ya Nyayo
This look, however, was never complete without the 'Fimbo ya Nyayo', a custom-made baton, made of ivory and gold. It is believed to have bared a political/tribal significance for him, borrowed from his community.
Fimbo ya Nyayo was considered a symbol of power, leadership and national cohesion. Former President Moi attended all the major state functions with the baton in his hand.
In December 2002, he was welcomed by George W. Bush to the Oval Office at the White House and his 'rungu' was very much so with him. This became a huge political symbol for him all over the world.
There is one time, however, that he almost missed the Commonwealth Heads of Government in Melbourne, Australia. The baton broke in Los Angeles, USA, where Moi had travelled to attend the United Nations General Assembly in New York.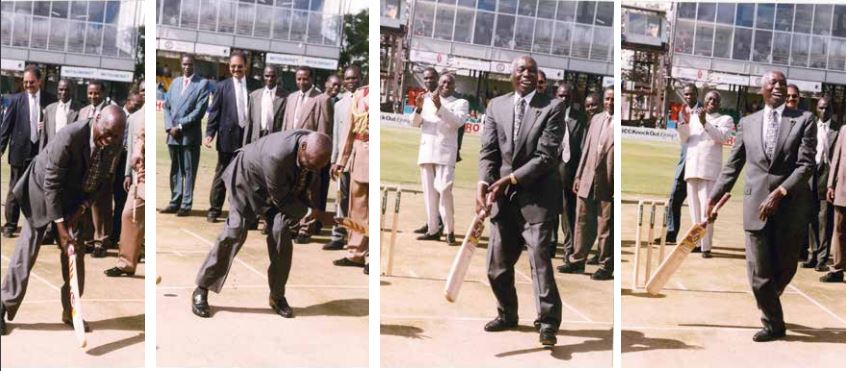 Mzee Moi's Personal Assistant, Peter Rotich, had to fly another one before the former president made an appearance in Australia. They had to wait in transit in Hawaii. By the time the president was getting to Australia, his PA was already there with his baton and, at last, he was ready to make an appearance.
In a recent interview, Bishop Silas Yego of AIC Milimani revealed that Mzee Moi never carried his baton with him into the church as he always left it in the car.  He, however, had some other prized possessions in his hand, a Bible and a Hymnbook.
Before God, it was nothing
Bishop Silas describes the former president as a humble man who had respect of God and the church and he never discussed matters politics unless he was giving a testimony.
Controversial you may you say since this is a piece that seemed to be the centre of his every day political life but one that was not of high regard every once a week.
Was this a sign of respect and submission to the higher power? Or maybe, a charm that seemed to favour his, diplomatic and political meetings but powerless in the presence of God? That's a secret he goes with to the grave.
Preserved alongside the body of the late former president is his Bible, the Hymnbook, his m******y uniform and his infamous 'Fimbo ya Nyayo' in his right hand, where it has always belonged.