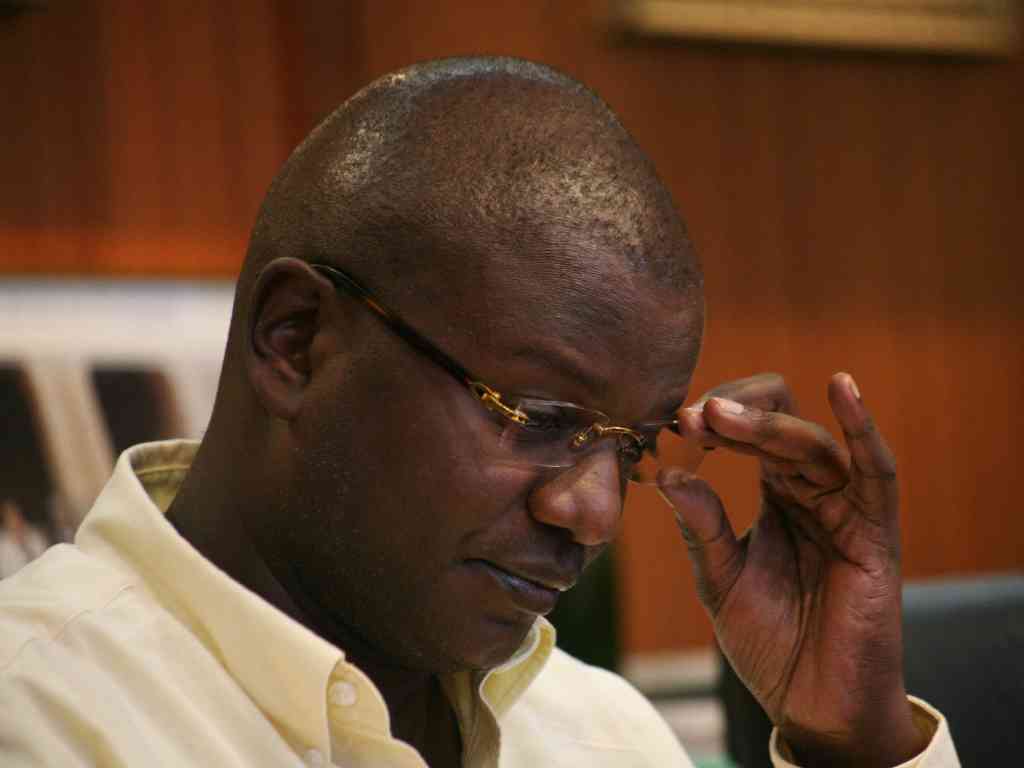 [dropcap]F[/dropcap]or Louis Otieno, life has come full circle, literally. From a colossus who towered Kenya's TV industry – changing employers when he so wished – Louis, the man who revolutionized television talk shows in Kenya cuts a sorry image. [Watch video at the end]
At a time when he should be living life in the fast lane of media and "eating life with a big spoon", the father of one daughter is fighting for relevance in a world that literally took his orders. After struggling with personal and family issues since his silent exit from the media, it has emerged that Louis has been battling a bigger problem than many imagined: an illness that has eventually shut down his hearing organs.
It's rags-to-riches-and-back-to-rags story, but which is full of life lessons, more so on managing success and wealth. "I literally live in a cave," he says. "I have no idea what's going on in the world."
The baby the steps to fame
Working as junior clerk at Post Bank, Louis Armstrong Otieno, then 20 years old, walked into his managers office and requested to be made a presenter of the company's popular show, 'Post Bank Premium Bonds Draw' that aired just before the news on Kenya Broadcasting Corporation (KBC) TV (those his age and older will recall the show).
He met opposition but his efforts finally yielded fruit and he was made a presenter on the show. It wasn't long before audiences began to notice the young man with a projecting voice, quick wit and easy screen presence.
Soon, TV stations wanted Otieno as an anchor on prime time news. A few years after he had become the darling of many for his spectacular performance on the Post Bank show, he appeared on KBC TV, all suited up and ready to read the 9pm news.
"I was the youngest," Louis Otieno recalls. "Anchoring was the preserve of veterans. The co-anchor I was paired with told me to get out of his chair."
His career in media grew and he became one of the highest paid anchors of his time. Then things started crumbling. First came the news that he was falling out with his editors and crew. His critics mentioned arrogance. They said he was becoming bigger than himself.
Former colleagues say he was unpredictable and moody, so you had to approach him with caution. Louis says dismisses the accusations as an occupational hazard. Anyone doing the kind of work he was doing – putting top politicians in the hot seat and squeezing information from them – was bound to have enemies.
Rumours of alcoholism and living large crept in, revealing a crack in the dark side of Kenya's finest TV news anchor back. Still, Louis put on a brave face and continued dazzling audiences.
Behind the scenes, however, social media users projected the image of a man whose personal life was falling apart. Otieno fought on. "It comes with the territory. I often reminded them that I was not in it to be famous but to be effective," he says.
But it was the news that he had been named in murder investigations involving a college student, Careen Kipchumba, that finally brought his promising career to a halt. As suddenly as he had appeared on the screen, Otieno disappeared.
Snapshots of some of the powerful interviews he did would emerge, a brief reminder of a man who once had so much control of news content that media houses accorded him a whole team of producers to work with.
Today, he is a shell of his former self. The power has been sapped. The spring is gone.
At his home in Nairobi, The Standard Group team that interviewed him recently met a man who cannot even walk straight, having lost his stable gait. His hearing is gone and he can no longer listen to the powerful interviews he once gave.
For this interview, the journalist had to write the questions on a piece of paper for him to read. "I cannot even hear my own voice," he says, choking back tears. "I cannot hear my daughter when she comes home from school."
The world falls silent
Louis suffered an acute pancreatic infection that crashed his hearing system. With the disease taking over his life and his fame dimming, friends fled. His phones, he says, rang incessantly when he was a popular TV anchor. They went mute as soon as he was fired. The powerful politicians and business moguls who once begged for his audience all left.
Louis says his condition has taught him the fluidity of friendship and vanity of fame. It has also drained the last shilling of his savings from his former job. According to his sister, Joan Obuya, the family has taken loans to pay for his medical bills, but the burden has become too heavy.
Appealing for help
"Our mother retired and we lost two siblings recently. It has been a difficult time," she says. Louis is seeking help. He says he is telling his story to reach out to anyone who saw his passion and dedication during his days as a TV anchor.
"I performed my job as a national duty. Not showbiz, not entertainment. I held platforms for debate and discourse for both opinion leaders and ordinary Kenyans," he says.
At the end of the interview with Standard, his daughter nods and gives him a thumbs up – it is the new language that father and daughter have developed. It will cost Ksh4 million to fully restore his hearing and balance. The family says they have run out of money to pay his medical bills and opened a pay bill number for wellwishers to assist. The paybill number is 333957 under Louis Armstrong Otieno.
[Quotes and part of the content for this story have been reproduced from Standard in support of Louis Otieno's quest for a new lease of life]