KTN journalists arrested as protests rock NASA strongholds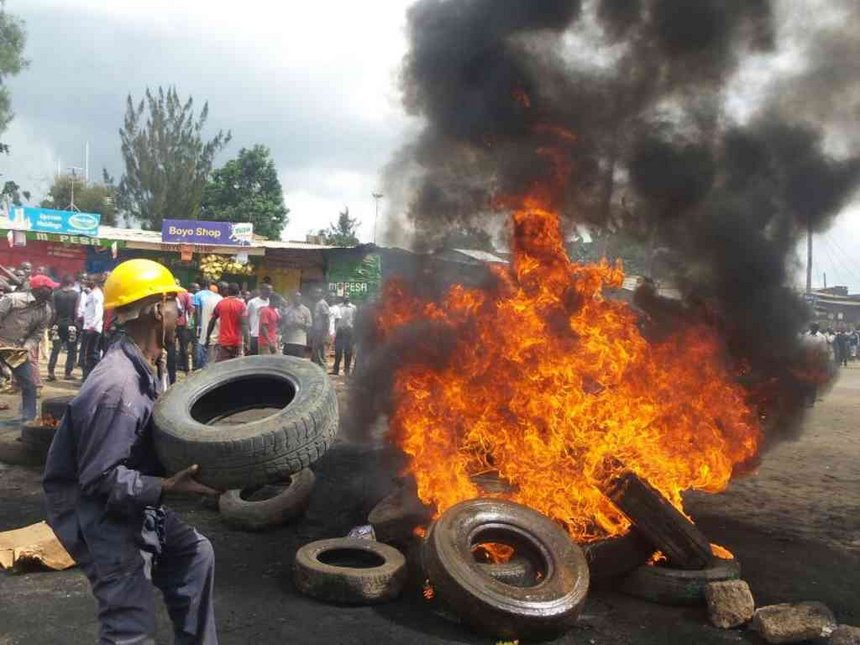 KTN journalists Duncan Khaemba and Otieno Willis have been taken into police custody, reportedly over the possession of bullet proof gear. The two who were covering Kibra protests Saturday morning have been taken for questioning at Kilimani police station.
A charge sheet is yet to be issued but reports reaching the Standard Digital indicate that the two have been accused of being in possession of unlicensed bullet proof gear. The Standard Group has however confirmed that the gear in question is dully licensed.
Before they were taken into custody, Khaemba and Willis were filing live reports from Kibra where riots broke out after the declaration of Uhuru Kenyatta winner of the August 8 General Election.
Hours after the Independent Electoral Boundaries Commission (IEBC) announced president-elect Uhuru Kenyatta as winner of the 2017 election, incidents of riots, destruction of property and death have been reported across Nyanza and parts of Nairobi. Police have been battling protestors in Kisumu, Mathare and Kibera. It is feared that six people may have died from gunshots wounds on Friday night.
Police in Kisumu, Siaya, Bondo, Homa Bay and Migori are engaging crowds in running battles. Roads have been blocked and businesses burnt down. KTN News reporters on Saturday morning went to Kibera and the reporter could hear gunshots in the air. All major roads in most parts of Nyanza remained impassable with people remaining indoors.
In Kisumu, a doctor said he had seen four bodies with bullet wounds at the Jaramogi Oginga Odinga Teaching and Referral hospital but the County Police Commandant, Titus Yoma denied the report, saying he could only confirm one death- which occurred at Dago, in Maseno.
Shot dead
"We only know of one death," Mr Yoma told the Standard on Saturday morning. Another death was reported by the Kisumu West Member of the County Assembly, Mr Paul Okiri. Vincent Ochieng' was shot dead as police tried to contain rowdy youth at Dago market in Kisumu. Family members however said that the 19-year old was returning to their Ulalo home after watching an English Premier League football match when he was shot.
Okiri said there were protests following the presidential declaration and youths had engaged police in running battles throughout the night.
In Siaya, a body of a boda boda rider was discovered this morning near the offices of the Siaya County Women representative, Dr Christine Ombaka and residents say he may have been a victim of battles between the police and the local residents.
Nation arms its journalists for demos
This past week, security officers seeking to control Nasa street protests especially in the Raila Odinga stronghold of Kisumu have indicated they have no regard for journalists.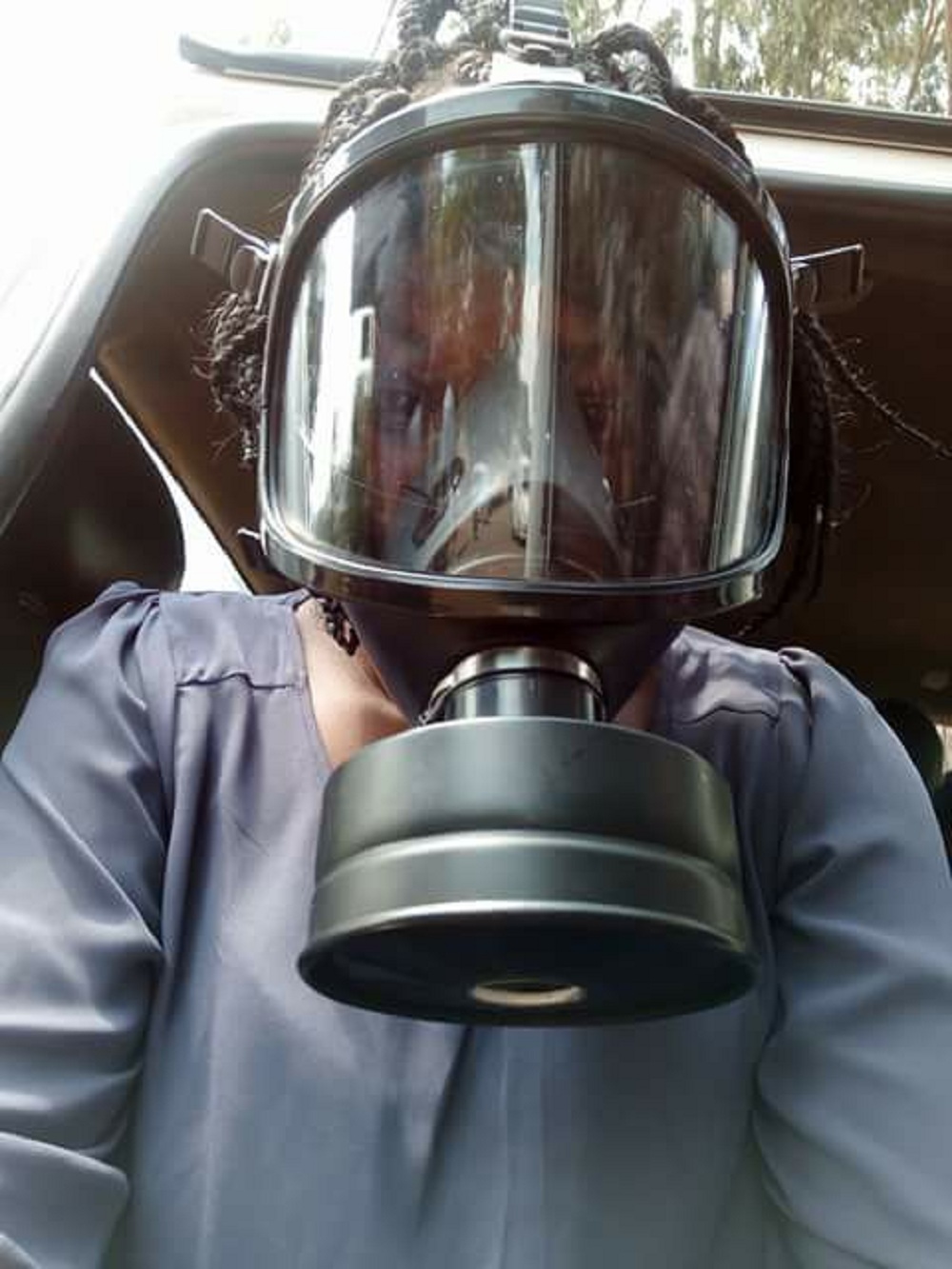 As the National Super Alliance (NASA) readies for confrontations with security forces after ignoring a ban on street demonstrations, media houses have upped safety measures to ensure their journalists are protected against the hazards that come with covering violent beats.
Apart from their usual tools of trade – note books, pens, cameras, microphones, voice recorders and lately, smartphones – journalists have in recent times world over been forced to wear bullet proof gear and gas masks and the trend is fast catching on.
Bullet proof vests/jackets and helmets were first used in Kenya about three years ago when the country was in the grip of an intensified war against Somali-based al Shabaab militants who had sustained attacks in the country, including the Westgate Mall siege.
Media personnel covering the assaults against al Shabaab especially on the front line and inside Somalia were required as per protocol to wear bullet proof gear.
However, following the announcement of President Uhuru Kenyatta as the August 8 Presidential Election, KTN journalists Duncan Khaemba and Willis Otieno were taken into police custody for being in possession of bullet proof gear without a permit.
The two, who were covering protests in Kibra, were taken for questioning at Kilimani police station but were later released after the Standard Group confirmed that the gear in question was dully licensed.
This past week, security officers seeking to control Nasa street protests especially in the Raila Odinga stronghold of Kisumu have indicated they have no regard for journalists. Friday, a Citizen TV journalist was injured in the lakeside city during a confrontation between police and NASA supporters who had defied a protest ban imposed by Interior Cabinet Secretary Fred Matiang'i.
In Nairobi, journalists Fredrick Onyango and Enos Teche were clobbered outside Parliament Buildings.
Journalists harassed
Onyango produced his press accreditation cards but it only made matters worse for him, thanks to his ethnicity. The officer allegedly told him he is one of those "troubling the country."
"I said it today is a bad day for journalist my colleague Enos Teche and I clobbered outside Parliament they arrested me and went ahead seeking my press card when I showed it he looks at my name and says si ndio tunasumbua Nchi. His photos coming shortly," he wrote on his Facebook page.
On Wednesday, five journalists were harassed, beaten and injured by police in Kisumu while covering the anti-IEBC demos. About 20 officers from the General Service Unit mobbed Rashid Ronald of KTN and Faith Matete of the Star near Kisumu Boys High School.
The officers clobbered Mr Ronald, injuring him on the leg. While beating him, they said Kisumu journalists were not any special than protesters on the street. The officers then lobbed teargas canisters at NTV's Ouko Okusa, his cameraperson Doreen Magak and Daily Nation reporter Rushdie Oudia.
In a bid to protect its journalists against such danger, the Nation Media Group has now invested in gas masks to shield them from its harmful effects.
Friday, a photo of NTV journalist Brenda Mulinya wearing one such mask was circulating online. Though expensive, a gas mask is the best tool to protect journalists by allowing them to cover the story safely, according to the International News Safety Institute (INSI).
Tear gas, which Kenyan police use rather generously for crowd control missions, has various harzadhs which journalists covering them should be aware.
For instance, when chemicals used in tear gas react with moisture they cause a burning sensation, meaning that the eyes, skin and lungs are extremely susceptible.  The INSI warns journalists covering protests to avoid wearing oil-based creams, sunscreens and make-up as they will also absorb tear gas.
Recently, the Committee to Protect Journalists (CPJ) called for a review of the country's laws to allow journalists wear protective gear.
CPJ, which also asked the government to investigate cases of harassment and intimidation of at least 10 journalists in the aftermath of the August 8 poll, said the Firearms Act should be amended to allow journalists to wear more protective gear especially when covering riots and chaotic rallies.
However, wearing gas marks to circumvent police dispersion tactics is still prone to challenges such as covering intense public situations when security agencies are striving to maintain order and likely, order everyone to leave.
The Reporters Committee quotes an instance where a freelance TV journalist Armando Gallardo was arrested by the Charlotte-Mecklenburg police in the United States while while covering protests in Charlotte over the fatal shooting death of Keith Lamont Scott.
Gallardo allegedly infringed upon regulations specified in Charlotte's Code of Ordinances prohibiting "body armor, shield, helmet, protective pads, or gas masks carried or worn with the intent to delay, obstruct or resist the lawful orders of a law enforcement officer" during an extraordinary event – a "large scale special event of national or international significance … expected to attract a significant number to a certain portion of the city."
Nevertheless, the right to information should be seriously considered in undertaking any review such as the one suggested by the CPJ.