Swahili KTN news anchor Ali Manzu won a prestigious accolade for his outstanding contribution towards the fight to eliminate Female Genital Mutilation (FGM) in Kenya on Tuesday.
Ali received the prestigious award at the first ever conference by the UN held at Kenya Institute of Curriculum Development (KICD) with the theme: Ending FGM is a political decision – Building bridges for elimination of FGM in Kenya.
Manzu took to Facebook to dedicate the award to the survivors of FGM that came out to say no to the inhumane practice while encouraging the need for awareness of stopping FGM.
READ:
BBC makes a daring raid on KTN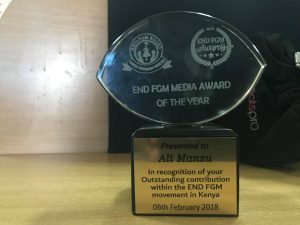 His post read:
"Team work allows us to reach the heights of excellence and perform the extraordinary by touching other people's story and bring them to life. I dedicate this #endfgm award to the survivors who came out and faced the world and said #notofgm May your hopes and dreams come true. You can. To the KTN News fam, let's inform the public."
Female genital mutilation (FGM) is a practice that involves altering or injuring the female genitalia for non-medical reasons, and it is internationally recognized as a human rights violation. Globally, it is estimated that 200 million girls and women alive today have some form of FGM.
A holder of a Bachelor of Arts degree in Communication and Public Relations, Manzu is a former presented with Mombasa-based Radio Salaam.
Story credit: Standard Entertainment