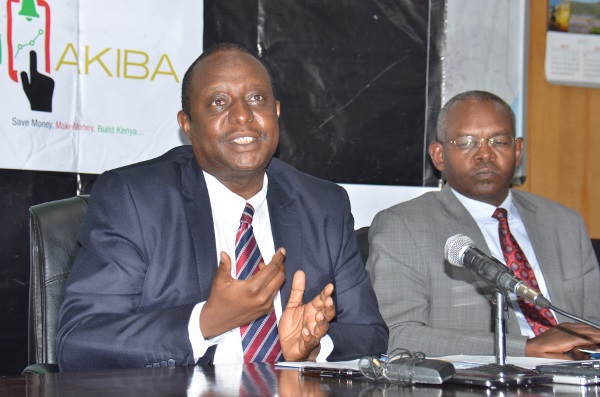 Demand from retail investors for the maiden issue of mobile phone-based bond M-Akiba yesterday overwhelmed the IT system managing the transactions, leading to a c***h just two hours after the launch.
Treasury Cabinet secretary Henry Rotich rolled out the Sh150 million bond at 11am, opening a floodgate of subscriptions, with 162 subscribers pumping in over Sh400,000 within three minutes of the launch.
Sources familiar with the back office operations of the bond told People Daily that Ksh2.1 million had been raised when the system collapsed at 1.00pm from 1,124 transactions (681 from M-Pesa and 443 from Airtel Money).
The bond is a special limited offer, which will close on April 7, to pilot the system before President Uhuru Kenyatta launches the main M-Akiba bond valued at Ksh4.85 billion in June. Investors keen to buy the bond said the short code provided for application was returning an error. The system is being managed by Central Depository and Settlement Corporation, but it has been restored.
Immense potential
Safaricom, however, confirmed that system c*****d. Rotich said the bond has the potential to raise Kshh69 billion per issue, given that there are 23 million active mobile phones. "M-Akiba has a low entry level, Ksh3,000. This is aimed at catalysing retail participation in Kenya's capital market for its 23 million mobile phone users – a value proposition of immense potential to grow and anchor our domestic financial markets upon the widest possible base," he said.
Related >> A quick guide on how to invest in M-Akiba 
Ordinary Treasury bonds have a minimum subscription of Ksh50,000. Treasury Principal Secretary Kamau Thugge said the bond fitted in the government's plan to diversify sources of funding for the country's infrastructure.
"This bond was conceived in 2006. However, it could not be immediately realised because we did not have the requisite technology. It has been Treasury's objective to diversify our funding sources for infrastructure. "As you may be be aware, we will soon be issuing a Sukuk (Shariah-compliant infrastructure bond)," he added. (People Daily)
[crp]