The Kenyan Entertainment and Media industry was worth Ksh217 billion (US$2.1 billion) in 2016, up 13.6% on 2015, according to the latest PwC's Entertainment and Media Outlook: 2017 – 2021: An African Perspective report
Revenue is forecast to grow at an 8.5% CAGR (compounded annual growth rate) over the next five years, hitting the Ksh310 billion (U$3 billion) mark in 2020, and totalling Ksh330 billion (US$3.2 billion) in 2021.
Total advertising revenue reached US$1.0 billion in 2016 and is set to grow at an 8.0% CAGR over the next five years, fuelled by Internet advertising's CAGR of 13.6% over the forecast period.
Prior to 2016, Kenya's largest advertising market was radio. Considering its small economy, the report says Kenya has the largest radio advertising market in the Middle East and Africa region, and the 14th-largest in the world.
According to analysts at Bizna Kenya, low costs and robust listenership are key pull factors to businesses looking to advertise on Kenyan stations.
Due to the range of radio stations in the country, advertisers can reach key demographics, meaning targeted and more effective ad campaigns.
During the year under review, radio ad spent stood at Ksh35.3 billion a 9.2% increase from Ksh32.3 billion generated in 2015. It is projected to hit Ksh51 billion by 2012, which the report says will be more than ad revenue generated in Italy, a country with a bigger population and an economy 20 times larger than Kenya.
Ad spend on television and video also stood at Ksh35 billion in 2016 compared to Ksh31 billion the previous year, an increase of 14.1%. By 2021, this is projected to reach Ksh53.6 billion.
Year-on-year growth in newspaper advertising revenue rose from Ksh12.7 billion to reach Ksh13.1 billion in 2016, an increase of 3.0%. It is projected to reach Ksh14.1 billion by 2020, same as 2021.
Internet advertising is one of the fastest-growing sectors of the market. By 2021, revenue will hit Ksh23.4 billion from the current projection of Ksh14.6 billion for 2017, making it the third largest advertising category in Kenya.
The report notes that international players have begun to rear their heads, with Swedish phone-call filtering firm Truecaller announcing in May 2017 that it would begin offering ad opportunities to local Kenyan companies on its mobile app.
Despite year-on-year growth beginning to slow by 2021, the PwC report says advertising revenue is set to increase as Kenya's media industry continues to expand.
"There remain several small, but growing untapped areas, such as the cinema market, which will rise quickly, while the emergence of global corporations in the country will help to propel revenues higher still," it says.
The report shows internet access is the most established industry within the Kenyan market and will also be the first subsegment in which revenues hit US$1.0 billion, which it will reach in 2020.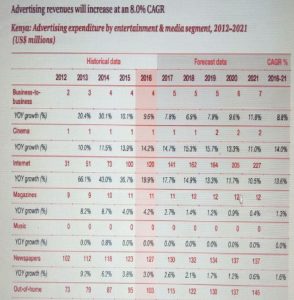 Mobile Internet access is the main revenue driver, as smartphone adoption increases in popularity. Over the forecast period, high-speed mobile Internet connections will rise at an impressive 84.9% CAGR, while the number of mobile Internet subscribers is set to more than double over the next five years, reaching 33 million in 2021.
"In response to increased mobile Internet access, Malaysian video streaming service iFlix announced in June 2017 its plans to enter the Kenyan market. Following the lead of SVOD giants like Netflix and Amazon, iFlix hopes to capture a slice of the market, offering both local and international content to the Kenyan audience, at a significantly lower price than other subscription-based services. iFlix will cost between US$2-US$4 a month and allow consumers to download content in low, medium or HD format," says the report.
It adds that the rise of the smartphone in Kenya will also contribute to growth across other media sectors, with the Nation Media Group developing a mobile-friendly app to encourage digital readership of its news content and the social/casual gaming market expected to rise at a 22.4% CAGR to 2021, as Kenyans gain access to mobile app stores and mobile data costs fall.
The report, however, shows that user experience is taking centre stage in the media industry and companies that seek to compete and generate value must put consumers as the primary basis for strategic differentiation and revenue growth.
"To thrive in a marketplace that is increasingly competitive and crowded, companies are focusing on implementing strategies and building capabilities to engage with consumers," the report says.
The Outlook is a comprehensive source of analysis and five-year forecasts of consumer and advertising spending across five countries ( Kenya, South Africa, Nigeria, Ghana, and Tanzania) and 14 segments; Internet, data consumption, television, cinema, video games, e-sports, virtual reality, newspaper publishing, magazine publishing, book publishing, business-to-business publishing, music, out-of-home, and radio. See the full report here.