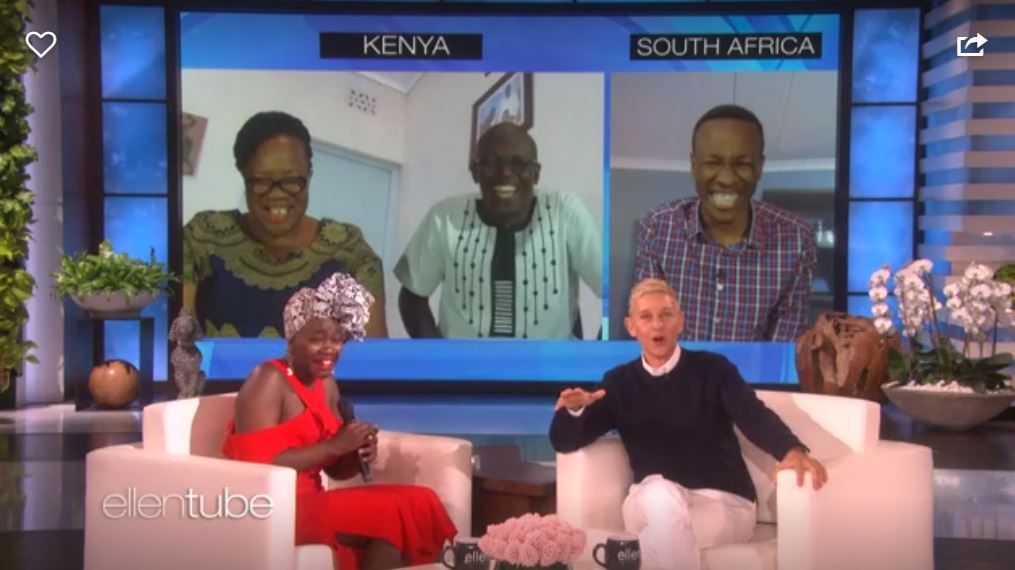 After two years living away from home, Kenyan Achieng Agutu got reunited with her family on American comedian Ellen Degeneres' 'The Ellen Show.' Achieng was reunited with her mother and sister who were living in Kenya and her brother who has been residing in South Africa.
On the show, Ellen plays a clip of Achieng Agutu, a Kisumu-born girl studying in the United States, dancing on set before the beginning of the show. The comedian said that she was impressed with Achieng's dancing and went ahead to invite her to the stage so as to know more about her.
Achieng shared her story with the audience who were moved to learn that her family has been doing their best to pay Achieng's school fees. Ellen then staged a video connect with Achieng's family, something that really excited her because she had not seen them for two years.
Ellen then faked a connection failure to the disappointment of Achieng who was clearly excited after seeing her family again after a long time. The comedian then pretended to go backstage to sort the connection issue but instead came back with the entire Achieng's family to her surprise.
In the show, Achieng' narrated how she has been a fan of the show ever since she was in Kenya. She further said that he learnt English from watching the show as well as listening to songs played in the show. She learnt through noting down the lyrics.
Her folks, she said, are helping out at least 10 unfortunate children back in Kenya because they feel blessed. Her elder brother, Churchill is also off in South Africa in search of greener pastures. Her father explained that being together again was huge for them.
They then played a game, courtesy of Walmart where Ellen gets to reward deserving people with Ksh 100 million for the entire month of May. In the game, they were required to pick one card from a group of three – labelled 1,2,3 – with different figures inscribed at the back.
Read: Why popular host Anita Nderu quit Capital FM
Fortunately, they select the card labelled 2 which comes bearing the highest amount out of the three; a whopping $50,000 (Ksh 5 million).