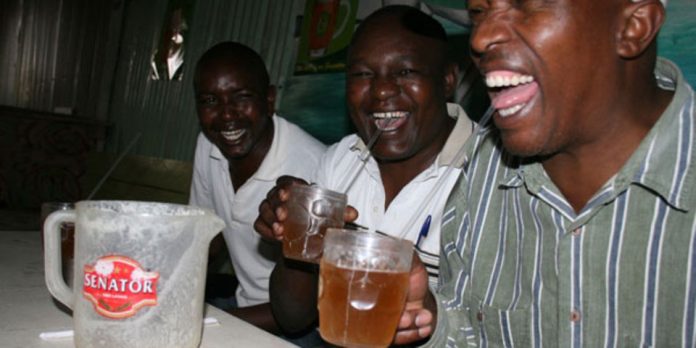 The increase in prices of keg beer due to additional taxes has resulted in a surge in consumption of illicit brews, the Pubs and Restaurants Association of Kenya (Perak) stated on Wednesday, September 21.
The price of keg increased by around Ksh10 for a 500ml mug in September after its biggest manufacturer in Kenya, Diageo-owned East Africa Breweries Limited (EABL), indicated that it would no longer absorb the annual excise tax adjustment for inflation. The NSE-listed brewer has been absorbing the annual inflation adjustment since it was introduced in 2018. Now, however, it says it no longer has the capacity to take on the additional cost.
The association was speaking during an engagement involving various multi-sectoral stakeholders and taxpayers and the Kenya Revenue Authority (KRA), which has come under pressure for what many consider to be punitive taxation measures. The new administration of President William Ruto has promised to make KRA's relations with taxpayers friendlier even as it looks to expand the tax base.
Michael Muthami, national Chair of PERAK, told the KRA forum that businesses in the sector were struggling with the lingering economic impact of Covid, a situation made worse by the increasing cost of alcohol sending away customers – who turn to cheaper alternatives including illicit brews.
He also cited that businesses in the sector were feeling the burden of expensive levies and charges from county governments.
"Things are bad on the ground with sales at COVID levels. Lower disposable income and high price sensitivity have led to lots of (business) closures and huge losses," he noted.
As the forum began, KRA Head of Corporate Policy Maurice Oray noted that while the considerations of stakeholders would be taken into account, planned taxation programs would have to run as the government requires funds.
Speaking at the same event, EABL Head of Corporate Policy Zach Munyi cited the unpredictability of the tax regime as a major headache for businesses. He further highlighted other challenges compounding the issue including the high cost of inputs, forex volatility and record-high fuel prices.
"Manufacturers are not averse to paying taxes, they just want to pay taxes in a sustainable manner. Taxes need predictable tax environment. KRA & Treasury have been raising taxes randomly," he stated.
Alcoholic Beverages Association of Kenya (ABAK) chair Eric Githua told the same forum that the alcohol industry was overtaxed, noting that 49% of the retail price of spirits went to various taxes. He argued that the continued high taxation of alcohol would result in more Kenyans turning to dangerous illicit brews which in turn would drive a spike in health costs.
Representatives from numerous other sectors including petroleum and manufacturing also highlighted numerous other concerns on the unpredictable tax regime and other problematic policies.