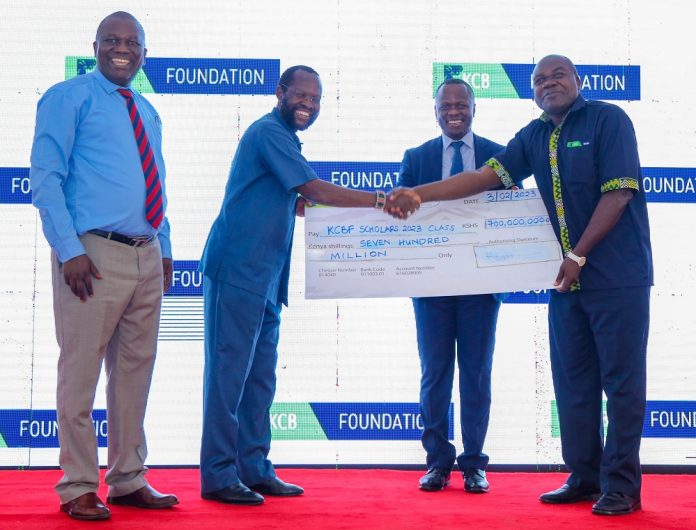 KCB Group has set aside Ksh700 million to support the 2023 scholarships cohort through secondary and tertiary educátion. Through the KCB Foundation, its social investment arm, the funds will see the lender cater for tuition fees for the four years of secondary school and tertiary level.
Those in secondary schools will also get financing in uniforms, transport, set books, and regular mentorship and psychosocial support.
Today, 3rd Feb. 2023, the KCB Foundation commissioned the 2023 scholarship class in what will see 1,000 students join various secondary schools across the country from next week. The KCB programme targets bright students from underprivileged backgrounds, with 100 slots allocated to persons with disabilities and 500 slots to girls.
"We intentionally seek out vulnerable and marginalized learners at risk of dropping out of school completely,"  KCB Group Human Resource Director, Japheth Achola said during the commissioning ceremony. "This includes learners facing difficulties from orphanhood, disability, or harmful cultural practices as well as gender or disability and areas with high poverty indexes."
Mr Ochola said every child has a right to access quality educátion which is a powerful tool of transformation in society. "We have also incorporated a wholesome psycho-social support system to ensure the students receive mentorship and guidance, so they have relevant coping-skills applicable to this dynamic fast-paced world," added Mr Achola while flagging off 220 students from Western and Nyanza Regions in Kisumu.
See Also >> Meet The Real Housewives of Nairobi
For this cohort, KCB Foundation received over 10,000 applications, making it the highest turnout since the programme inception in 2007. The 2023 class will form the 16th cohort of the scholar's programme, including the 1,962 students currently in school. The programme has so far sponsored over 4,558 students from inception.
Beginning with last year's class, all the high school beneficiaries who sit the KCSE examination receive 100% school-fees support in the university and tertiary scholarships. The revamped KCB Foundation educátion scholarship programme also includes a three-month apprenticeship post KCSE results at KCB branches countrywide for all the beneficiaries commencing with the 2022 class.
Next Read >> Workers Scheme To Topple CEO In Secret Letter To The Board