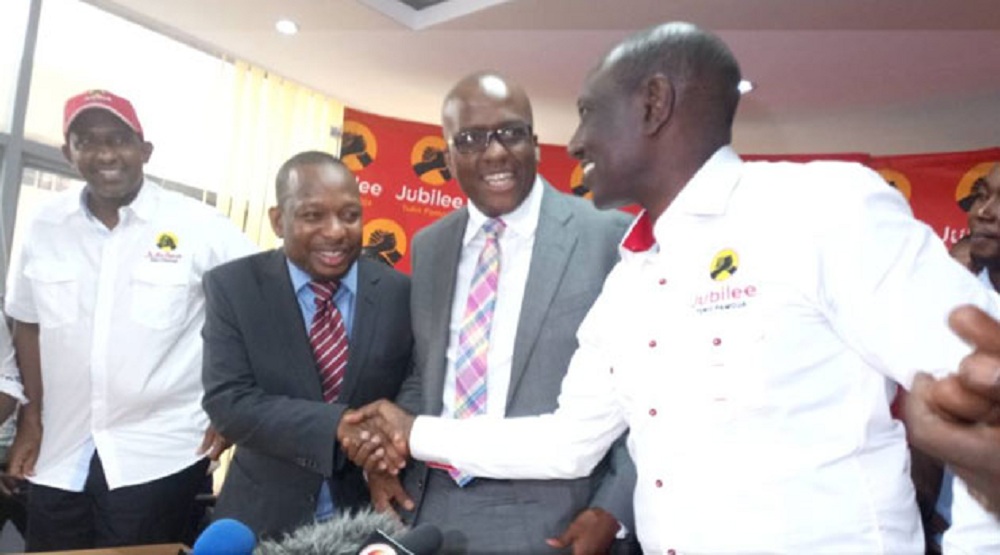 The resignation of Polycarp Igathe as Nairobi deputy governor caught many by surprise, but those familiar with how things had gone frosty for the two men charged with running the capital city's affairs were not shocked. In December, it emerged that an intergovernmental committee at President Uhuru Kenyatta's office was running City Hall. This included awarding of key tenders and making key job appointments.
On November 8, the Star newspaper reported that the President told Sonko to his face that he should focus on politics and the leave day-to-day running of the city to Igathe and Tourism Cabinet Secretary Najib Balala. On his resignation on Friday, Igathe cited his failure to earn the trust of his boss and that this had hindered efforts to manage and administer City Hall operations.
Details on boardroom rifts started emerging when Sonko shared screenshots of private Whatsapp conversations with his deputy as he fought off reports of a rocky relationship between them and insisted that they were together.
The Jubilee Party pre-election script for the capital's top seat had placed Sonko's deputy as the man to run critical administrative affairs while the boss handled the politics that would come along delivering their pledges to city dwellers.
President Uhuru had initially appeared unease with Sonko's candidature due to his showmanship but later changed tune when Igathe became his running mate. Uhuru then embarked on vigorously campaigning for them and repeatedly appealed to former Planning assistant minister Peter Kenneth, who was seen as a more credible candidate, to step down amid fears he may eat into Jubilee support.
Deputy President William Ruto had vowed that Jubilee must run the city's affairs, saying it was unacceptable to win the presidency and allow the Opposition to run the country's capital. While Sonko's support among the city's downtrodden made it an impossible task to push him out of the race, it was still clear that he was only accepted within Jubilee due to his running mate's credentials.
A December meeting on regenerating Nairobi held at Harambee House, which was chaired by President Uhuru saw the governor relegated to a bystander. "The President told the boss to focus on city politics and leave Igathe to run the county. He (Sonko) did not utter a word, only nodded," a source said.
'I resign  my seat'
Governor Sonko has over time only been to his City Hall office at night as he spends the day at his private office at Lilian Towers' presidential suite. The only other times he goes to City Hall is when he is conducting raids on the cash office in bids to deter embezzlement of funds.
But only Friday, the script appeared to have gone wrong with Igathe's decision to throw in the towel.
"Dear Nairobians, it is with a heavy heart that I resign my seat as elected Deputy Governor of Nairobi City County effective 1pm on 31st Jan 2018. I regret I have failed to earn the trust of the Governor to enable me to drive Admin & Management of the county," said Igathe in a series of tweets announcing his impending departure.
"Without fear, favour or ill will I step down to avoid abusing or betraying my oath of office to Kenyans, Nairobians & my family. Thank you for the encouraging support given to me so far," he added.
The resignation came as a surprise because early Friday, Igathe was on NTV where he outlined measures to, among others, reduce traffic congestion in the city.
Mid-day, he sparked an uproar after he posted a photo of a herd of cows that had been impounded from a Maasai herder in Woodley area on their way to Ngong Road. He said the herder would be taken to court as City Hall moved to implement all by-laws.
It is not clear what transpired in the course of the day to inform his decision to quit. Only time will tell.
However, former Mukurwe-ini MP Kabando wa Kabando, whom they studied with at the University of Nairobi, asked him to reverse his decision and not give in to Nairobi political undercurrents.
"My UoN AISEK president @IgathePolycarp don't quit. Reverse your "exit" gear. Stay in there. City dynamics, interests, politics, complexities tough. Differences reconcilable. Swim against torrents, you'll shore," he tweeted.
Igathe resigned as Managing Director of Vivo Energy to take a plunge into politics and had the open support of President Uhuru and other top officials.
Additional reporting by Cavin Odhiambo.