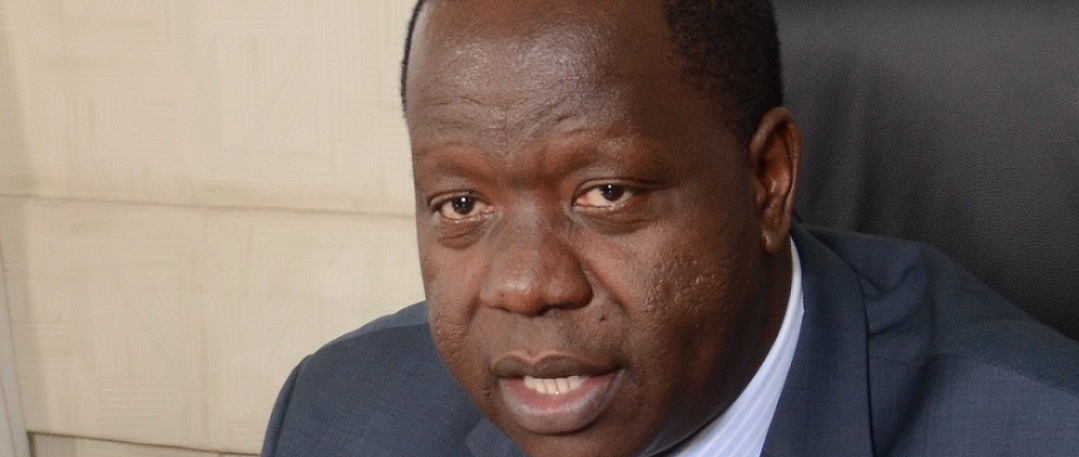 [dropcap] I[/dropcap]nterior and National Coordination of Government Cabinet Secretary Dr Fred Matiang'i on Friday directed his Principal Secretary Karanja Kibicho to lead a fresh campaign against illegal brews, drugs and gambling machines in the country.
Speaking during a joint meeting between the national administrators and education officials in Nairobi, the CS regretted the resurgence of illicit brews in some parts of the country. 
"This is deplorable and an indication that some administrators among us have relaxed in the war against illicit brews," he said. "Everyone knows the negative socio-economic consequences of consumption of such brews. PS Kibicho will spearhead a fresh and sustained campaign to eradicate illicit brews in the country."
Following his directive, security agencies swung into action across the country and there were reports of a  confrontation at the Kisumu Bus Park.
Dr Matiang'i, who doubles as the Acting Education CS, also directed that all school buses must be painted yellow by March 30 and will only be used between 6am and 6pm.
These are the latest directives that the no-nonsense minister makes a week after his third appointment as a CS in a most powerful docket.
No-monkey business 
The man, who said no to monkey business when he was appointed the Education CS, first made headlines when he was named the first Information, Communications and Technology (ICT) CS after the 2013 General Election. 
Many did not know him then hence no one was keen to know who exactly Dr Matiang'i was. However, for Borabu-born Fred Okengo Matiang'i , this was an opportunity to showcase his true colours in leadership and nation building.
He took on the media, which was opposed to set timelines on migration from analogue to digital migration and won even as the main TV stations switched off in a bid to force the government's hand.
When Charity Ngilu resigned as Lands CS after President Uhuru Kenyatta included her in a dossier on corruption tabled in Parliament, he named Matiang'i as the Acting CS and those in the know say things changed during his short sojourn in Ardhi House.
The CS was then moved to the Education docket at a time when the system had been hijacked by cartels especially with regard to the management of national examinations.
Matiang'i, a staunch Seventh Day Adventist and a church elder, said no to monkey business and vowed to restore sanity within the sector, which many thought was the joke of the day.
But Dr Matiang'i adopted a no-nonsense approach and embarked on reforms at Mitihani House that saw top officials axed and several operational changes made. 
In one of his addresses in mid-2015 when he had just taken over at Jogoo House B, he attributed rising cases of arson in schools to a fightback by the cartels, which initially used to trade in the national exams, as well as frustrated students who could not get papers they had been promised.
"They said they had been promised they would get samples towards the end of the second term but that has not been the case," Dr Matiang'i said.
He maintained that the key fear among schools was that students were bound to fail since they were not exposed to examination papers in advance.
Over 100 schools became either victims of arson or protests within a period of only two months.
Matiang'i stood his ground and said he he would see all the reforms "to their logical conclusion".
Among other measures he took was conducting impromptu visits to schools, a move that most principals and Knut officials protested.
He also  directed for an overhaul of the procurement systems to give the government greater say in the supply process as the raw nerves he had touched.
With this stance, Dr Matiang'i managed to tame the monster that was threatening the stability of the education sector which had become a multi-billion enterprise.
There were calls for schools to be closed to ease the tense situation but Matiang'i stood his ground and learning continued.
Dr Matiang'i is the world's foremost expert on the Kenyan legislature with more than 12 years' experience in democratic development.
He worked with the Kenya Parliamentary Strengthening Project for six years serving first as the Deputy Director & Senior Programme Officer for three years and then as Chief of Party for another three years.
During the period, he  served as a liaison between the LSP, USAID/Kenya, and the Parliament of Kenya where he secured stakeholder buy-in, facilitated programme objectives.
Prior to becoming a CS, Dr Matiang'i was in civil society advocacy, and donor-funded democracy and governance projects.
He also served as a lecturer in the Department of Linguistics at the University of Nairobi and Egerton University.
Dr Matiang'i's consultation is extensive from working with USAID, the Canadian International Development Agency (CIDA), the World Bank, The Westminster Foundation for Democracy, the Inter-Parliamentary Union (IPU) to Transparency International.
He holds a Doctorate in Comparative Literature from the University of Nairobi, a Master's Degree in English from the University of Nairobi, and a Bachelor's Degree in Education from Kenyatta University.
Before joining the government, Dr Matiang'i was the Eastern Africa regional Representative for the Centre for International Development, Rockefeller College of Public Affairs and Policy, the State University of New York.
With his performance at the ministry of Education, the Jubilee administration was convinced that Dr Matiang'i is the real deal they need to fix everything in the government.
This became evident when President Uhuru appointed him as the acting CS in the ministry of Interior and National Coordination of Government following the sudden demise of General Nkaissery and the ultimately appointed him as the substantive CS even as he still tasked him with manning the Education docket.
Perhaps, this was because he ably took change of the two demanding dockets at a time the country was going through a delicate electioneering period as well as the national exams season last year.
He still managed to release examination results on time and without reports of cheating save for 10 secondary schools whose results were withheld for further scrutiny.
Many Kenyans had wished Matiangi would be moved to the Transport ministry to help fix the Kenyan roads headache following unprecedented cases of accidents in the last weeks of the year.