It is now emerging that OdiBets, the new kid on the flourishing sports b*****g block, could be linked to former President Mwai Kibaki's son, Jimmy.
OdiBets has caused a sensation after signing a Ksh 60 million three-year  shirt sponsorship deal with Premier League side, Mathare United, saving it from its financial woes.
Under the deal, the gaming firm will provide the team with game kits, training kits as well as pay the players' salaries and bonuses as well as those of members of the technical bench. In return the gaming firm will have their brand emblazoned on the team's kits.
At the signing ceremony, OdiBets was represented by Communications Manager Dedan Mungai, who said that one of the key components of the deal is the development of grassroots football activities at the club and in the country as a whole.
However, according to the Nairobian, a weekly publication of the Standard Group, Jimmy Kibaki is the b*****g firm's company.  Mathare United CEO Jacktone Obure is quoted by the tabloid newspaper's Let's Bet  as confirming the same while expressing gratitude over the firm's move to rescue the team.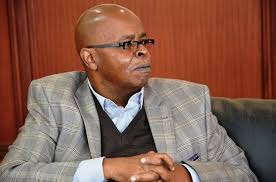 However, a click on the online edition of the Standard to read the story takes you to the Game Yetu site instead. It is not clear yet whether the story has been pulled down.
Such an high level association will likely soar the firm's profile and place it as a serious competitor against entrenched b*****g companies in the multi-billion industry such as SportPesa, whose public face is Ronald Karauri, though it is owned by other local and foreign investors.
On its website, OdiBets Kenya indicates it  operates the OdiBets brand, which is licensed to Kareco Holdings Limited.
Kareco is not new to b*****g as it also promotes and manages MoneyBOX Lottery and Winda Chapaa.
READ: SHOWDOWN LOOMS AS GOVERNORS DEFY UHURU'S FOREIGN TRAVEL DECREE
Taking a cue from Pevans East Africa's SportPesa, which has earned billions from sports b*****g, several individuals have been investing in the segment in recent years.
B*****g firms in Kenya include former Citizen TV anchor Julie Gichuru's mCHEZA,  Betway, EliteBet, Betin, JustBet, Bet365, BetYetu, eazibet, Lucky2u, 256Bet, Royal Kenya Bets, and go-bet.