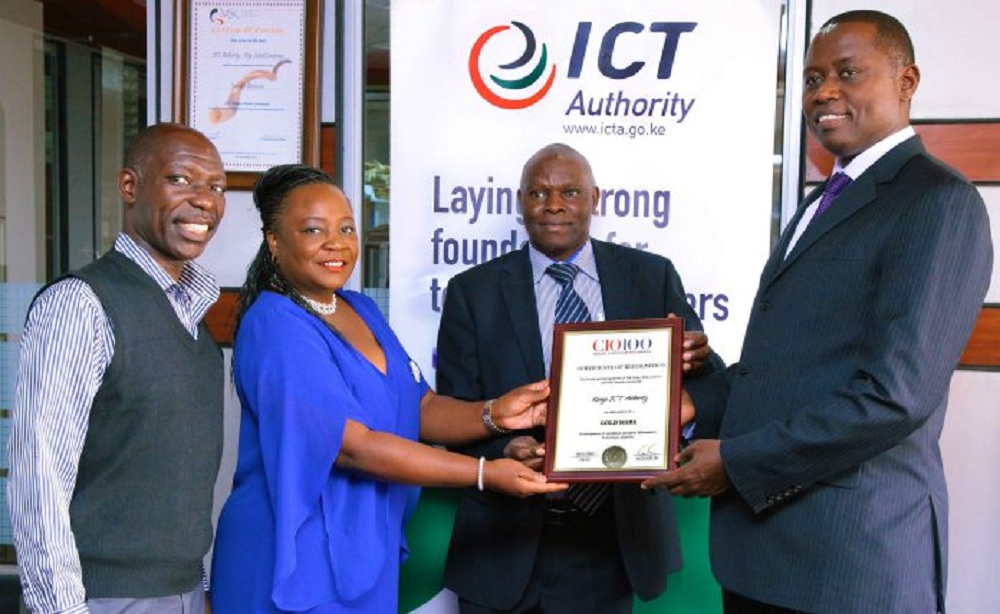 Kenya's nascent ICT Authority has scooped a coveted award for championing digital transformation and boosting enterprise in the country.
The authority won the  Gold Mark Award which is administered by an international organisation.
The ICT Authority emerged among the crème-de-la-crème industry digital champions during the 7th East Africa CIO 100 Awards.
The organisation also earned the distinguished CIO 100 Gold Mark Award, in recognition of excellence enterprise Information Technology adoption.
According to iLab Africa, a research center at Strathmore University, which independently evaluated the survey,  the ICT Authority demonstrated its prowess following its significant reach-out to organizations and partnering with organizations to facilitate steady transformation in the market through the use of digital and disruptive technologies and approaches.
  Heading a panel of nine judges in the CIO 100 Survey, noted that Dr Joseph Sevilla said: "In our view  the ICT Authority proved a worthwhile partner not only to the government institutions but to the private sector players in championing the course of digital transformation."
The evaluated CIO 100 Survey projects ranged from submissions that cut across small to medium and large enterprises comprising both the public and private sector run businesses.
An average of 199 projects were reviewed to determine the top digital transformer and digital disruptor entities across East Africa.
 "We are encouraged to see the ICT Authority feted with the CIO 100 Gold Mark Award following its deliberate and instrumental role in transforming Kenya's digital business landscape," said the Chief Executive Officer of CIO East Africa Ms Laura Chite.
The CIO 100 winners were distinguished as entities that positively affected lives of people, used technology and literally changed the way people work, socialize and do business.
While receiving the CIO 100 Gold Mark Award, ICT acting CEO Robert Mugo, said: "The ICT Authority has been at the forefront in rolling out some of the cross cutting applications used across the industry. This include IFMIS for financial management, TIMS for transport management, civil registration systems, identity card system, IPRS, Land registration system and others. In the short term, the Authority intends to create a master database from the entire existing database for reference on all transactions as the single source of truth."
To support this endeavour, the Authority is in the process of implementing a private cloud to securely host the master database that will also provide hosting services for other critical applications for the national and county governments.
Mugo further said that the Authority is also spearheading the rollout of fibre infrastructure that will support access to the saidcloud countrywide.
The CIO 100 Award is an acknowledged mark of excellence in enterprises. Since the award is given to companies rather than individuals, it is an honour that everyone whotook part in the projector initiative takes pride in.