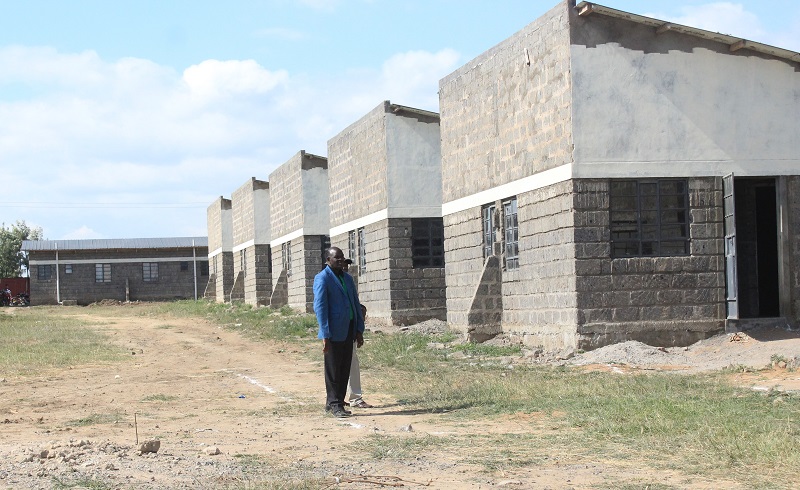 Mentioning Ksh50 doesn't excite in these hard economic times. However, humble as it appears, saving Ksh50 a day, which translates to Ksh350 a week, is transforming the lives of  boda boda operators.
This transport sub-sector is often associated with poor pay and vices such hooliganism, r*****y and kidnappings. It is no wonder then, that many people dismiss it. Many get into the business as a last option. But a noble investment is changing the narrative as shown by Nanyuki Bodaboda Saving and Credit Society (NABOSA).
On the outskirts of Nanyuki town, about seven kilometres away, is an area named Sweet-waters, where an ambitious Ksh95 million housing project is coming up for the motorcycle riders. This initiative resonates well with one of the 'Big Four' Agenda items championed by President Uhuru Kenyatta.
NABOSA started saving towards realising their home dreams nine years ago, according to the chairman, Mr Patrick Waithaka.
NABOSA started in 2009 when bodaboda operators from Nanyuki formed a chama (group initiative), the Nanyuki Motorcycle Umbrella Body (NAMUBO) under the patronage of Bishop Simon Ndegwa of the Word of Faith Church after frequent harassment by traffic police, t***t of motorcycles and m****r of cyclists.
Learning from others
"We met and formed NAMUBO to address these problems affecting the business, bailing out of our members in court cases and buying spare parts for our motorcycles," Mr Waithaka notes.
The housing idea was conceived in 2014, when he saw an advertisement on a local TV station of a similar project at Kitengela being run by a boda boda Sacco. "We approached the former county government under the leadership of governor Joshua Irungu, and it financed a trip to Kitengela for bench marking," says Mr Waithaka. "We were fired up on the housing venture and on our way back we sought financial insights on savings from Kenol United Bodaboda Sacco whose model was doing well."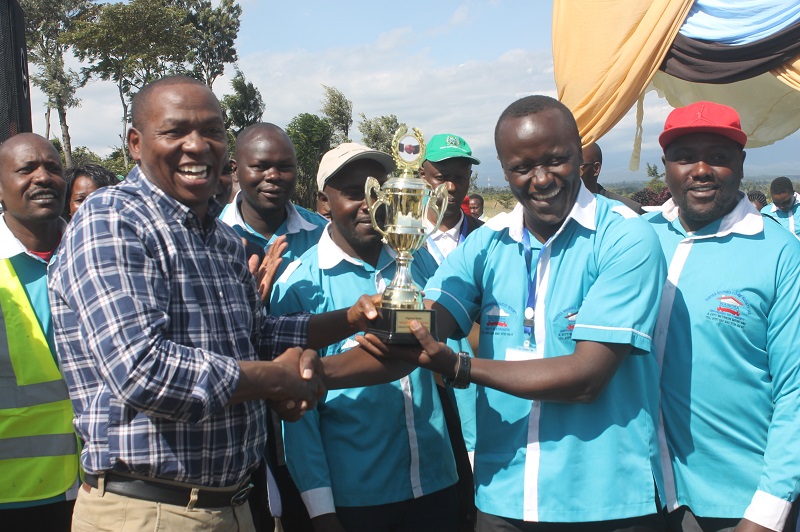 [ RELATED: BODA BODA CREATING NEW MILLIONAIRES ]
Back in Laikipia, NABOSA sensitized members who agreed to start saving Ksh50 per day to jump-start the project; meaning each member was contributing Ksh350 by the end of the week, with Ksh300 going to the project while Ksh50 catered for administrative costs.
"We also approached National Cooperative Housing Union (NACHU) Ltd, who have been financing the project and they promised to inject 80% of the total cost, while members contribute 20% including purchase of the land," Mr Waithaka notes.
NACHU Coordinator, Mt. Kenya Region, Ms Sophia Njiru, say the union has financed NABOSA with Ksh31 million so far.
They first identified the six acres of land at Sweet-waters, then bought it and started constructing 60 units.
They have also made provision for the occupants to do extensions to the three bed roomed apartments. The first phase of the project has 60 apartments, of which 50 are bedsitters each valued at Ksh700, 000 and 10 one-bed roomed houses each at Ksh950, 000.
He says each member was to 'cut the cloth according to his size'. This meant choosing the house each one desired.
For a bedsitter, a member need to contribute at least Ksh160,000 to be allowed to occupy and Ksh212,000 for a on- bed room."Once complete, the owners will occupy their houses and start paying the loan; not as a Sacco but as individuals and upon full repayment, we will issue them with title deeds for the plots they are occupying," the NACHU official observes.
[ READ ALSO: FROM SCRAP METAL D****R TO ISUZU BUS OWNER ]
Phase one was to be complete by January this year, but last year's elections and harsh and dry spell caused some delays. But construction in now at the finishing stage. In their calculation, Mr Waithaka says phase one is estimated to cost Ksh37 million and they have already offset Ksh16 million while phase two will cost Ksh58 million, totaling to Ksh95 million. "Most of the members in NABOSA could not have imagined owning their own residential houses. It's a dream come true," he notes.
George Macharia Gichimo who is a beneficiary of the project and also NABOSA Housing vice chair notes that initially the idea seemed impossible. "Now I am anticipating to leave my rental house and occupy my new house in the next month of August when we are expecting the project to be completed," he joyfully notes.
Lucrative motorbikes
On contributions, Macharia observes that he has no challenge since through his boda boda he manages to get Ksh700-1,000 per day.
Mr Waithaka, the NABOSA chairman, says they plan to purchase another piece of land and construct more houses after this project as a business venture. Area Governor Ndiritu Muriithi recently held International Cooperative Day at the project site where he officially launched it.
Bodaboda business is a lucrative business in Kenya fetching an estimated revenue of over Ksh200 billion per year. According to Motorcycle Assemblers Association of Kenya (MAAK), there are about 600,000 commercial motorcyclists in the country each taking home about Ksh1,000 at the end of the day. [Story by Kimani Tirus / KNA)
[ NEXT READ: VIDEO & PHOTOS OF LUHYA BOYS FACING THE K***E ]