Despite the Kenyan government's refusal to e******e Kenyans stuck in China due to the Covid-19 virus epidemic, Chinese citizens continue arriving in droves unhindered.
The Chinese arriving in Kenya are from the Asian nation's second most affected city after W***n in the coronavirus epidemic. The epicentre of the o******k is reportedly registering stagnation of new i********s and d****s.
While China is on lockdown by many countries, Kenya has opened its doors wide for the Chinese making it a unique case in a country whose healthcare systems are bursting at the hems due to insufficient funding caused by unfettered t***t.
The potential incendiary situation posed by an o******k is inconceivable yet the government has chosen public relations to water down the concerns of many Kenyans.
On Wednesday, the Ministry of Health issued a statement saying that Chinese citizens were arriving in Kenya following the resumption of flights by China South Airlines.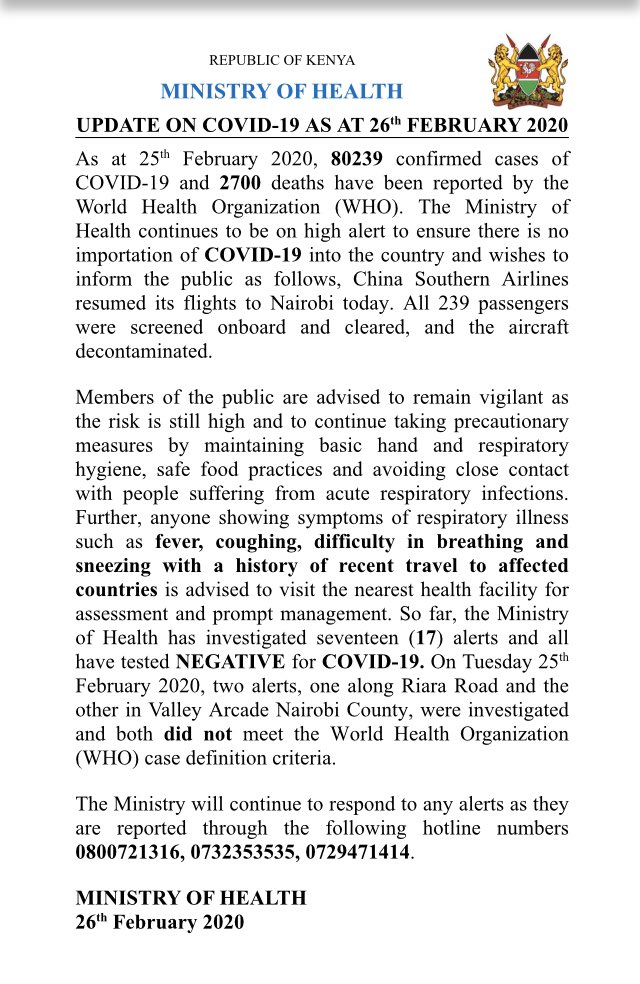 The Ministry's stance seems to be ignorant of the fact that there is a surge of the d****y coronavirus cases outside China.
This is a matter of concern since the o******k is now in a new stage where it is spreading globally with more vulnerable countries at an even greater risk than China.
On Wednesday morning, Brazil confirmed its first case while Iran and Italy reported mored d****s. Still, on Wednesday, South Korea said an 11th person had d**d due to the d*****e there.
With the global number of those diagnosed with the illness at estimated at 80,000 people, Kenya is exposing her people to adversity of an unknown magnitude.
The Chinese embassy also issued a second statement on Wednesday regarding the resumption of flights after issuing one on the status of the Covid-19.
It seems that Kenyans are on their own and that the government cannot stand up to China despite the risks that such travel exposes Kenyans to.
The irony of the matter is that Kenyans stuck in China have little they can do in a foreign land while the same foreigners have the freedom to roam the country without supervision.
While reports indicate that Covid-19 numbers have stabilised in China, there is no telling what the virus could do in countries that are vulnerable due to poor healthcare systems. The Kenyan government is playing the Russian roulette with its citizens.