If you spend any of your time scrolling through social media, you've probably come across an image or two of giraffes poking their head through windows and being fed by hotel guests having breakfast. Giraffe Manor in Nairobi is a luxury hotel popular with tourists, safari enthusiasts and influencers from around the world.
The hotel is owned by a couple who met in their early 20's and share a love for adventure and wildlife – Tanya and Mikey Carr-Hartley. Giraffe Manor is one of four luxury lodges and camps that make up the couple's hospitality group known as The Safari Collection. The others are Sasaab, Solio Lodge and Sala's Camp – which all feature unique attributes, landscapes and features.
Their properties have played host to the likes of Calvin Klein, Brother Nature, Donna Karan and Brad Lewis, the American producer of Ratatouille.
Both Tanya and Mikey are fourth-generation Kenyans descending from settler families. Mikey grew up on his family's 45,000-acre ranch in Rumuruti, Laikipia and his fascination with wildlife stems from his family's heritage and experience with wildlife. His grandfather, Tom Carr-Hartley, was a well-known wildlife handler.
Tanya, on the other hand, is the daughter of Kenya's first licensed auctioneer – Sally Church. She grew up on a farm on the shores of Lake Naivasha. In past interviews, she has credited her mother as one of her biggest inspirations, for working hard to provide for her and her siblings after her marriage to Tanya's father broke down. "My mum believed that if you didn't take risks in life, you'd never get anywhere," she told Daily Mail for a 2009 article.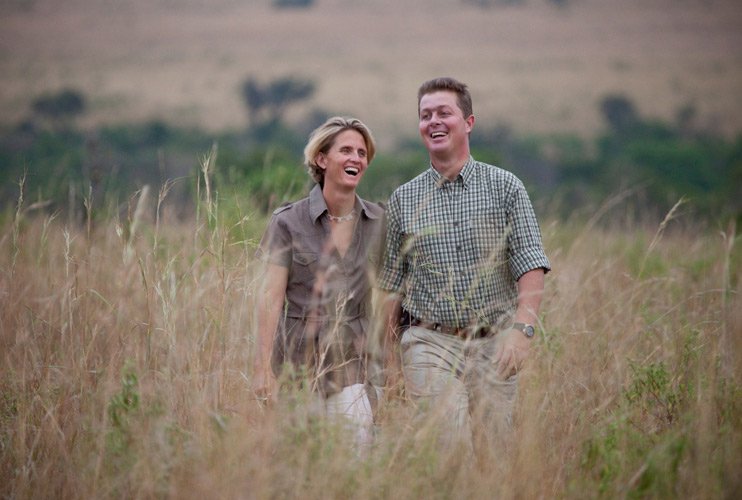 Mike gained important early experience in his career working in construction and management of Governors' Camp Collection's Mfangano Island Camp. Tanya studied Fine Art and English at Exeter University in the UK, and later did photography for the likes of Reuters and curated the Hopcraft family history for Loldia House (part of Governors' Camp Collection) and exhibiting artwork in Gallery Watatu.
In 2000,  the couple formed a company to guide and manage private luxury safaris in East and Southern Africa. They got married in 2001. After they got married, Mikey and Tanya spent some time as House Managers at Ol Jogi – a 58,000-acre private wildlife conservancy owned by the Wildenstein family.
In 2009, they established The Safari Collection. They have three children – Sala, Kinna and Tisa, and spend months tracking wildlife and guiding clients.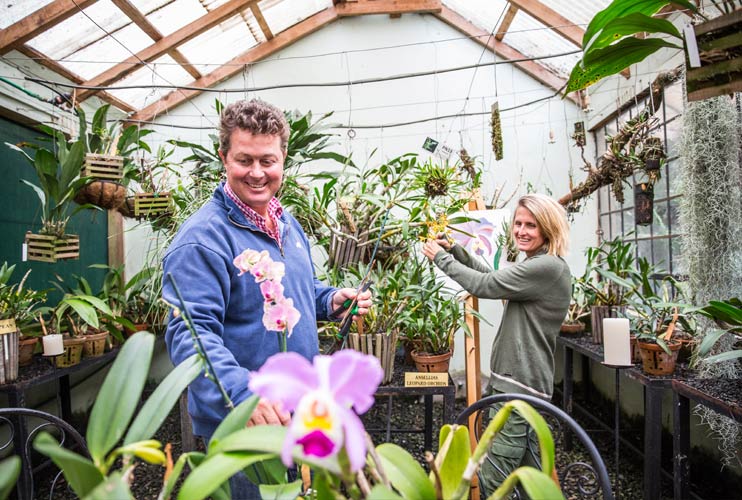 The Covid-19 p******c hit the hospitality sector hard – with hoteliers estimating that Kenya lost in excess of Ksh150 billion ($1.36 billion) in tourism revenue as of February 2020.
Giraffe Manor, however, had it rougher than most after facing a PR nightmare in June last year, at the height of the p******c. At a time when international flights into the country were suspended, an invitation indicating the Manor was 'open to Kenyans' was met with uproar over their policies which many deemed discriminatory.
The likes of top Nairobi publicist Anyiko Owoko, among others, revealed their past experiences with the Giraffe Manor as a Kenyan resident living in Nairobi – disclosing that they required locals to pay for add-ons they didn't need such as airport transfers, cars and chauffeurs to access the hotel, but eased the policies after the financial hit from the p******c. Some claimed to have had other discriminatory or r****t experiences at the establishment.
"For the longest time, your policy has been to have these type of pricing that only benefit non-Kenyans and tourists coming from outside Kenya. I wonder why all over sudden you are welcoming Kenyans into your establishment. Is it because you now need us for your business to survive? You would not have invited us had it not been for the fact that your business, just like all others, is suffering because of the Covid-19 restrictions," Anyiko had written at the time.
In response, the establishment vehemently denied the policy was a deliberate move to lock out locals. It pointed the finger to an independent agent on the 'open to Kenyans' poster and further asserted that many luxury hotels offered similar packages.
The hotel, however, seems to have bounced back alright – especially if social media attention and bucket list dreams from across the globe are anything to go by. And since the government lifted restrictions on international travel as of May 3, all of The Safari Collection's properties are open and welcoming guests from various countries.
Sample the comments on a viral  photo shared on Thursday, June 10th by Jasmin Hassan of her friend Hani Laily at the hotel. The photo has over 7,500 likes and more than 3,000 retweets – but it wasn't the first time Giraffe Manor is going viral, having become a staple on the biggest luxury and travel pages.
"This hotel is just magical la! Surrounded with Giraffes(mostly). & Early in the morning you can feed the giraffes too!" @ummairahsk
"Wow I thought this pic was photoshopped" @JulesJulietta
"I know this place! Giraffe Manor in Nairobi Kenya 😉 it was in the amazing hotel around the world in Netflix. On my list of places to go after Covid 😉 InsyaAllah" @YPm40.
Gracing your timeline with this majestic photo of my friend Hani Laily in Kenya. I will forever love this photo. She doesn't have twitter (yet) but I asked her permission for this. Beautiful isn't it? pic.twitter.com/8WEOm4LovY

— JasminHassan (@jsmnhssn) June 10, 2021