This article is part of a week-long series from Business Today for Women's Month 2021. Enjoy the previous features celebrating African women and highlighting the challenges they face.
15 Inspiring Women in Corporate Africa
Safaricom, M-Pesa Top List of 100 Brands Kenyan Women Love the Most [LIST]
Top 10 Most Influential Women In Kenya – 2021
Kenyan Women & The Workplace: Progress Made Despite Major Hurdles
Covid-19 Vaccine: Why Kenya's Sex Workers Should be First in Line
________________________________________________________________________
'Wanjiku' is a communication device used to represent Kenyans, The kawaida mwananchi – the common man or woman. A gender and ethnicity-neutral term that bares historical meaning and different perspectives. For Business Today, 'Wanjiku' marks the end of our 2021 International Women's Day celebration series as we delve into what the term means for the woman.
Now for some background information. Wanjiku, an Agikuyu name, found its way into mainstream discourse thanks to the Second President of Kenya, the late Daniel Moi, who irritably used the word as retaliation to Kenyans in the 1990s. At the time, political activists and Kenyans were calling for a constitutional review that would actively feature Kenyans' input.
In response to this, Moi referred to Kenyans as 'Wanjikus' – who are ignorant of national issues and have minimal knowledge in politics and policymaking. He asserted that the process should be left to the experts, referring to the lawyers and politicians.
Years later emerged Gado. The sensational and brilliant cartoonist who redefined the meaning of Wanjiku by use of his cartoon illustrations. Gado painted Wanjiku as a knowledgeable business-lady with a mama-mboga business(green grocer), donning a headscarf and floral print skirt.
According to Gado, Wanjiku was a representation of the mwananchi whose rights were always infringed. Despite this, one who is aware of his/her rights and had the ability to articulate the issues that affect them coherently and eloquently. Wanjiku represented a Kenyan whose rights needed to be safeguarded and whose voice needed to be heard.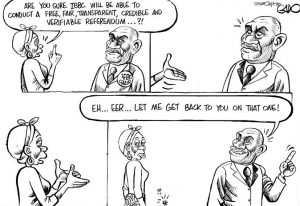 In response to Moi's insensitive use of the term Wanjiku, retired Chief Justice Willy Mutunga described Wanjiku fervently, stating;
"She has been a humorist, philosopher, ideologue, politician, a patriotic feminist, a theologian, historian and literary critic. She delights in laughing at the visionless of the Kenyan elite and the opportunistic middle classes. She is multi-racial, multi-regional, multi-gendered, multi-generational, multi-religious, and multi-ethnic.
"She constantly calls for nationhood and unity in our diversity. She is the political leader Kenya yearns for. She remains a beacon of the hope that a just Kenya and a just world are still possible."
As the ever-changing term comes forth during this Women's Month, we define and celebrate Wanjiku while highlighting the problems she faces as a self-sustaining woman.
Those building small and medium enterprises, the caregivers and providers at home,  the women in informal sectors managing their mama mboga and mitumba clothing stands (traders of second-hand clothes) and those with an innate curiosity to learn policymaking, national and political matters and grasp the means to anchor themselves in national decision-making processes.
In the informal sector, Kenyan women are often the domestic workers, babysitters, vegetable vendors or kiosk owners, street traders or garment makers and retailers. The informal sector provides a means for women to gain financial stability and independence.
"Financial independence and empowerment are critical to a woman's well-being. They free her from reliance on hand-outs and set her on the path towards managing her own poverty and that of her household," stated researcher Mary Njeri Kinyanjui.
"A financially empowered woman is able to purchase goods and meet her own needs as well as the needs of the family. Financial empowerment also improves her bargaining power," she added.
However, women in informal sectors were disadvantaged more than most during the pandemic. Not entitled to sick leave compared to their formally employed counterparts, women in informal sectors were subjected to a lack of social protection measures, imposition of curfew limited their access to active income due to limited working hours and failed to acquire mere financial reimbursement given their high risk of exposure to the coronavirus.
Researchers estimate that women-owned SMEs account for 31-38% of emerging markets and further state that failure to attain gender equality and women's empowerment would lower the per capita growth rates by between 0.1 to 0.3 percentage points.
This should naturally prompt the growth and emergence of more women-owned SME's. however, In 2018, studies indicated 31.4 % of the licensed SMEs are owned by women compared to 48% owned by men and 17% owned jointly by both men and women.
In addition to this alarming disparity, these women-owned SMEs experience inadequate finances, gender-based discrimination, limitations from the local governments and harassment by authorities, multiple home duties, unfavourable regulatory environment and corruption, lack of education and inadequate knowledge and skills, among others.
In Kenya, the 2010 Constitution introduced a two-third gender rule to enhance legislative bodies' parity at both lower and national legislative bodies.
As of 2018, out of the 349 seats in parliament, only 76 members are female, representing only 1/5 of the total. According to the constitution, parliament should at least have 117 female members of parliament (MPS) and thus falls short by 41 members.  The House of Senate too misses the mark with only 21 women owning seats instead of the 23 demanded by law.
Yesterday, March 8, presiding over virtual celebrations to mark International Women's Day, The first lady, Margret Kenyatta, applauded the 23 per cent representation of women in the National Assembly. She further urged women in the country to actively pursue elective and other leadership positions at the national and county levels.
A study found that there were hindrances to women's effective political participation, including a political environment characterized by violence, discrimination based on gender, and lack of support from fellow women.
For 'Wanjiku' to truly be part of the political and national reform conversation, legislation alone is not enough to boost women's political participation.
Verbal and physical abuse of women in power should be completely eradicated while strengthening their political participation and decision making in the highest government positions.
Technical training of women regarding socio-political matters should be actively undertaken instead of teaching generic skills such as public speaking. Networking between women in politics, public service and the private sector will also strengthen the women's movement around a shared agenda.
Educating women about the legislature and executive at the national and county level on the formal rules, system and processes of the institutions to increase their effectiveness and ability to wield influence.
Champion the achievements of women in politics and public service through the media and annual wards to challenge the perception that men are more effective than women within the political arena.
Facilitate regular meetings between women in national and county governments with women's organizations, private sector leaders, and civil society.
For Kenya to truly thrive as a nation, all Wanjikus have to be empowered socially, economically and politically. This Women's Month has unearthed the urgency do so in order to breed a wholesome Kenyan woman.