UNAIDS data indicates that there are more than 136,000 commercial sex workers in Kenya. Nairobi alone has over 20,000. Over the past year, this group has seen their lives upended by the Covid-19 pandemic in more ways than one.
Thanks to the nature of their work, commercial sex workers face a higher than average risk of contracting Covid-19 . They are more vulnerable to infection as they interact with countless individuals from different places every day. For most of them, not only did Covid-19 threaten their livelihoods but it also exposed them to poor health outcomes.
The government's Covid-19 response measures meant that bars and clubs – which serve as safe spaces for sex workers – had their operating hours limited even as others closed down entirely.
It also meant that sex workers' ability to access medication and care including reproductive health services was limited. Transport to clinics became unaffordable for some even as organizations which offer medication and reproductive health services for sex workers at bars and clubs scaled down their operations.
According to research conducted by University of Leicester and University of Nairobi (UoN) scholars in collaboration with the Bar Hostess Empowerment and Support Programme — an organisation that supports sex workers in Kenya – curfew, restrictions on movement, police brutality, stigma and fear of Covid-19 combined to make life much more difficult for sex workers since the onset of the pandemic with little thought given to the group's welfare.
Ag. Health Director General Patrick Amoth on Friday, March 5 became the first Kenyan to publicly receive the Covid-19 vaccine jab. A group of sex workers in Busia has fueled a conversation after demanding to be added to the list of workers to be vaccinated in the first phase of the program in Kenya – alongside medics and police officers.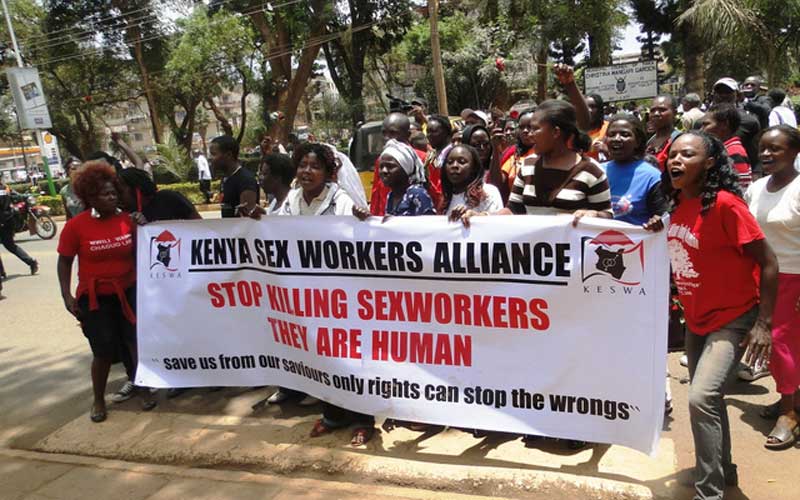 Busia, a border town, has always been a bustling hub of activity for sex workers. The constant movement of trucks between Kenya and Uganda means that Busia's commercial sex workers are at an even higher risk of infection.
On the Ugandan side of the border, leading researchers from Makerere University School of Public Health want the government to include sex workers on the list of people who will get the COVID-19 vaccine. They made the appeal after releasing study findings on how communities at the border posts of Malaba and Mutkula were adhering to public health measures.
Behaviour change specialist and lead investigator for the study Dr John Matovu explained that due to the nature of sex work, the government's recommended standard operating procedures – wearing masks, washing hands and social distancing – were not effective.
The Busia sex workers highlighted this unique position while calling on the government to consider them in the early stage of the vaccine rollout.
If the Ministry of Health acceded to their demands, Kenya wouldn't be the first country in the world to vaccinate its sex workers. Bangladesh in February began administering coronavirus vaccines to sex workers from the country's largest brothel – a vast collection of shacks which 1,900 sex workers call home.
It even scrapped the age restriction for the AstraZeneca jab ensuring sex workers were among the first to be vaccinated in the South Asian nation.
"At least 100 sex workers have already got the anti-COVID-19 jabs,"
"It is very necessary to vaccinate the sex workers … Thousands of people visit the brothel every day and the sex workers at the massive brothel are most vulnerable to the virus," Asif Mahmud, health chief in Daulatdia town, told AFP.
Kenya needs to consider the welfare of its sex workers even as it rolls out Covid-19 vaccination in hospitals across the country. They should not be left to their own devices, not just because of their potential to be super-spreaders but because sex workers too deserve quality healthcare, dignity and respect.