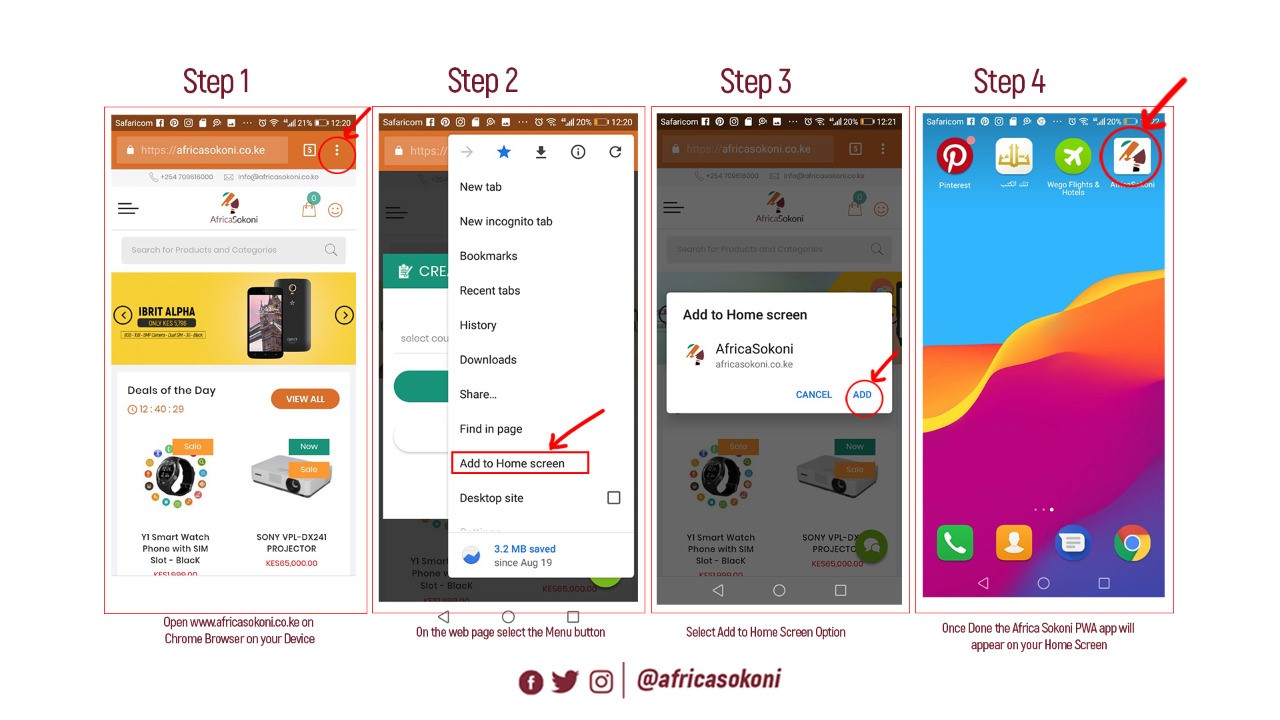 [dropcap]T[/dropcap]he tech world has really evolved over the last few years with almost everything being driven and managed through mobile apps. From ordering a meal, booking a hotel and even requesting a taxi, Africa has not been left behind by this new trend of technology and has seen some of its brilliant ideas being born.
Most apps will occupy more space depending on usage. AfricaSokoni, local e-commerce company in Kenya has launched a Progressive Web Application (PWA) which can best be described as a website that behaves exactly like a mobile app and doesn't take too much from your phone like the old native apps.
Unlike the native mobile applications that must be searched and then installed from Google or Apple App store, the AfricaSokoni App can be accessed through the AfricaSokoni website. Once you are browsing on your mobile device either on Android or iOS Device as shown in the diagrams, go to www.africasokoni.co.ke , select the option of adding the app (AfricaSokoni PWA) on the home screen and start using it.
This application also gives you the flexibility to receive push notification too at the same time saving you a lot of mobile memory. The new Africasokoni progressive web App is aimed at redefining online shopping, making it as seamless as possible.
To achieve this the PWA app is made around the following principles:
Connectivity-Independent.
The App is connectivity-independent but it does not mean that it will work offline. It is a web application after all, so naturally, internet network connection will be needed at some point in the application, especially when the application is visited for the first time. When the network is not available or too slow the PWA should still work on a device by utilizing the browser's storage mechanisms and not reveal blank pages or 400 errors.
Responsive
The AfricaSokoni PWA looks nice on any device. Whether the screen is wide, narrow, short or long, the application layout scales and adjusts to your screen.
App-like
The Africasokoni (PWA) looks and feels like the native application. Some applications are built specifically for platforms like Android or iOS most often than not providing the experience as the web platform. The AfricaSokoni (PWA) aims to provide similar experiences across ALL devices. Shoppers can switch from their phone to a laptop and accomplish the same task easily.
READ: DIGITAL CREDIT APP LAUNCHES FACE RECOGNITION SYSTEM
Safe
What good is a shopping application if it is not safe to use? Most, if not all, shopping web applications contain very sensitive information that should only be known to the communicating parties. Protecting the data shared with the application is necessary. The AfricaSokoni (PWA) uses HTTPS protocols and added layers of security to the network traffic to make sure that all your data using the PWA is completely safe.
Engaging
Push-notifications are not everyone's favourite feature in an app but we like to turn them on to let you know when something interesting is happening such as offers, sales discounts etc. The (PWA) has this feature just like the old native app.