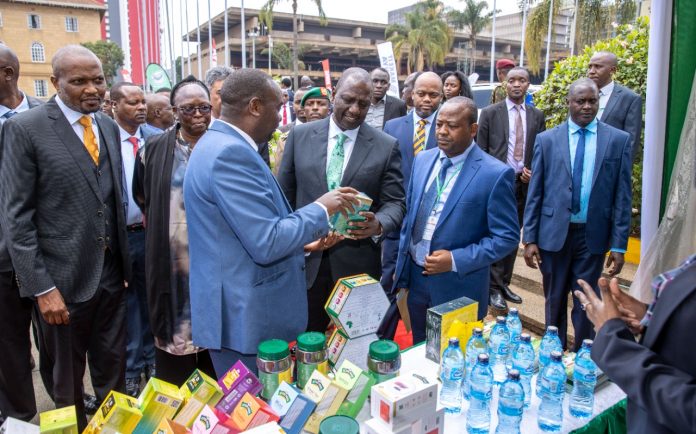 New business opportunities are emerging for Kenyan entrepreneurs, businesses and farmers among other stakeholders as the country kicks off trading under the African Continental Free Trade Agreement (AfCTA).
In the past few weeks, Kenya has shipped batteries and tea to Ghana, and more exports are lined up for a number of African countries. This follows the country's selection in July 2022 as one of seven African nations to pilot trade under the AfCTA.
Besides Kenya, the other countries selected for the pilot are Ghana, Tunisia, Cameroon, Egypt, and Mauritius. The pilot countries were tasked with identifying products that can reach the markets inside the six pilot nations.
Kenya picked a number of key agricultural products, fast moving consumer goods and textiles. Among products picked by the Ad Hoc Committee established to steer the AfCTA guided trade initiative in Kenya are tea, lithium-ion batteries, candy, leather bags, incinerators, beaded goods, leather bags, car filters, textiles, sisal fibre, avocados, and fresh foods.
READ>>Govt Spends Ksh6B to Fully Own Telkom Kenya
The first goods to be exported from Kenya under the AfCTA were made in Kenya exide batteries shipped to Ghana on September 26, 2022.
Amb. Eliphas Barine, the Kenyan High Commissioner to Ghana, was present when a representative of Kenya's Associated Battery Manufacturing E.A. Ltd unveiled the cargo and handed over the shipment to the importer, Gifty Fianu of Ghana's Yesudem Company Ltd after they arrived at the Port of Tema, Ghana (AfCFTA).
Days later, the Kenya Tea Development Agency (KTDA) sent its first shipment of value-added tea under the AfCTA, again to Ghana. At a ceremony in Nairobi, President William Ruto hailed the AfCTA as he called for Kenyan tea to be exported to more African countries.
"Kenya is strongly committed to exploiting the full potential of value addition and unlocking the opportunities available within the African Continental Free Trade Area (AfCFTA) framework," Ruto asserted.