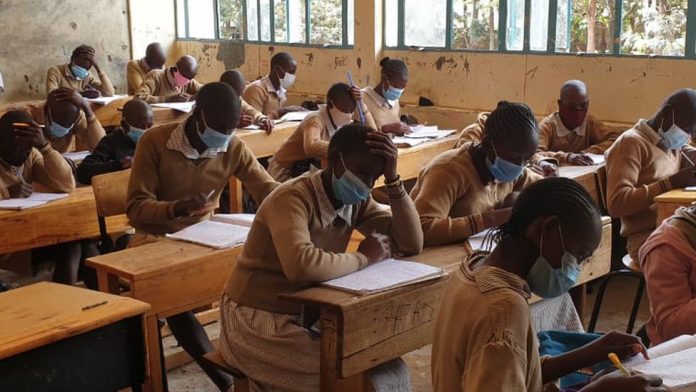 This week, Kenyans braced themselves for a traditional surge in activity as learners return to school after the holiday break.
Busy bus stops, book shops and uniform stores are the norm around this time, with parents and students preparing for the school year ahead. The impact of the Covid-19 p******c on the school calendar and implementation of the CBC curriculum continues to be felt.
Students in primary and secondary schools will be returning for Term 3 of the school year – a 9 week period that will run from January 3rd, 2022 to March 4th.
The Kenya Certificate of Primary E*******n (KCPE) examinations will take place from March 7th – 10th, 2022. The students currently in Class 8 will be the second-last batch of learners under the 8-4-4 system to sit for KCPE.
Students currently in Form Four in secondary schools will sit for their Kenya Certificate of Secondary E*******n (KCSE) examination between March 11th and April 1st, 2022.
A fresh school year will then follow with Term 1 running from April 25th to July 1st, 2022 – a 10-week period. After a short break, schools will reopen for Term 2 from 11th July to 16th September, another 10-week period.
Schools will then reopen for Term 3 from September 26th to November 25th, a nine-week stretch. The second KCPE and KCPE examinations squeezed to fit in 2022 will then take place.
Primary school students currently in Class Seven will take on their KCPE exams from November 28 and December 1, 2022. Notably, a new government will be in place with an election scheduled for August 2022.
Students currently in Form Three in Secondary Schools will sit for their KCSE from December 1st to December 23rd 2022.
The pioneer CBC class currently in Grade Five having moved to Grade Six in April will, in December 2022, take on the CBC assessment exam in December. The exam will represent 40% of their test scores with 60% drawn from school-based assessments administered at grades Four, Five and Six.
In total, there will be five national examinations taking place in 2022. According to the CS George Magoha-led e*******n ministry, all the exams have already been set.