Early this month, Orange Democratic Movement (ODM) Party Leader Raila Odinga flew to India where he had taken his daughter Rosemary Odinga for an eye check-up.
Odinga, the current African Union High Representative for Infrastructure Development, later met the country's Prime Minister Narendra Modi.
On his way back, Raila passed through Dubai in the United Arab Emirates (UAE), where he met the royal family, the Al Qassimi.
In a brief low-key meeting with the Gulf Nation supremos, Raila, who is vying for Presidency in the August 9 polls was promised a number of goodies in case he won the elections.
According to sources who spoke to Business Today, among the goodies promised to Kenya's former Prime Minister include an instant 100 million US dollars in investment targeting the youth and youth-run activities.
Also, the family led by Sheikh Ahmed Bin Faisal Al Qassimi promised to facilitate at least 10,000 jobs for Kenyans in case Raila took power. This came days before UAE announced 10-year visas for highly trained Kenyans among them doctors and scientists.
In July, UAE announced that Kenyan small and medium-sized businesses (SMEs) setting up in Dubai will get a two-year rent-free workspace in is part of a new support programme ahead of the Expo 2020 Dubai.
Dubai, as the commercial and trading hub of the Middle East, has long been regarded as the gateway of trade between Kenya and the rest of the world.
As of 2014, UAE was Kenya's fourth-largest trading partner and the largest trading partner and export destination in the Middle East.
The UAE is Kenya's fifth-largest export destination and the fourth largest import source. As of 2010, approximately 36,000 Kenyans worked in the UAE.
Kenya Exports to the United Arab Emirates was US$323.56 Million during 2020, according to the United Nations COMTRADE database on international trade.
A survey by the Central Bank of Kenya shows that UAE is the third-largest source of remittances into the country after the US and UK.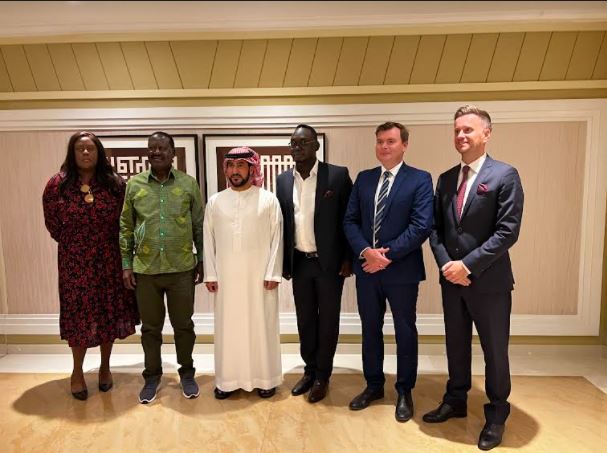 Other amenities promised to Raila include social amenities such as schools, hospitals and ICT facilities for the amenities.
During the High-Level Business Forum in UAE held by Kenya on Tuesday, President Uhuru Kenyatta hinted that the two nations could soon strike a deal on free trade agreement (FTA).
"We are keen on the establishment of an arrangement to simply trade between UAE and Kenya and Gulf countries. I guess the simple way is an FTA and I hope it is something the countries will agree on," President Uhuru said during the forum.
Read: Women Touted To Be Running Mates For Raila, Ruto
>>> Raila's Dream Team: PR Queen Gina Din Wooed