Anyone who spends 10 minutes listening to financial media outlets has likely heard one of the following major indices: the American Dow Jones Industrial Average, UK's The Financial Times Stock Exchange 100, or Germany's Deutscher Aktienindex (DAX).
While many are likely familiar with what an index is in principle by default of hearing news pundits talk about it on a daily basis, fewer people understand how easy, convenient, and safe it can be to buy and sell an index through a standard brokerage account.
But First, What Exactly Is An Index?
In the simplest of terms, an index is used to measure the performance of "something." That "something" can and does vary from stocks, bonds, currencies, commodities, specific industry groups, and much more.
Examples of less commonly known indices include: 1) the Semiconductor Index that tracks the performance of more than a dozen American companies that manufacture and sell semiconductors, 2) the Global Junior Miners Index that tracks the performance of micro, small, and mid-cap companies that generate revenue through mining gold, or 3) the S&P/ASX 200 index that offers exposure to 200 of the largest Australian-listed stocks.
Each index has a numerical value to measure its worth and it changes on a daily basis. Indices are often useful in serving as a benchmark to measure an individual portfolio's performance against a major index. For example, if the Dow Jones gains 14% in one year but an individual's portfolio rose just 8% then we would say the investor would have been better off merely buying the index.
It is important to note that it is impossible to buy and sell an index outright. An index is professionally managed by an operator, such as the S&P Dow Jones Indices. One would be shocked to realize that this one index operator alone oversees and manages more than 130,000 indices.
So, now the big question is how does one buy and sell one or more indices? The most convenient option is through an exchange-traded fund, or an ETF. An ETF trades like a stock but instead of buying shares of a company, investors are buying a basket of assets designed to resemble the structure of an underlying index.
If an index gains 2% in one week then the value of the ETF should gain 2% as well. This is because the ETF structure replicates the holdings of an index.
See Also >> How To Earn Profit By Investing in Government
Buying and selling an ETF through a broker is as standard a feature as it gets. But trading an index through an ETF comes with the added cost of an annual expense fee, known as an expense ratio. If someone invests $10,000 in an index through an ETF that carries an expense ratio of 0.75%, $75 will be deducted from the investment account's holding.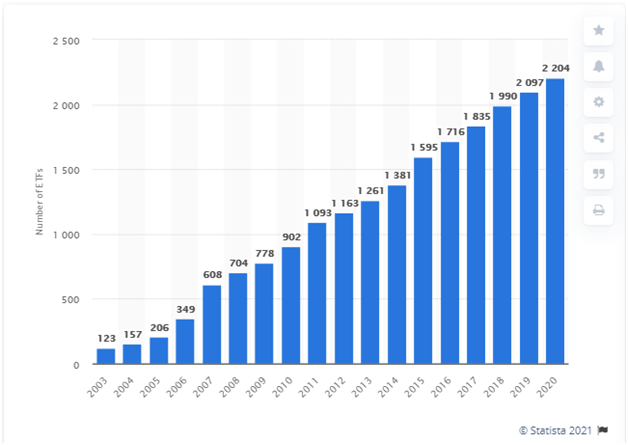 Why Someone Wants Exposure To An Index
For many, the thought of buying a basket of assets managed by someone else isn't too exciting. But in reality, a lot of investors prefer the convenience and safety associated with exposure to an index.
It is hard to imagine a basket of stocks that offers lower risk than 30 of the most recognizable American-listed stocks. The Dow Jones index includes powerhouse names like Apple, Goldman Sachs, Nike, Walt Disney, among others. It is also a lot cheaper to buy one share of an ETF that tracks an index compared to buying multiple shares of listed companies.
Investors that aren't quite sure what stocks to buy should also consider an index if they are bullish on a particular theme. If an investor is positive that the price of gold will rise, there are dozens upon dozens of gold-themed indices to track.
Read >> What Investors Should Look For When Choosing Online App
While someone can easily invest in a pure-play gold index that simply tracks the price of gold, there are many other indices designed to offer added benefits to the investor. For example, the NYSE Arca BUGS Index includes a portfolio of gold mining companies that hedge their gold production for up to 18 months in advance. As such, these companies have greater exposure to any near-term fluctuations in the price of gold.
Investors that are bullish on a particular country or region but are unsure of how to invest in can also follow one or more indices for easy access to investment products. For example, the MSCI India Index offers exposure to India-based large-cap companies while the Nifty Financial Services index tracks the performance of Indian banks and other financial institutions.
Three Safe Indices To Consider Buying In 2021
Investors that need some tips on what indices to buy in 2021 are certainly in the majority. The vast size of the multi-trillion dollar investment universe leaves many professionals just as confused and in need of help.
But here are three indices for new investors to consider checking out.
One of the Dow Jones' biggest drawbacks is the fact that it offers exposure to just 30 companies and this isn't a true representative of the US economy. The S&P 500 index is a reasonable alternative as it offers exposure to 500 of the largest US-listed companies. Many experts consider this to be a superior way for investors to profit from a booming US economy.
Second on the list of top indices to buy is considered even safer as it offers exposure to global stocks. The FTSE Global All Cap Index includes 8,500 global stocks, half of which are US-based. Investors can gain exposure to the index through the Vanguard Total World Stock ETF.
See >> Morning Traffic Draws Line Between The Rich and The Poor
Last, the FTSE World Government Bond Index includes a mixture of investment-grade sovereign bonds from more than 20 countries that are denominated in multiple currencies. Although perhaps the least exciting choice, buying bonds offer a level of safety that stocks simply can't offer.
Bottom Line: A Great And Cheap Tool
Investing off an index is an investment strategy that continues to gain popularity because it is convenient, easy to understand, and cheap. Buying and selling indices through ETFs means investors can switch up their investment strategies and goals whenever they please.
The abundance of available indices also means there is something for everyone.