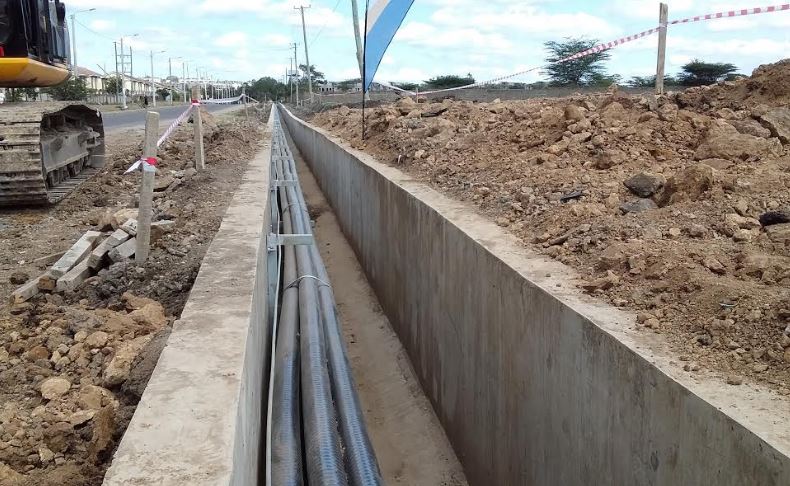 The Cabinet Secretary in the Ministry of Energy Charles Keter has launched a 220kV underground power line from Athi River to Embakasi substation that will offer an alternative for power transmission, as well as an additional capacity. The new line will draw power from Ol Karia power station.
The line is part of the Nairobi Ring Project, which involves the construction of a 100km 400kV Suswa-Isinya double circuit line and substations at Kimuka (Ngong), Malaa (Komarock), Athi River and Isinya with a rating of 1700MW.
Speaking to journalists during the launch, Keter stated that the Athi River Embakasi line will maintain power supply in Nairobi and its environs in case the overhead power supply circuits fail. "The line will provide an alternative means of power supply to Nairobi and its surroundings as well as reduce the cost of power through reduction of transmission losses,"  said Keter.
READ: COCA-COLA REVEALS PRICE OF FIRST SODA EVER PRODUCED
Kenya Electricity Transmission Company (KETRACO) Chairman Eng James Rege said that the 7-kilometre line faced challenges of vandalism (more than eight counts), the reason the project has delayed. "Although the project has faced numerous challenges including multiple vandalism incidences, we are glad the first such cable in the region is now complete and for the first time a physical ring around Nairobi metropolis is a reality," said Mr Rege.
Other challenges included the recent flooding and the extra care needed to minimize human-animal interaction. "The project will enhance power reliability in Nairobi especially when our power distribution partner, Kenya Power complete their 220/60 kV line from Embakasi sub-station to the CBD and other areas around the city," said KETRACO's Managing Director Fernandes Barasa.
The underground cable will act as a bridge through which two major projects (Mombasa-Nairobi and Suswa-Isinya) get access to Nairobi City and connect the biggest cities in Kenya with Ol Karia geothermal fields.
The project was divided into three phases. The the line connecting Mombasa and Nairobi was completed and launched last year by President Uhuru Kenyatta. Phase one entailed construction of 29km of 220kV double circuit overhead transmission line from Rabai Substation to Mariakani substation and about 163km of 400kV double circuit overhead transmission from Mariakani substation to Tsavo River.
SEE: WHY KENYANS YOUTH WANT TO LEAVE THE COUNTRY
The second phase of the project entailed construction of 52km of 220kV double circuit overhead transmission from Embakasi substation to Isinya Substation and about 230km of 400kV double circuit overhead transmission line from future Isinya Substation to the Tsavo River.
The third phase will include an extension and modification to the 220kV substations at Embakasi  and Rabai to accommodate two new overhead transmission line circuits from Embakasi to Rabai, including the 7km of 22okV underground cable.
The whole project cost approximately Ksh16.9 billion, financed by the French Development Agency and the Government of Kenya.
NEXT: FASHION IDEAS FOR THE RAINY SEASON