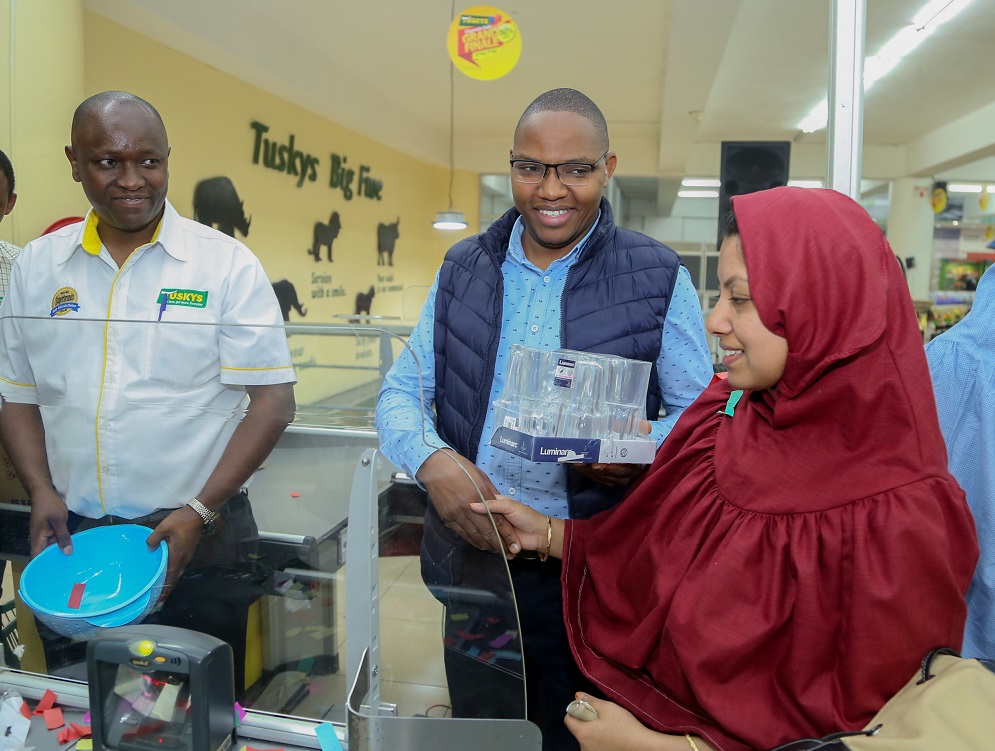 Tuskys Supermarkets today officially launched its 'Gigantic Grand Finale' sale in five of its outlets in Nairobi, Kisumu, Eldoret and Juja, marking it with a 6.30am opening of the selected stores.
The retail chain is offering up to 50% off offer on items to attract customers to its shops as competition grows from its rivals in the budget segment Choppies and Naivas..
Tusker Mattresses Group CEO Dan Githua said the sale is aimed at rewarding customers for their loyalty and support.
"We are providing the best discount on products with this grand finale sale, and we would like to assure our customers that the products on offer will be constantly replenished for the four days that the sale is set to last," said Mr Githua.
The five branches are Tuskys T-mall and Tuskys Greenspan in Nairobi, Tuskys United in Kisumu, Tuskys Juja and Tuskys Eldo Centre in Eldoret. In Nairobi, Tuskys T-Mall has also secured extra parking space at Moi Educational Centre and PCEA Nairobi West in anticipation of more shoppers.
READ: REAL ESTATE HOT SPOTS FOR INVESTORS
In addition, customers will also get to enjoy double rewards on their loyalty card points which they will be allowed to redeem at 30 points as well as earn at 30 points during the period of the sale. The reward on the loyalty points is set to continue till the 20th of September.
During the Tuskys Gigantic Sale Grand finale, the items that will be available to customers are; 400 sofa sets, 800 dining table sets, 1,000 entry level and 600 premium television sets, 100 washing machines, 1,500 microwaves, 500 refrigerators and 400 cookers at up to 50% discounts.
SEE ALSO: SEVEN TRICKS TO GET RICH WHILE YOUNG
Suppliers providing retail products and brands are Samsung, LG, Kabras Sugar, Menengai Soap Ohms, Luminarc, OSRAM, Moulinex, Regal, Tefal, Beko, Jikokoa, Redberry, Hotpoint, Ramtons, Kings Collection, Slumberland, Vitafoam, Dettol, Brookside, Dawaat, Mortein Doom, Rina cooking oil, Soko Ugali, Huggies, Kenchic, Harpic and Persil. They have supported the Tuskys Gigantic Sale to a tune of more than Ksh400 million in the last seven weeks.
The Tuskys Gigantic Sale Grand Finale is the culmination of an ongoing sale by the retailer since July, in all its stores countrywide.  and Tuskys Juja Mall