Turkana oil being sold in black market?
Tullow says all its installations where crude oil was stored was secure, saying the substance alleged to be black market never originated from any of its sites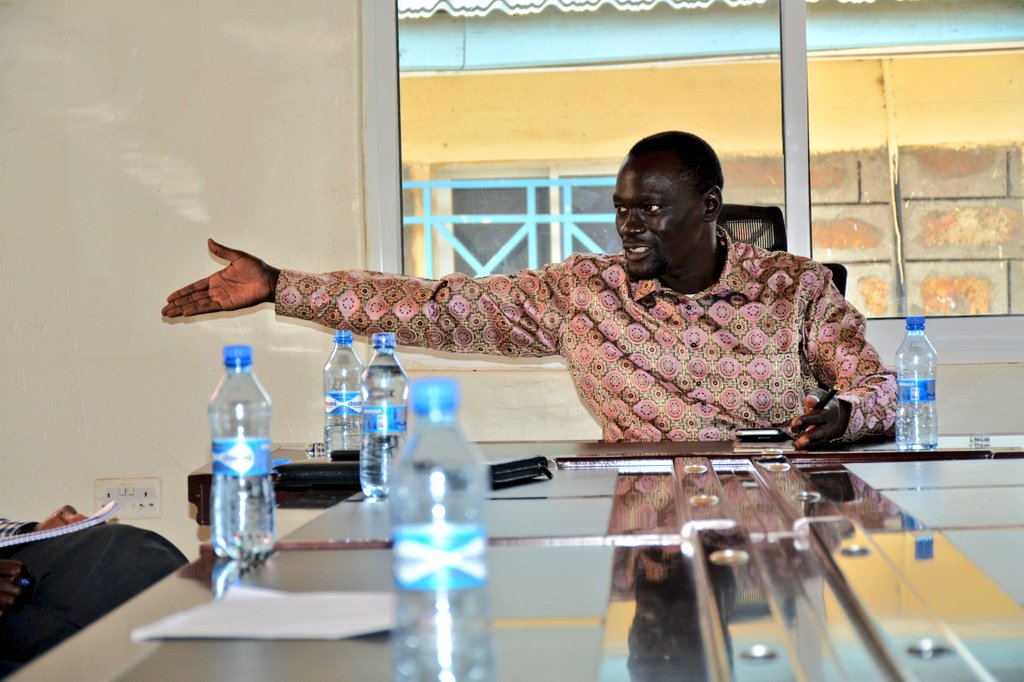 Tullow Oil, the company that is drilling oil in Turkana County, has allayed fears that crude oil from Lokichar was being sold in the black market.
Tullow Country Manager Martin Mbogo said all their installations where crude oil was stored was secure and denied that the substance at the centre of alleged black market originated from any of the company's sites.
"We have followed up on these reports and even sought to find and analyse samples of the material but have found none, but what we are sure of is that the substance did not come from any Tullow site where crude oil is produced. We are cooperating with the police and have also ensured that all our sites are under tight security," Mr Mbogo said during a meeting with Turkana Governor Josphat Nanok and other senior county government officials on Wednesday.
He told the Governor that social investment projects by the company that include health centres in Lokichar and Kasuroi will now be handed over to the County Government to benefit residents after conclusion of court cases that had stalled the transfer process.
Governor Nanok said there was need for better engagement among the parties including the National and County Governments, Tullow and the community as the next phase of oil production was expected to commence.
He raised concern of uncertainty rising from standoff between the National and County Governments over the share of oil revenue.
"The public and the County feel ignored on issues raised over oil exploration and there is the feeling that we have no say of the process after production. This standoff affected the early oil project. The four parties in this process need better consultation," he said.
The Governor announced of plans to push for legislation on land ownership and documentation that will guide in compensation, a matter Nanok said was as contentious as the impasse over oil revenue sharing formula.
Deputy Governor Peter Lotethiro reiterated the importance of dialogue and community participation in programmes, a situation he said would reduce roadblocks and allow the contractor operate with ease. The governor called for fairness in staff layoff which is expected with the suspension of drilling process.
He said the matter was delicate and due process and relevant labour laws should be followed. On waste management, Mbogo informed the county team that environmental officers had addressed concern over waste disposal and had put mechanism to manage the waste currently produced.
In the meeting were County Executive Committee members Ms Jane Ajele (Health) and Esther Lokwei (Lands), Chief Officer for Energy Stella Opakas, Chief of Staff Abraham Losinyen and the Governor's advisors Norbert Okumu (Legal) and Joseph Ekalale (Political).
US Green Card applications lost
State Department asks applicants to resubmit entries but experts fear that many entrants may not know to reapply
Kenyans and other foreigners who had submitted entries submitted to the US Diversity Immigrant Visa Program, also known as the Green Card Lottery, between October 3rd and 10th risk losing the opportunity to take up US citizenship after they got lost due to a technical glitch.
Individuals who submitted applications during these dates are directed to reapply. "Entries submitted during October 3-10 are not valid and have been excluded from the system; they will not count as a duplicate entry," a message on the US State Department's website said.
Duplicate entries to the program disqualify aspiring immigrants.
"The technical issue has been resolved and a new full entry period will begin at noon, U.S. Eastern Daylight Time on Wednesday October 18, 2017 and will run until noon Eastern Standard Time on Wednesday November 22, 2017," it added, telling applicants to "throw away" any confirmation number or documentation of applications submitted between the 3rd and 10th.
The State Department will be sending automated email notifications to each entrant who applied in early October, instructing them to check the website dvlottery.state.gov "for an important announcement", spokesperson Pooja Jhunjhunwala told Voice of America (VOA) via email.
"We will also work through our embassies and consulates to inform potential entrants of the situation and new registration period using social media and local media outlets," she wrote.
Though the application period has been extended, experts fear that many entrants may not know to reapply.
"At least, they extended the entry period to make it a full month again. But I have doubt that thousands of applicants from the third world, who don't check the internet every day, will know that their prior entry is no longer valid," Kenneth Rinzler, a Washington, DC-based immigration attorney, told VOA.
For would-be Americans who don't have family in the US, or an employer to sponsor them, or who aren't refugees, the diversity visa is the only option. It requires a high school degree or a few years of work experience just to qualify.
If the application is valid, your number is chosen and you pass the other requirements for immigrants, you still need the money to get to the U.S. It's a small portion of immigration to the U.S. every year, but larger than other cornerstones of the program, like employment-based immigrant visas.
In Fiscal Year 2015, the US issued 48,097 diversity visas out of 531,463 total immigrant visas.
Winners of the current lottery would get their visas during the 2019 fiscal year that runs from October 1, 2018 to September 30, 2019.
Natives of all countries qualify except Bangladesh, Brazil, Canada, China (mainland-born), Colombia, the Dominican Republic, El Salvador, Haiti, India, Jamaica, Mexico, Nigeria, Pakistan, Peru, the Philippines, South Korea, the United Kingdom (except Northern Ireland) and its dependent territories, and Vietnam. People born in Hong Kong, Macau, and Taiwan are eligible.
Story credit: voanews.com.