Standard Group CEO resignation causes tension
The move has thrown the media house into turmoil once again and forced the owners back to the drawing board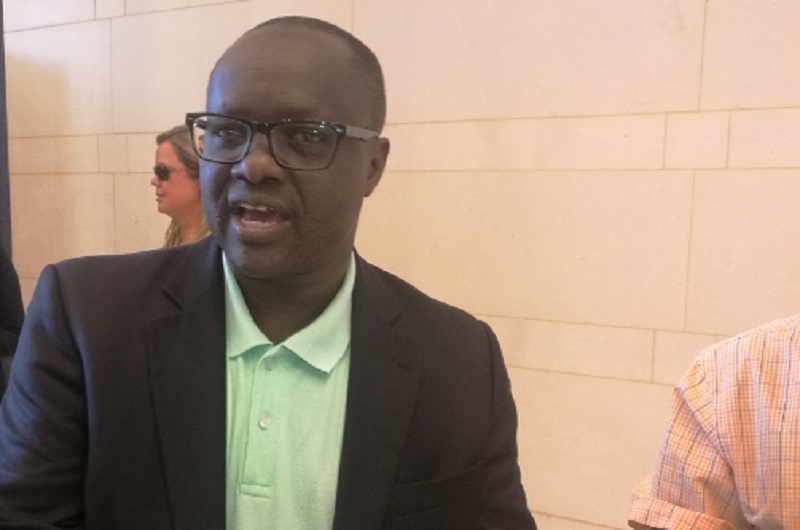 Standard Group chief executive Sam Shollei has reportedly resigned in what appears to be the culmination of a fallout with some key people in the company's board.
Mr Shollei is understood to have quit under pressure from Gideon Moi, one of the principal shareholders at Standard representing the interests of Daniel arap Moi family, its main shareholder. His exit comes just eight months after the board gave him three more years at the helm.
The sudden move has thrown the media house into turmoil once again and taken the owners back to the drawing board to get a new CEO.
Inside sources at Standard say the company's board will be meeting tomorrow to endorse his exit. "We don't know what's going on, but what I have heard is that Gideon Moi is the one behind Shollei's reisignation," said a senior journalist at the Standard.
It is not clear what caused the fallout, especially given the glowing words the board heaped on Shollei while renewing his contract in December. "The board is pleased to retain Mr Shollei for a further three years to continue the Group's ongoing business renewal programme and to lead the organization to greater heights of success as we implement the new corporate strategy," said Shaun Zambuni, a member of the board speaking on behalf of the chairman.
But the tide appears to have turned drastically over the past eight months. Mr Shollei, who was headhunted from Nation Media Group in 2012, has been working to re-energise Kenya's second biggest media company, where he executed a painful retrenchment to cut costs and grow profits.
During his reign profits fell, as revenues shrank due to a drop in ad incomes.
Some blame poor performance on an expensive payroll, which was trimmed in late 2015, pushing out some of its longest serving journalists.
Yet from a loss of Ksh289.6 million in 2015, Standard Group swung back into profit in 2016, boosted largely by falling operating costs and slightly higher revenues. It made a net profit of Ksh198.5 million, an impressive 169% growth that shook the media industry and even the Nairobi Securities Exchange.
With such a turnaround, someone would have thought Shollei had vindicated his extended presence at Standard and generous expenditure on new products such as Radio Maisha, KTN News and The Nairobian. The Standard CEO's seat is always hot and Shollei's exit confirms just how family and political interests often triumph over corporate strategy at the company.
Angela Ndambuki takes over as KNCCI chief executive
Kenya National Chamber of Commerce and Industry (KNCCI) has appointed Ms. Angela Ndambuki as the new Chief Executive Officer.
Ms Angela, who took over Monday, succeeds George Kiondo who has been the Acting CEO for the last 8 months.
In a press statement, KNCCI chairman Kiprono Kittony said that after a rigorous search, the Board concluded that Ms Ndambuki's leadership and considerable experience in strategic leadership, advocacy brings a wealth of business knowledge and management experience.
Ndambuki, a former singer with Tatuu band, previously worked with the Performers Rights Society of Kenya (PRISK) as the CEO and demonstrated throughout her career the ability to work successfully in different environments, designing and leading strategies which resulted in impressive value creation.
"I look forward to working with her to create the next chapter of the KNCCI's story of success. I also thank Mr Kiondo for his exemplary leadership of KNCCI over the last eight months," Kittony said.
He noted that Kiondo has ensured that the organization has continued to move forward both strategically and operationally, and has delivered results having taken on additional responsibility at a critical time for the Company.
Kiondo, the former Acting CEO, said: "I welcome Ms. Ndambuki to her new role and wish her every success. I should like to thank all my colleagues for their support during the past 8 months. I will continue to offer my support and ensure that the Company continues to drive forward."
Ndambuki, on the other hand, said she was excited to take over as the new CEO especially at this time when the country is experiencing great and favorable attention as the most preferred investment destination in Africa from leading global investment agencies.
"My role will focus on enhancing this image and grow the international investors' portfolio. With the same energy we shall focus on key advocacy issues affecting the business community to ensure a favorable business climate for Kenyan companies and facilitate ease of doing business," she said.
She promised to grow the KNCCI membership in partnership with all the 47 county chapters to include all corporates and SMEs countrywide.
Ms Ndambuki is an advocate of the High Court of Kenya. She holds a Master of Laws Degree (LLM) in Intellectual Property Law from the University of Edinburgh, United Kingdom and a Bachelor of Laws Degree (LLB) from the University of Nairobi, Kenya.