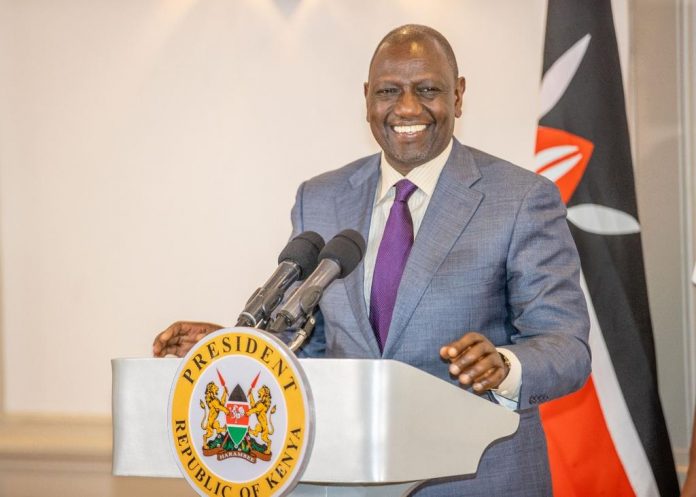 President William Ruto on Wednesday, September 28 offered insight into his administration's  plan to increase access to affordable credit and overhaul the credit rating mechanism in the country.
The President spoke when he appeared at a press conference alongside executives of Safaricom, KCB and NCBA who announced a reduction in fees on the Fuliza overdraft facility.  The value of disbursements on Fuliza increased from Ksh246.6 billion in 2020 to Ksh351.2 billion in 2021. While it has been commercially successful, the platform has long come under criticism over high interest rates, as have other digital lenders.
>Atwoli Takes On Fuliza And Digital Loan Apps
Ruto stated that millions of Kenyans currently blacklisted by Credit Reference Bureaus (CRBs) from borrowing would be ejected from the list in November as a result of the new credit rating mechanism. The President noted that the new system would focus on a credit ranking-based mechanism as opposed to the current system which has a is quick to bar Kenyans from borrowing once they default on loans – many of which are micro-loans from digital lenders.
"I am very happy that 4 and 5 million Kenyans will by beginning November will be out of blacklisting. These Kenyans have been excluded from any formal borrowing and have been left at the mercy of shylocks and predatory lenders."
READ MORE>>Fuliza: Safaricom's Golden Goose Opens Political Battlefront
Ruto noted that the graduated mechanism would offer Kenyans a chance to improve their credit scores and access credit.
"The government is not against credit listing. In fact we support CRBs as a mechanism. What we are asking is we don't want credit listing to be an all-or-nothing. We want it to be a platform where everyone is doing their best. Instead of people being in or out there is a credit rank where people can rise," he stated.
"Instead of blacklisting, we can have a graduated mechanism. That happens even when we borrow money from IMF so it is a positive development for Kenyans," the President added.
Ruto further tasked Treasury and Social Planning CS Njuguna Ndung'u and his ICT and Digital Economy counterpart Eliud Owalo with developing a product to enable access to credit for Kenyans at single interest digit rates. In his campaigns, Ruto had promised to unveil a Ksh50 billion 'Hustlers Fund' to offer affordable SME financing.
Ruto noted that the government was willing to to take on risk banks associate with lending to Kenyans at the bottom of the pyramid through public-private partnerships.
"The assignment I give them is to work with you and develop a product where hustlers can also have access to credit at single digit interest rate and I am willing to work with you in a public-private partnership so that we can mitigate some of the factors that come in lending to that category of Kenyans," he stated.
Ruto further encouraged responsible borrowing as he reiterated his recent call to Kenyans  to foster a culture of savings.
"This means that the common mwananchi can double or triple their interest rates.  This is the future we're looking at. In this space, we should also find the model that encourages savings. Borrowing functions best when we have savings," Ruto stated.
His comments echoed former Safaricom CEO and Chairman Michael Joseph's past sentiments on the company's deviation from savings to lending with the financial services products built into its market leading M-Pesa platform.
"I wanted people to save for the future instead of borrowing for funerals or weddings or school fees. Unfortunately, because you (telcos and banks) make more money when you lend people more money, it became a lending product," Joseph noted in a past interview.
"In my personal view, some of the things we are doing with M-Pesa, like borrowing, are not good for the people," he stated.