[dropcap]W[/dropcap]omen in Kisii County are making money and transforming their lives from a unique venture: making medicinal detergents from fruits and vegetables. They work under the Kisii Entrepreneurship Self Help Women Group, which is becoming a household name.
Ms Jane Akeyo, 41, who came up with the formula of making the detergents, says the group has made her innovation very popular and demand for the products is growing.
She says she learnt the skill of making detergents while taking an entrepreneurial course at Kisii University in 2015 but was unable to start it off because it is labour intensive. Whenever she co-opted a group to work with her in order to make the production functional, it failed.
"I tried to form groups twice in 2016 and 2017 at Eroga and Mosocho but it failed because majority of the group members thought it was a merry-go round and didn't understand my intention and wanted quick finacial gains," says Ms Akeyo, speaking at Bogeka ward in Kisii County.
In January this year Ms Akeyo joined a prayer group which comprised women to whom bought into the idea. They registered the group and their input of ideas and labour have enabled her to fully roll out her innovation of making natural detergents.
"From the time we sold our first batch of natural detergents in bulk early this year," she says, "demand has kept on growing by the day and we can no longer meet it because we are not financially strong to buy the right equipment and machinery that will automate the simple but rigorous preparation process."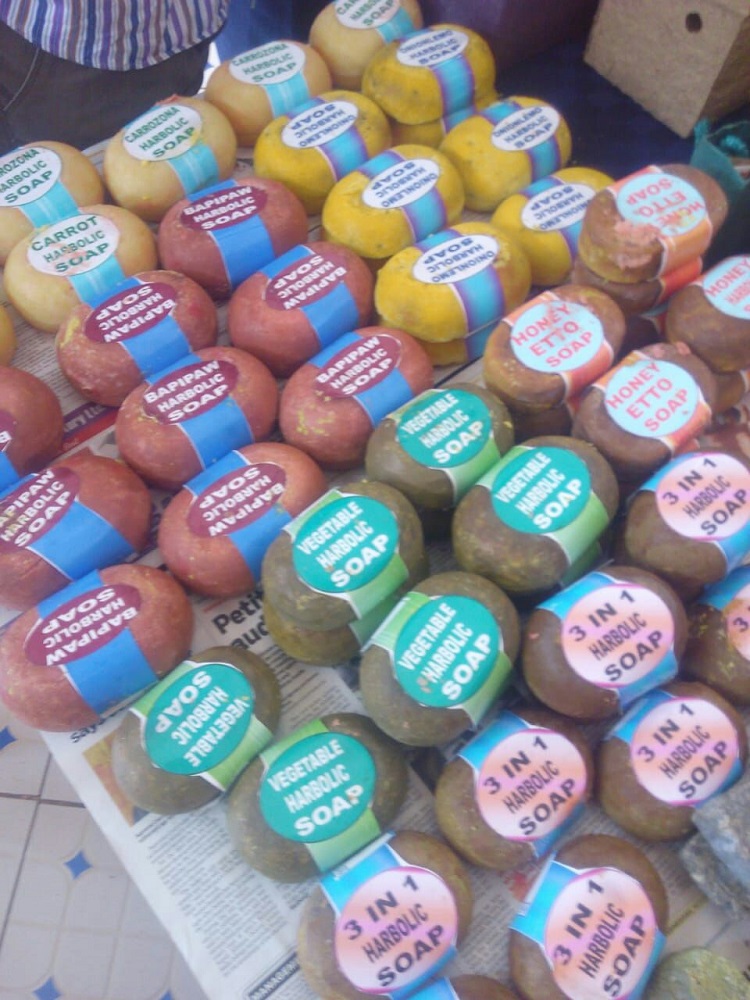 Ms Akeyo says that the preparation process involves a lot of stirring to blend all the ingredients. For instance in making ONIOLEMO, an anti-aging soap, you need water, onions, lemons and cucumber as the natural ingredients mixed with specified quantities of caustic soda, cooking oil, CDE chemical, colour and perfume.
These ingredients are gradually added in certain quantities while stirring until they blend and are then left for around 30 minutes to condense into a compact block which is then cut into different shapes and sizes of soap.
Ms Akeyo was spotted by the Kenya Industrial and Research Development Institute (KIRDI) at the Kisii Agricultural Show in 2016 and took her thorough a free training on making detergents that would meet the Kenya Bureau of Standards KeBS quality.
"We have not reached a level where we can say that we have sufficient saving in our groups' account and have stabilized financially because we are still injecting all we get from the sales back into adding more detergents and trying out new detergents but I believe in the next five to eight years we will be employers of several people in our county and beyond because the future of our venture is promising," Ms Akeyo says.
The self help group's administrator, Callen Riro, said the group prepares 21 medicinal detergents ranging from toilet soaps, hand wash, fabric softeners, perfumes, skin toners, ant-aging ointments, dandruff removers and others that eliminate stretch marks unpleasant body odors and ring worms.
The group sells one bar soap of about 80grms for Ksh300. They are appealing to financiers to bto help them put up a fully equipped cottage industry with processing and packaging machines in Kisii to turn it into a serious industry.
READ: WOMAN SUES KCB IN LOGBOOK LOAN DISPUTE
Ms Akeyo said that they have been invited to State House by the President who was pleased with their products during his recent visit to Kisii to officiate the celebrations of the International Youth Week.
They have also been invited to exhibit their products during a trade fair organized by Common Market for Eastern and Southern Africa (COMESA) officers to be held soon to give them an opportunity to expand their networks and penetrate international markets. [Story by Deborah Bochere / KNA)