Equity Bank Chief Operations Officer (COO) Polycarp Igathe on Tuesday, October 27 offered advice to Small and Medium-sized Enterprises (SMEs) looking to stay afloat and thrive despite the shocks of the Covid-19 p******c.
Igathe spoke on building resilience for businesses in a webinar alongside Kenya Association of Manufacturers (KAM) Chairman Mucai Kinyiha.
"Kenya has largely demonstrated resilience during this season. The only quarter when the economy contracted was in quarter 2 of 2020," he observed.
He urged businesses to prioritize understanding their customers' needs and developing flexible business models that allow them to adapt.
Igathe pushed for greater use of digital tools data analytics to improve businesses' growth prospects.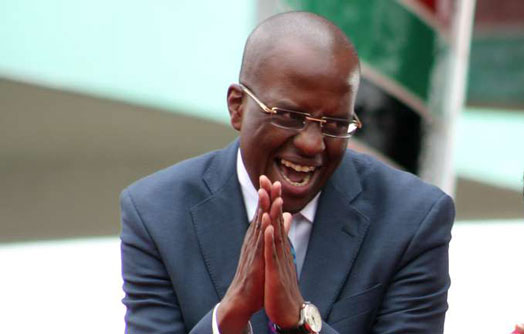 "Businesses need to listen more to their customers and relook their processes to allow for agility and speed of service. Data analytics is important to continuously improve and enhance resilience.
"Data from success does not teach you much. Data and lessons from failure are the best way to learn for the future," he advised.
The corporate executive also called for business owners to ensure the well-being of their staff to enable them to deliver the best possible services to customers.
"Do not forget your customer. Your customer is the most important person in your business. 2nd most important are the people you employ to interact with your customers. Take care of this & you take care of business," he stated.
In addition, Igathe highlighted opportunities in manufacturing that entrepreneurs in the country could latch on to.
"There are opportunities in manufacturing for export and intra-Africa trade. Equity's expansion is aligned to Africa's trade route and is well-positioned to support cross-border trade," he asserted.
His sentiments were backed by KAM Chairman Kinyiha who noted that the p******c had resulted in significant loss of business for manufacturers in the country, calling for innovative thinking as organizations try to re-position themselves in the Covid-19 era.
"Currently, manufacturers in Kenya are facing three challenges: global competitiveness, cash flow and liquidity, and lack of access to Credit.
"Research shows that 77% of manufacturers have identified demand as the main challenge in this season and 27% identified access to finance as a hurdle to survival," he noted.
Igathe also took the chance to demonstrate how Equity was backing SMEs through various tailor-made financial products.
He noted that the bank had supported its customers with loan moratoriums helping them weather the economic shocks of the Covid-19 p******c.
In addition, he cited innovations in digital banking and various training and educational programmes as evidence of the bank's commitment to supporting SMEs.
"We have been moving our SME customers to automated business systems such as EazzyBiz which is a great solution for SMEs as opposed to signing cheques.
"As a bank, we do not have a one size fits all. We tailor-make solutions for SMEs. We curate solutions for you based on your needs," Igathe maintained.