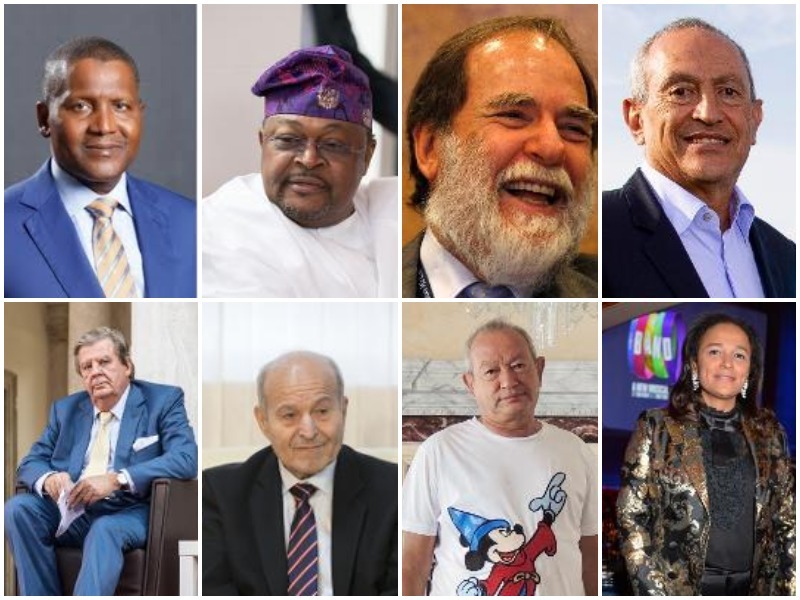 Kenya's richest failed to reach the billion dollar mark, therefore missing out once more on the Forbes list of African billionaires.
Whereas the regular names like Naushad Merali, Vimal Shah and Chris Kirubi dominate discussions of Kenya's richest men, the country's multi-millionaires are yet to attain the mark considered by Forbes in their top African rankings.
The continent's rich list, released by Forbes on January 9, features individuals from eight African countries met the criteria of being worth one billion US dollars or more. The list of 20 features only two women, one of whom is also among the only two on the list who are below the age of 50.
Africa's youngest billionaire Mohammed Dewji of Tanzania, who is 43 years old, is the other below the age of 50 rich man. The Tanzanian tycoon made headlines late last year when he was kidnapped and later found under unclear circumstances.
In a blog post by Forbes titled "Fewer billionaires, poorer billionaires on the African continent in 2019", the American business magazine said plunging stock prices and weaker currencies on the continent contributed to the decrease in the number of African billionaires as per their criteria.
The number dropped to 20 having registered 23 a year ago, with the total worth of the African tycoons standing at around USD68.7 billion.In 2018, the 23 African billionaires had been worth USD75.4 billion.
READ : AMAZON MILESTONE PUSHES JEFF BEZOS NET WORTH TO SH16.7 TRILLION
Aliko Dangote retained his crown as Africa's richest man, although his net worth of an estimated USD10.3 billion is almost USD2 billion less than a year ago. Forbes attributed this decline to a 20% drop in stock price in his most valuable asset, Dangote Cement.
The 61 year old Nigerian has now gone eight years in a row atop the Africa rich list.
RELATED : DANGOTE FIRMS UP PLANS FOR INVESTMENT IN KENYA
His fellow Nigerian Mike Adenuga, 65, places second,with Forbes saying fresh revelations of the Globacomm telco owner's assets dramatically raised his net worth from an estimated USD5.3 billion in January 2018 to now registering an estimated USD9.2 billion.
The top three is completed by diamond heir Nicky Oppenheimer, 73, of South Africa, who saw his net worth decline from an estimated USD7.7 billion to now stand at an estimated USD7.3 billion.
Isabel Dos Santos of Angola and Folorunsho Alakija of Nigeria are the only women in the 20-person list. Both are oil magnates.
Dos Santos, daughter to former Angolan president Jose Eduardo Dos Santos, is estimated to be worth USD2.3 billion. This represents a USD400 million decline for the 45 year old, who is tied eighth on the African continent.
Alakija, 68, is worth around USD1.1 billion and is tied in 19th place.
SEE ALSO : TRUMP WILL NEVER CALL WOMEN BEAUTIFUL
Zimbabwe's Strive Masiyiwa was one of the few to buck the rend that saw most of Africa's billionaires' net worth decline. The telco magnate saw his net worth jump from around USD1.6 billion last year to USD2.3 billion.
Masiyiwa, though a London resident, features on the list because of his extensive network of operations that are based in Zimbabwe. In its criteria, Forbes rules out billionaires who though born in Africa, have a mojority of the ir business outside the continent or reside in other countries. Thus Sudanese born billionaire Mo Ibrahim and Egyptian mogul Mohammed Al Fayed are not considered.
Forbes compiles the list bY calculating net worths using stock prices and currency exchange rates from the close of business on January 4.
According to the business magazine, "Some list members grow richer or poorer within weeks—or days—of our measurement date."
Forbes list of Africa's Billionaires in full
SEE ALSO : CHEAP, COMMON MEDICINE CAN HELP TREAT MENTAL ILLNESS