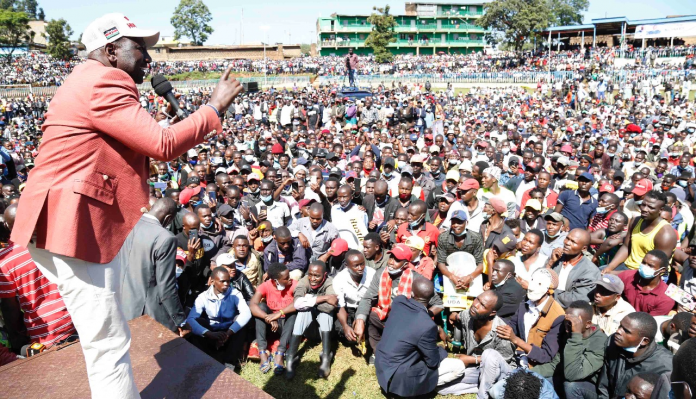 MPs have launched a new bid to amend the National Cohesion and Integration Commission (NCIC) act to classify "Hustlers vs Dynasties" as a basis for incitement and discrimination.
The narrative refers to individuals dubbed "Hustlers" who have emerged from less fortunate backgrounds and have built themselves from the ground up, while "Dynasties" are privileged having been born in families with power and a silver spoon in their mouth.
It has been feared in some quarters that the narrative could drive the nation into civil unrest. In a recent interview with Kikuyu language radio stations, President Uhuru Kenyatta accused those behind the narrative of instigating a class war.
Most recent acts of political violence have been reported in parts of Murang'a, Nyeri, Kiambu and Nairobi counties.
"All these are because of the actions of certain rogue people. Incitement to acts of violence by politicians and political groups in parts of the country is worrisome," said National Security parliamentary committee Chairperson MP Paul Koinange at the English Point Marina in Mombasa.
A two-day retreat of the Koinange-led committee analyzed and reviewed bills and possible strengthening of the Act to curb hate speech. This is to be presented in Parliament upon its resumption in the coming month.
The change is intended to amplify the law on classism in addition to discrimination and incitement on the basis of ethnicity, race, nation and religion.
"There is no difference between those inciting people along tribal lines and those doing so along class lines," said Koinange. He asserted that it was a requisite for the law to catch up with new forms of hate.
"You cannot say you love this country and all you do is make a lot of noise from January to January. We have hospitals to build, schools for our children, roads to construct," Koinange maintained.
Koinange's team summons to the Interior Cabinet Secretary, Fred Matiang'i and NCIC Commissioners to address the matter proved futile with Deputy President William Ruto's allies terming it as a lost cause.
Soy MP Caleb Kositany and Belgut MP Nelson Koech insisted that the narrative represented the need to uplift the poor in addition having a more inclusive government. They cast the movement as a sense of unity among Kenyans drawn from humble backgrounds irrespective of tribe.
In contrary, NCIC commissioner Dorcus Kedogo stated, "While the narrative has been developed by politicians, the middle class will be the easy target for the poor masses who interact with them on a day to day basis,"
Following Chapter six of the constitution, NCIC commissioner Philip Okundi said the commission is lobbying for an amendment to the leadership act where candidates vying in the next elections are to be vetted and subjected to integrity tests.
To tame political violence, the Kiambaa MP proposed that political campaigns be allowed for a maximum of two months to the general election. He proposed that anyone deemed to be campaigning before the official campaign period be automatically barred from vying.
The committee has requested interested parties and stakeholders to give their proposals.