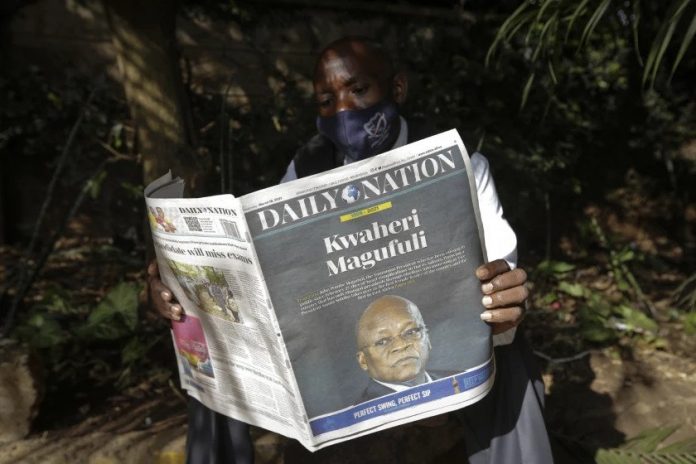 Nation Media Group (NMG) on Wednesday, August 25 made public its results for the six months to 30 June, 2021. Indicating sustained recovery from the impact of the Covid-19 pandemic, the firm posted profit after income tax of Ksh285.2 million compared to a Ksh375.3 million loss in the same period last year.
Profit before tax stood at Ksh410.7 million up from a Ksh328 million loss in H1 2020. Growth was driven by increased revenues from print advertising, television, online advertising and e-paper subscriptions which rose 18%, 40%, 23% and 28% respectively.
Placing content behind a paywall on its flagship digital platform is also paying off. As of August 2021, Nation.Africa has over 120,000 paying subscribers and more than 350,000 account sign-ups.
NMG is targeting 500,000 account registrations on the platform by the end of 2021.
Consistent with trends in the industry, the contribution of digital to profitability remains on the rise. From contributing 1% to NMG's profitability in 2017, digital accounted for 4% in 2018, 10% in 2019, 62% in 2020 and 15% in the first half of 2021.
Print which has been NMG's traditional cash cow recovered from the pandemic induced decline of 2020 when it contributed -139% for the year to account for 40% of profitability in H1 2021. Television also grew its contribution from -32% in 2020 to 22% in H1 2021.
With the 2022 General Election around the corner, revenues from broadcast – radio and TV – are only expected to surge.
At an investors briefing, CEO Stephen Gitagama highlighted the company's increased focus on strengthening its digital proposition including mobile-first operations and becoming more of a data-driven organization.
"We have hired data engineers, data scientists…adding skills which traditionally were not in a media house," he disclosed. The firm had in May confirmed the appointment of Oliver August of Mawingu Networks as its new Chief Technology Officer (CTO) expected to spearhead the firm's digital strategy.
On the share buy-back program which was the first by a publicly listed company in Kenya, NMG revealed that 80.9% of the share buyback target had been met by August 23, with 16.77 million shares bought.
The closing date for the buyback program at the Nairobi Securities Exchange (NSE) is September 24, 2021.
Gitagama went on to voice the company's positive outlook as the economy gradually recovers from the shocks of the pandemic, telling shareholders: "I can tell you the worst is over. We are focusing on recovery and growth. The only risk we have in that future is COVID."
Like other media companies, NMG was hit hard by the shocks of the pandemic in 2020. It reported a 94.4 per cent decline in net profit for the full year, plummeting on lower advertising revenues and falling newspaper circulation.
READ>>>>>NMG Net Profit Tumbles 95% to Ksh48M from Ksh856M – Here's Why