Kenya is at a crossroads and since we left the political class to its own devices, sanity lacks exposing Kenyans to risks and dangers that could have been avoided.
When Ali Gire made known what was happening at the Jomo Kenyatta International Airport (JKIA) before the first covid-19 coronavirus case was announced in Kenya, he was branded a criminal and unpatriotic.
Those who accused Gire of overstepping his mandate are now missing in action only appearing at briefings with Health CS Mutahi Kagwe to address an issue that could have been avoided if they acted in time. But, greed!
However, as the coronavirus cases continue on an upward trajectory in Kenya, Kenyans have been forced to stay at home and even the neediest being coerced to forego their sources of livelihoods as the same people who put their lives at risk continue with the gaslighting.
But Kenyans are for once happy that someone who knows what they are doing is at the helm at such a time. Kagwe has been at the top of the game since he took over the docket that for long had a chaotic one.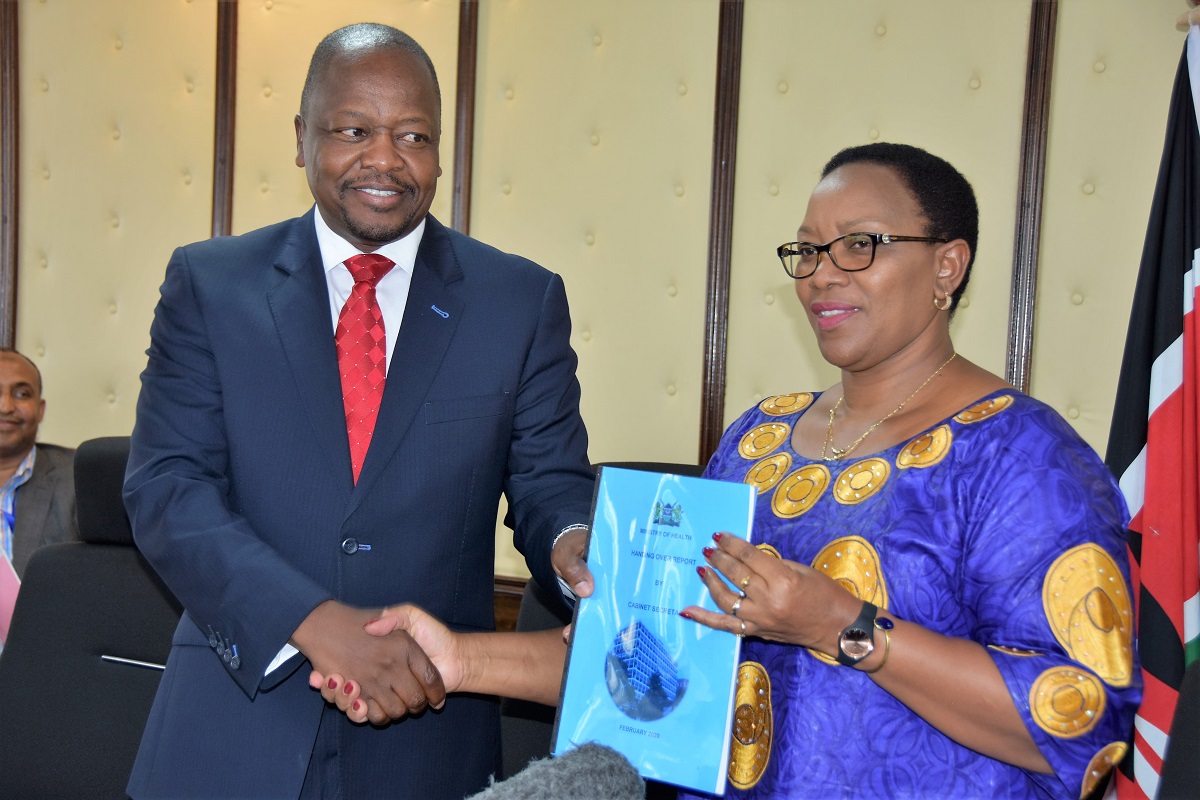 The CS acknowledges that there are not enough healthcare workers in our facilities and if the situation gets out of hand, it would likely stretch our healthcare system if no measures are put in place.
He says that the ministry is in the process of hiring 1,000 health workers to boost capacity but the challenges are far from over since there is an acute shortage of personal protective equipment.
"We are scaling up the acquisition of PPEs to our health care facilities countrywide. However, following the outbreak of the disease worldwide there has been a global shortage. The government has however resolved to get the same through our local manufacturers," said Kagwe in his Tuesday briefing.
He said that the government is in the process of engaging the EPZ to manufacture face masks and suits to be distributed countrywide.
"In the same vein, we are also looking at the manufacturing of protective suits for our health care workers. As per our modelling which we are working with at the Ministry we have already quantified the needs of the PPEs and come up with allocation criteria in our critical clinics," he added.
And now, having to deal with problems created by those who man our entry points, Kagwe has called on Kenyans to help him in the fight against the pandemic that has threatened to shut down the world as we know it.
His 4 appeals call on Kenyans to be responsible to ensure that the disease spread is minimised.
"Therefore, as your Cabinet Secretary for Health, I am once again appealing to you for your help so that we can overcome this disease as we tackle it among ourselves," he said.
Mutahi Kagwe's appeals:
I appeal to you to continue maintaining the social distancing because you cannot be able to tell who is infected at face value.
I also want to appeal to you to utilize the call line facility number 719 to report on any cases regarding the disease and *719# to receive the correct messages.
I am also appealing to our County Governments to ensure the Coronavirus Committees are not only up and running but they are pro-active in putting in place all the necessary precautionary measures.
I am also appealing to those in the transport industry to observe the hygiene measures which we have already announced to you. Matatus should carry the required passengers to maintain social distance, provide sanitizers and their vehicles should be disinfected regularly.
With the disease ravaging even the so-called developed nations and putting extreme pressure on their healthcare systems, Kenya is still at an advantageous position if Kenyans heed the call to minimise the risks.